Supporters of Hidden Disabilities Sunflower
22/08/2022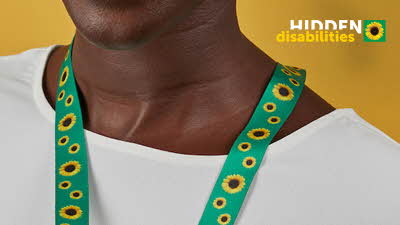 The Caravan and Motorhome Club has become an official supporter of the global network, Hidden Disabilities Sunflower, for members and guests who may have an invisible disability and need additional support or help during their stay at any one of the Club's campsites and pop-up campsites across the UK.
Globally, one in seven people live with some form of disability. While some experience a disability that is visible, a significant number of people have a non-visible disability, impairment or condition. Wearing the Sunflower lanyard or badge discreetly indicates to people around the wearer that they need additional support, help or a little more time.
Staff across all directly managed Caravan and Motorhome Club locations have received training and can provide badges or lanyards to give to members who require them. By joining the Hidden Disabilities Sunflower network, it also allows the Club's members and guests to find out the Access guides for campsites.
The Caravan and Motorhome Club's head of strategic product development, Natasha Shane, comments: "Our staff and volunteers have received training and can access valuable information on the Hidden Disabilities Sunflower website to improve their wider awareness of supporting our members and guests in need of extra help. By becoming a member of the Sunflower we are reinforcing the message that our Club is inclusive and our members and guests are very important to us, enabling them to have the most comfortable stay wherever they may be holidaying."
Hidden Disabilities Sunflower was developed in 2016 to raise awareness of invisible disabilities, and to reduce judgement and increase support for anyone that needs it. People can choose to wear a lanyard that is clearly visible from a distance, featuring a Sunflower on a green background, which allows wearers to be subtly visible and encourages support and understanding from others.
Paul White, CEO, Hidden Disabilities Sunflower, adds: "We are delighted that the Caravan and Motorhome Club have joined the Hidden Disabilities Sunflower global network. The Club is the embodiment of adventure and holidays. Now that they are part of the Sunflower network it means that Sunflower wearers with non-visible disabilities will be able to experience these memorable adventures and enjoy a break away from home."
The Sunflower is now recognised globally ranging from retail transport including 130 airports, UK rail networks, travel, tourism and over 450 universities, schools and colleges.
For more details visit www.hiddendisabilitiesstore.com or speak to a member of site staff at a www.camc.com location.
Notes to Editors:
About the Caravan and Motorhome Club
Champions of the great outdoors – from glamping to touring – the Caravan and Motorhome Club represents the interests of around one million caravan, motorhome, campervan and trailer tent owners across the UK. Founded in 1907, the Caravan and Motorhome Club has a wealth of experience and prides itself on offering great value and high quality campsites for tourers and glampers.
Caravan and Motorhome Club membership is just £56 per year and provides members with access to 2,700 quality campsites in the UK and overseas. The Club offers over 340 campsites across 16 countries in Europe including France, Spain and Italy amongst other destinations. Stays at these sites can be packaged with great ferry offers to create holidays that are protected by ABTA. The Club also offers a range of escorted and independent tours in Europe, Australasia, North America and Southern Africa, all of which are protected by ABTA. All members can take advantage of expert advice, overseas travel services, cover and insurance and exclusive member offers and discounts.
For further information about becoming a member of the Caravan and Motorhome Club, please visit www.camc.com or call 01342 318 813.

About Experience Freedom
Experience Freedom from the Caravan and Motorhome Club provides glamping accommodation in some of the most beautiful locations in the UK. Experience Freedom offers a choice of glamping accommodation, motorhome hire and tent camping, all of which are available to non-members. Caravan and Motorhome Club members receive a 10% discount on glamping and up to 10% off motorhome hire plus a free Club bundle worth over £50.
Experience Freedom is operated by the Caravan and Motorhome Club, a membership organisation with a wealth of experience in operating high quality campsites. To find out more, visit www.experiencefreedom.co.uk
About Hidden Disabilities Sunflower
Wearing the Sunflower lanyard enables individuals to discreetly indicate that they have a non-visible disability and may need additional assistance, kindness, or simply a little more time.

Since the Sunflower was established in the UK in 2016, it has been adopted globally by organisations to support their colleagues and customers. The Sunflower is recognised across a broad range of sectors - ranging from retail, financial services, transport including over 140 airports, travel and tourism, education as well as healthcare, emergency service and entertainment.

The Sunflower is available globally and has been launched locally in Australia, Belgium, Canada, Denmark, Ireland, the Netherlands, New Zealand, the UK and the USA.

The Hidden Disabilities Sunflower is part of Hidden Disabilities Sunflower Scheme Limited, a private company based in the UK