The Caravan and Motorhome Club announces new pop-up campsites
01/03/2021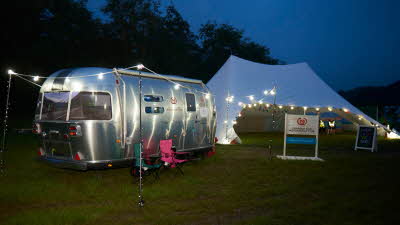 As demand for spending time in the great outdoors continues, and the UK camping and caravanning staycation boom shows no sign of abating, the Caravan and Motorhome Club is creating a series of pop-up campsites to help cater for demand from its members.
The Club is delighted to announce the first pop-up campsites planned for summer 2021 are Beaulieu Motor Museum, 2 July - 29 July and Beale Park, 26 July - 22 August.
The Club's pop-up campsites are set in stunning locations, providing the perfect base with a relaxed atmosphere, on-site activities and the opportunity to enjoy experiences unique to the local area. Pop-up campsite visitors can spend time in the great outdoors with family and friends and build lasting memories.
Brian Morgan, Head of Communications and Events at the Caravan and Motorhome Club, said: "The Club's pop-up campsites are always located in green fields at top UK locations, and they offer a unique touring experience. Our in-house team of experts take great care to ensure all pitches are suitable for both caravans and motorhomes. We also do all we can to place family and friends together and create a more informal relaxed environment which helps to create a reassuring community feel, perfect for beginners. Plus, we partner with local attractions to offer members top discounts and exclusive experiences along with working with local activity centres, food vendors and businesses to create a truly special holiday destination. Our team is on hand to help anyone new to touring or new to pop-up campsites."
Beaulieu National Motor Museum and Estate: 2 July to 29 July 2021
Beaulieu is one of southern England's top family days out including National Motor Museum, Palace House and Gardens, Beaulieu Abbey and World of Top Gear. The Museum is also home to the Club's Archive.
The Pop-up campsite is within the grounds of the Beaulieu Estate, in a secluded field surrounded by trees. The pop-up campsite is on the doorstep to the main entrance to the Museum, and is at most, a five minute walk door to door.
Beale Park Wildlife Park and Gardens: 26 July to 22 August
Beale Park is an outdoor wildlife park within 30 acres set against the River Thames in Berkshire. A home to an exciting mix of animals and attractions. Pangbourne village is just two miles away, and has a host of shops, cafes and pubs set on the bank of the river Thames.
The Pop-up campsite is within the grounds of the Beale Estate, in a secluded field right next to the river Thames. The pop-up campsite is a short five minute walk to the main entrance to the Wildlife Park.
Facilities and Pitching:
Pop-up campsites offer many of the same facilities as a Club site, the main difference being they are temporary and everything is built from scratch. All pop-up campsites will offer members the following facilities:
EHU (Electrical Hook Ups)

Fresh water

Toilets

Showers (Covid-19 status and location dependant)

Waste disposal - Black and Grey

Recycling and general waste
All pitches adhere to the highest fire safety regulations and measure 10m x 11m. These can accommodate either:
Caravan, awning and a vehicle

Motorhome, awning and a vehicle

Campervan, awning and a vehicle
New! Family and Friends Pitch
The relaxed nature of the pop-up campsites makes for the perfect getaway with family and friends.
The Club knows that many people enjoy pitching up together, so it has created a new supersized pitch measuring 22 x 20 meters.
These pitches can accommodate up to two outfits* and guarantees a joint space for friends and family pitch up together.
To find out more and to make a booking, https://www.caravanclub.co.uk/whats-on/pop-up-campsites/
For further information about the Caravan and Motorhome Club visit www.camc.com
Ends
*IMPORTANT: Club regulation firebreak distancing between outfits still applies