The Caravan and Motorhome Club is over the moon to announce the first ever lunar campsite
01/04/2023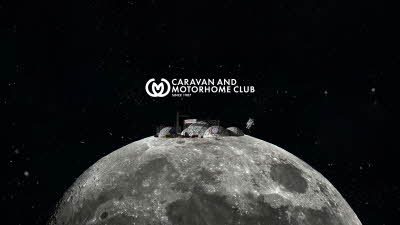 Watch the videos here: https://bit.ly/SpaceCampCAMC and bit.ly/SpaceCampCAMCTeaser
(01 April 2023) In a giant step for 'vankind', the Caravan and Motorhome Club announces the opening of the universe's first ever lunar campsite. Tranquility Bay Club Campsite will be situated on the south east highland next to the moon's Sea of Tranquility, and is set to welcome visitors from late 2024.
To reach the lunar campsite, launch sites will be conveniently located near to space ports in Scotland and Cornwall. Development is already underway on vertical launch sites near Altnaharra Club Campsite in Sutherland and a horizontal launch site in Cornwall close to Treamble Valley Club Campsite.
The Club is known for providing members with access to a vast network of campsites throughout the UK and Europe, but this announcement takes their offering to a whole new level. Expert space teams from the Caravan and Motorhome Club have been working closely with leading space agencies and scientists to develop plans for the lunar campsite.
Intrepid tourers looking for the latest lunar adventure will be able to load their rig onto a specially created Lander Module, created for the Caravan and Motorhome Club by the visionary design team at Bailey of Bristol. The journey will take three days, where space travellers will be confined to the comfort of their own leisure vehicle. At touchdown, a team of space wardens will transfer vehicles to a pitch within the Habitation Dome.
There will also be Recreation and Convenience Domes providing all the amenities members come to expect on Caravan and Motorhome Club campsites. The state of the art domes are another technology first, designed to withstand the extreme conditions of the moon's surface, as well as provide other amenities such as life support systems, communications equipment, and more. It is from these domes that guests will have the option to be shuttled or taken on a short low gravity walk for a true moonwalk experience.
Nick Lomas, Director General of the Caravan and Motorhome Club said: "We have been hard at work to develop the first ever lunar campsite and hope this groundbreaking campsite on the moon will be the first of many. The technology is now in place to make this happen, proving that the sky isn't even the limit when it comes to offering our members unique and memorable holiday experiences.
"The idea of lunar camping may seem like something out of science fiction but with the increasing interest in space tourism and exploration, this is the next step for the Club to offer the ultimate adventure."
For the latest Tranquility Bay updates and Spacecamp Programme news, including information on launch locations and pricing please visit camc.com/spacecamp and www.camc.com