The Caravan Club announces 2017 motorhome and caravan training courses
11/10/2016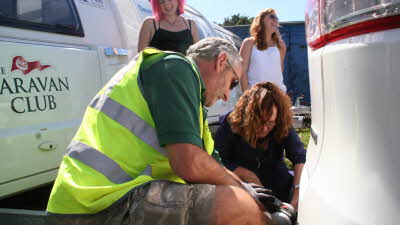 The courses will be available at 15 venues across the UK and are open to both beginners and experienced caravanners keen to refresh their skills and build their confidence ahead of their UK or European getaways. To reflect The Club's increase in motorhome members over the last year, the courses on offer will now include additional dates across the UK to specifically meet the needs of this growing market.
The courses are designed to help drivers to feel secure in their abilities and include manoeuvring practice as well as advice on how to maintain and check your motorhome and caravan. All courses are led by friendly professional instructors at locations approved by The Caravan Club.
With three types of courses available, caravan and motorhome owners can choose from course locations up and down the country. To tailor its training The Caravan Club requires motorhome owners to use their own vehicles. Caravan owners are required to bring their own car with The Club providing 50 purpose built Adria Altea 32 LH Fourth Style caravans.
Course types available include:
Practical Caravanning Course – one and a half day courses available for beginners from £170
Caravanning Manoeuvring Course – full day courses available from £145
Motorhome Manoeuvring Course – full day courses available from £170 (available at 12 locations)
Harvey Alexander, director of marketing, The Caravan Club commented:
"Providing training courses for new and experienced members is key to us ensuring that British holidaymakers are well-equipped with safety tips and manoeuvring advice to ensure that they feel confident and prepared ahead of UK and European getaways. We continue to offer courses at locations across the UK and are particularly pleased to be able to offer even more course for motorhome owners as the interest in these self-drive getaways shows no sign of slowing down."
For further information and details on how to join The Caravan Club visit www.caravanclub.co.uk.
_________________________________________________________________________________
Media enquiries
Contact Kate O'Brien, or Emma Wayman at Siren Communications on
0207 759 1150 or email caravanclub@sirencomms.com .
Nikki Nichol, external communications and sponsorship manager at The Caravan Club on 01342 336 797 / 07771 834 443 or email nikki.nichol@caravanclub.co.uk
Notes to editor
Champions of the great outdoors, The Caravan Club represents the interests of over one million caravanners, motorhomers and trailer tent owners across the UK.
For further information about becoming a member of The Caravan Club please visit www.caravanclub.co.uk or call 01342 318 813.