Tourers get more choice of driving courses in 2024
17/10/2023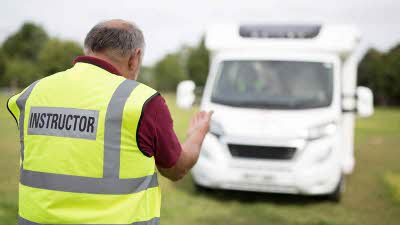 Tourers get more choice of driving courses in 2024 with the Caravan and Motorhome Club
The Caravan and Motorhome Club has announced more availability in 2024 across its 18 driving course venues in the UK for caravanners, motorhomers and campervanners. Run by expert trainers the courses are for both beginners and those who would like to gain more confidence and perfect their manoeuvring skills.
Whether a seasoned tourer or new to caravanning, motorhoming and campervanning, participants will be able to choose from three courses to help make holiday adventures on the open road safe and comfortable.
The training courses are split into; Practical Caravanning; Caravan Manoeuvring; and Motorhome Manoeuvring. The Caravan and Motorhome manoeuvring courses both take less than seven hours, whilst the Practical Caravan Manoeuvring course, for people who are completely new to caravanning, is completed within 10 hours, split over 1.5 days.
In 2024, interested tourers can find more courses at centres in Grangemouth, York (two centres), Boston, Sheffield, Edgmond, Eaglescliffe, Nottingham, Plumpton, South Ockendon, Lancaster, Winchester, Macclesfield, Figheldean, Dumfries in Scotland, Llanelli and Wrexham in Wales and in Portadown, Northern Ireland.
Harvey Alexander, director of marketing and membership services at the Caravan and Motorhome Club said: "We are delighted to offer more choice of driving courses in 2024 for new and old tourers alike, enabling them with the skills to travel safely while making the most of the great outdoors.
"Touring holidays are more popular than ever and by offering more course availability this year, course participants will have more flexibility to take a course of their choice at a time when it suits them, in order to learn or refresh their manoeuvring skills."
The Club has over 40 years of experience running these courses, with each course led by friendly, expert trainers with first-hand experience, who are members and well-seasoned tourers themselves. Courses are open to both Club members and non-members.
Sessions include manoeuvring advice, hitching and towing safety, safety checks, understanding the law that affect caravanning and motorhoming and practical lessons.
The courses are priced as follows:
Practical Caravanning Course - £214

Caravan Manoeuvring Course - £184

Motorhome Manoeuvring Course - £214
For more information about the Caravan and Motorhome Club's training courses, please see: www.camc.com/courses
-Ends-
About Caravan and Motorhome Club
Championing and helping its members get more from the great outdoors, whether glamping or touring, the Caravan and Motorhome Club represents the interests of over 1.1 million caravan, motorhome, campervan and trailer tent owners across the UK. With over 116 years of knowledge and expertise, the Club has a wealth of experience and prides itself on offering great value and high quality campsites for tourers and glampers.
Caravan and Motorhome Club membership is just £59 per year and provides members with access to over 2,700 quality campsites across the UK and Europe. As the UK's No. 1 rated touring club* it makes sure members get the most from their membership, saving them money with great value offers whether touring or at home.
The Club also offers a range of escorted European tours which are protected by ABTA. Plus escorted and independent tours in Australasia, North America and Southern Africa which are also fully protected, either by ABTA or ATOL when a flight is included. All members can take advantage of expert advice, overseas travel services, cover and insurance and exclusive member offers and discounts.
For further information about becoming a member of the Caravan and Motorhome Club, please visit www.camc.com or call 01342 318 813.
*As rated on Trustpilot
About Experience Freedom
Experience Freedom from the Caravan and Motorhome Club provides glamping accommodation in some of the most beautiful locations in the UK. Helping members get more from the great outdoors, Experience Freedom offers a choice of glamping accommodation, motorhome hire and tent camping, all of which are available to non-members. Motorhome hire, including some discounted hire schemes can be found here https://www.experiencefreedom.co.uk/motorhome-hire/
Experience Freedom is operated by the Caravan and Motorhome Club, a membership organisation with a wealth of experience in operating high quality campsites.
Caravan and Motorhome Club members can save up to 10% on glamping accommodation for themselves and their friends and family when staying at the campsite with them. It is automatically applied to the booking when the membership number is used. To book friends and family, simply call on 01342 777533 to make a booking with your Club membership card.
To find out more, visit www.experiencefreedom.co.uk