Hot and spicy, the Porsche Cayenne E-Hybrid takes the title
22/09/2023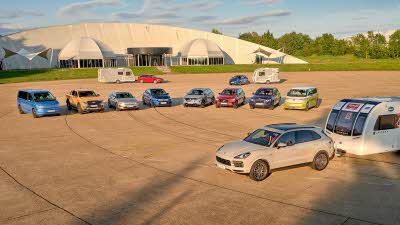 Caravan and Motorhome Club Towcar of the Year 2024
The Porsche Cayenne E-Hybrid has won this year's overall trophy and been crowned Caravan and Motorhome Club Towcar of the Year 2024; it also triumphed in the Caravan Weight over 1700kg Category in the 41st Caravan and Motorhome Club Towcar of the Year Competition.
The leisure vehicle industry's original and longest standing towcar testing awards saw the immensely talented plug-in hybrid Porsche Cayenne fight off some extremely stiff competition, ultimately triumphing around UTAC's Millbrook Proving Ground's demanding and unique track. It impressed the judges with its performance, stability, load capacity and pure driving pleasure. This is an incredibly capable towcar at high speeds as well as low, and super stable.
Twenty eight entrants were put into caravan weight categories – rather than being listed by price – to make it easier for buyers to know which cars could tow their caravans. Cars were divided into five weight categories, plus categories for Pick-Up vehicles, Family Towcar, Large Family Towcar, Electric Towcar, Hybrid Towcar and new for this year, a Luxury Towcar Category and a Judges' Award.
The complete winners' line-up:
Caravan weight under 1100kg:
Volkswagen Commercial Vehicles ID Buzz Style SWB 204PS 77kWh Pro Electric 1 Speed Automatic
The Volkswagen ID Buzz was praised for its smoothness, visibility, large interior space and general feel-good factor. This retro electric bus, hitched to a small caravan, will be an ideal vehicle at festivals and family campsites. The claimed 251-mile electric range will be good for most when unhitched, too. Volkswagen's modern interpretation of the classic Type 2 bus has been a long time coming, but it has certainly been worth the wait.
Caravan weight 1100kg - 1300kg:
ŠKODA Enyaq Coupe iV 82kWh vRS
Skoda's all-electric Enyaq has won a number of Caravan and Motorhome Club Towcar awards in recent years and the Czech brand continues to expand the impressive SUV's offering with both coupe and high performance vRS versions for 2023. The Coupe vRS features a different design from the regular SUV model; it's both more stylish and aerodynamic – the latter being an important thing for anyone towing with an electric car. This being a vRS, too, means extra performance – 294bhp from twin electric motors. One judge described the car's acceleration as "turbine-like" while another remarked that the Enyaq had plenty of punch while still delivering impressive smoothness. Superb build quality and comfortable sports seats sealed the win.
Caravan weight 1300kg - 1500kg:
ŠKODA Octavia Estate SE L 2.0 TDI 150PS DSG
Skoda's Octavia's 2.0-litre diesel engine mated to a seven-speed dual-clutch automatic DSG box, provides ample torque, acceleration and smoothness. The ride was great and the interior is a comfortable place to be. The Octavia picked up points for its excellent rear visibility during the curved reversing test, and the boot impressed the caravanability judges on account of its square shape and large size.
Caravan weight 1500kg - 1700kg:
Polestar 2 Long Range Single Motor
Polestar 2 returns this year boasting major improvements. While the exterior looks largely the same, apart from a new, blanked-off grille, the 2024 Polestar 2s have new underpinnings. The previously front-wheel drive car is now driven by the rear wheels, while larger 69kWh and 82kWh batteries provide the power. Tested here in Long Range 82kWh form, the Polestar 2 has a claimed range of over 400 miles, and again it impressed the judges. The car's stylish and well-made interior gained points, so too did the electric motor's 295bhp which offered smooth and quick progress.
Electric Towcar:
Nissan ARIYA 87kWh Evolve e-4ORCE
The Nissan Ariya exhibited impressive driving manners, one judge remarked: "Great acceleration and handling, with the finesse required for towing longer distances." It also performed strongly in the weight category, keeping its caravan in check through a variety of manoeuvres, and all the time pampering its passengers with a comfortable, well made interior. Extra marks were given for its fantastic rear visibility and spacious boot.
Hybrid and Family Towcar categories:
Volvo XC60 Recharge Plug-in Hybrid T6 Plus
Volvo's mid-sized SUV impressed the judges on account of its sheer ease of use, refinement and manoeuvrability. Extra points were awarded by the caravanability judges for fantastic rear visibility during the curved reversing test, and how the car's towing data wasn't hidden away but easily available via the handbook, infotainment screen and plates. The 345bhp 2.0-litre supercharged and turbocharged engine delivered impressive performance, while the electric motor gave additional traction and silent running. A large boot, comfortable seats and a quality, minimalist interior were also highlights.
Pick Ups:
Ford Ranger Wildtrak Double Cab 3.0L TD Ecoblue V6 240PS
Ford's best-selling Ranger was overhauled this year following a new partnership with Volkswagen – the Blue Oval remaining responsible for the engineering under the skin, including the engine and transmission. The judges loved the latest Ranger's "chunky, go-anywhere style" and refinement. The 3.0-litre V6 diesel engine was smooth and powerful, but also impressively quiet; in fact, the new Ranger feels more like an SUV than ever before, with tidy handling and a relatively plush interior. Judges particularly liked this Wildtrak model as it gets a 'Comfort' suspension tune, making it ideal for towing.
Large Family Towcar:
Volkswagen Commercial Vehicles Multivan Style Long 2.0 TSI 204PS 7spd DSG
The Long version adds an extra 200mm of space in the boot area, bringing the total length to 5.12m and giving caravanners extra room to store items. The Multivan sailed through the practicality tests and the easily displayed towing and weights data was noted favourably. On the road it is smooth, quiet and well-mannered. If you need to take a lot of people and stuff on holiday, you can't beat a Multivan!
Luxury Towcar:
Bentley Bentayga Extended Wheelbase
This is the first time Bentley has ever entered this competition and this iconic marque takes home a win in a new category this year. The luxury award is designed to celebrate towcars that go above and beyond, cosseting passengers on their way to campsites. The Bentayga blew the judges away for its sheer pomp, and it remained hugely impressive when towing. It gained marks for superb visibility, clear towing data, its agility, the 4.0-litre V8 engine's lovely combination of power and smoothness, and how it pampered passengers with its sumptuous interior.
Judges' Award:
Ford Puma ST-Line 1.0 Mhev 155ps 6 speed manual
The Judges' Special Award is new for this year and celebrates a feature, or features, that the judging panel thought worthy of mention. The Caravan and Motorhome Club's Towcar competition has been championing innovation for decades, and the category winner receives this award due to its myth-busting status. When the Caravan and Motorhome Club Towcar competition began, large cars with equally large engines were considered a must-have, but this year's winner debunks this thanks to a small engine that easily towed a caravan. A 1-litre engine may not seem an obvious choice on paper, but the power and torque made light work of both hill and high-speed routes. It kept the caravan stable while still being entertaining and engaging to drive. A comfortable interior, a surprisingly large boot and great technology sealed the deal.
Overall Winner - The Caravan and Motorhome Club Towcar of the Year 2024 and winner of Caravan weight over 1700kg:
Porsche Cayenne E-Hybrid Platinum Edition
The Porsche Cayenne E-Hybrid scored top marks in virtually every area, and was particularly noted for its agile handling and how it kept its caravan stable at low and high speeds. A beautifully made interior, spacious back seats and top-notch tech were the icing on the cake, while the caravanability judges liked how the boot took all of their test gear along with the car's bulky charging cable bags.
Link to images: CAMC TCOY 2024
Nick Lomas, Director General of the Caravan and Motorhome Club said, "The Caravan and Motorhome Club Towcar of the Year 2024 competition saw nine of the 28 vehicles tested purely powered by electricity and three were hybrids. It demonstrates just how seriously car makers are taking the world of towing with an electrified vehicle. As well as seeing the advances in EV technology this year, there was also a good representation from traditionally fuelled vehicles plus a great mix of big-engined SUVs and pick-ups. Leisure vehicle holidays are in great demand and the Club prides itself on being the trusted experts for tourers, it's important that we are able to provide professional, qualified and unbiased information to help all those who plan to tow find the right towcar for their needs."
Each car was put through its paces at the UTAC Millbrook Proving Ground near Bedford, which provides a variety of testing driving environments. Manufacturers were invited to submit for testing any vehicle that was capable of towing a trailer over 750kg and on sale on 1 October 2023.
The Club's Scrutiny team thoroughly checked each vehicle before handing it over to the 'caravanability' and driving judges.
Caravanability judges tested whether a car's boot could swallow the bulky accessories normally needed on a caravan trip. They also measured the towball height, both solo and hitched up, and checked the towing information provided in the manufacturer's handbook.
The cars were then hitched up to caravans ballasted to 85% of their kerbweight, or towing limit if lower. Using specialised apparatus the technical judges then measured the cars' acceleration and braking capabilities. The car/caravan combinations were then passed over to the driving judges who set off around the UTAC Millbrook circuit to put the vehicles through their paces. The cars were tested at speeds of up to 55mph on the 'Alpine route', which featured various gradients culminating in a 17% hill start and a 26% downhill brake test. The ability to join fast traffic from a standstill was also assessed.
Judges then took the vehicles to the high-speed bowl to further assess their capabilities at speeds in excess of UK legal limits. In the safety of a controlled environment, the judges could induce some instability at 60mph to see how the cars reacted. The vehicles were also put through reversing examinations. All-important issues of driver and passenger comfort and visibility were also assessed.
During the exhaustive four-day test, the vehicles are taken on several hundred circuits of the Millbrook Proving Ground, consisting of many laps of the high-speed circular track and demanding alpine hill route.
The results of the competition were announced at the Caravan and Motorhome Club Towcar of the Year Awards ceremony, held at the Royal Automobile Club in London on 22 September. The awards were presented by TV presenter and journalist, Matt Allwright.
Grenville Chamberlain OBE, Caravan and Motorhome Club Chairman, said: "We would like to offer our sincere congratulations to all the worthy winners in the Caravan and Motorhome Club Towcar of the Year 2024 Awards."
The judging panel:
James Batchelor: freelance journalist, experienced road tester and presenter; James was previously on AutoExpress magazine, he's also the Club's chief towcar reviewer.
Dan Cartwright: a passionate caravan advocate since 1989, Dan founded Caravan Times (Axonn Media) in 2010 and is its chief car tester.
Lee Davey: a road tester for numerous motorhome titles, Lee raced motorbikes nationally before switching to caravanning. He has towed in over thirty countries.
Sammy Faircloth: freelance journalist, passionate about caravanning and a highly experienced towcar user.
Chris Rosamond: representing Auto Express, Chris is an experienced national motoring journalist.
Technical judges: Deborah Black from the Club's Events Committee measured the cars' acceleration and braking capabilities using specialised apparatus along with Mark Sutcliffe, a regular Caravan and Motorhome Club Towcar of the Year judge and former editor of Which Caravan.
Caravanability judges: Caroline and Keith Rogers spend hours checking whether each car will accommodate a typical caravanner's kit, as well as access to such things as spare wheels, towing electrics and technical information.
Members who own any of the Caravan and Motorhome Club category winners since 2014 (T's&C's apply) are eligible for a 10% discount on the Club's Car Insurance. Visit Car Insurance for more details.
For more information about the Caravan and Motorhome Club's Towcar of the Year competition please visit https://www.camc.com/towcar/
For further information and details about the Caravan and Motorhome Club visit www.camc.com
-Ends-
Media enquiries
Nikki Nichol, External Communications and Sponsorship Manager at the Caravan and Motorhome Club on 07771 834443 or email nikki.nichol@camc.com
Notes to editors
About Caravan and Motorhome Club
Championing and helping its members get more from the great outdoors, whether glamping or touring, the Caravan and Motorhome Club represents the interests of over 1.1 million caravan, motorhome, campervan and trailer tent owners across the UK. With over 116 years of knowledge and expertise, the Club has a wealth of experience and prides itself on offering great value and high quality campsites for tourers and glampers. Caravan and Motorhome Club membership is just £59 per year and provides members with access to over 2,700 quality campsites across the UK and Europe. As the UK's No. 1 rated touring club* it makes sure members get the most from their membership, saving them money with great value offers whether touring or at home. The Club also offers a range of escorted European tours which are protected by ABTA. Plus escorted and independent tours in Australasia, North America and Southern Africa which are also fully protected, either by ABTA or ATOL when a flight is included. All members can take advantage of expert advice, overseas travel services, cover and insurance and exclusive member offers and discounts.
For further information about becoming a member of the Caravan and Motorhome Club, please visit www.camc.com or call 01342 318 813.
*As rated on Trustpilot
Thanks: The Caravan and Motorhome Club would like to thank Bailey of Bristol for supplying all the caravans used in the competition, and for providing staff on-site throughout the event. The Bailey team ensured the caravans were correctly ballasted, that their noseweights were kept in trim and that they were in general good working order. Thanks also to AL-KO who ensured brakes were adjusted, wheels were kept tight and all undergear was properly fettled.
The Caravan and Motorhome Club Towcar of the Year 2024
Results
Caravan weight under 1100kg
Volkswagen Commercial Vehicles ID Buzz Style SWB 204PS 77kWh Pro Electric 1 Speed Automatic
Caravan weight 1100kg - 1300kg
ŠKODA Enyaq Coupe iV 82kWh vRS
Caravan weight 1300kg - 1500kg
ŠKODA Octavia Estate SE L 2.0 TDI 150PS DSG
Caravan weight 1500kg - 1700kg
Polestar 2 Long Range Single Motor
Caravan weight over 1700kg
Porsche Cayenne E-Hybrid Platinum Edition
Electric Vehicles
Nissan ARIYA 87kWh Evolve e-4ORCE
Hybrid
Volvo XC60 Recharge Plug-in Hybrid T6 Plus
Pick Ups
Ford Ranger Wildtrak Double Cab 3.0L TD Ecoblue V6 240PS
Family Towcars
Volvo XC60 Recharge Plug-in Hybrid T6 Plus
Large Family Towcars
Volkswagen Commercial Vehicles Multivan Style Long 2.0 TSI 204PS 7spd DSG
Luxury
Bentley Bentayga Extended Wheelbase
Judges' Award 2024
Ford Puma ST-Line 1.0 Mhev 155ps 6 speed manual
Caravan and Motorhome Club Towcar of the Year 2024
Porsche Cayenne E-Hybrid Platinum Edition
Caravan and Motorhome Club Towcar of the Year 2024
Entry List
Caravan weight under 1100kg
Ford Puma ST-Line 1.0 Mhev 155ps 6 speed manual
Subaru All-New Solterra Touring AWD 218PS 71.4kWh 150kW
Volkswagen ID.4 Style Edition 77kWh Pro Performance 204PS
Volkswagen Commercial Vehicles ID Buzz Style SWB 204PS 77kWh Pro Electric 1 Speed Automatic
Caravan weight 1100kg - 1300kg
SEAT Ateca 1.5 TSI SE Technology
ŠKODA Enyaq Coupe iV 82kWh vRS
Volkswagen ID.5 GTX Style 77kWh GTX 4MOTION 299PS
Volkswagen T-Roc R-Line 1.5 TSI 150PS DSG
Caravan weight 1300kg - 1500kg
Nissan X-Trail MHEV N-Connecta 7 Seats
ŠKODA Octavia Estate SE L 2.0 TDI 150PS DSG
Subaru All-New Outback 2.5i Boxer Touring Lineartronic AWD
Volkswagen Arteon Shooting Brake R-Line 2.0 TSI 190PS 7spd DSG
Caravan weight 1500kg - 1700kg
Nissan ARIYA 87kWh Evolve e-4ORCE
Nissan X-Trail e-Power e-4orce Tekna 5 Seats
Polestar 2 Long Range Single Motor
ŠKODA Karoq Sportline 2.0 TDI 150PS 4x4 DSG
Caravan weight over 1700kg
Bentley Bentayga Extended Wheelbase
Ford Ranger Wildtrak Double Cab 3.0L TD Ecoblue V6 240PS
Genesis Electrified GV70 – 180kw+180KW AWD motor (sport)
Isuzu D-Max V-Cross
Kia Sorento Edition CRDi 2.2 Diesel
Land Rover Defender 90 X-Dynamic HSE D250
Mazda CX-60 3.3D 254ps AWD Takumi Auto
Porsche Cayenne E-Hybrid Platinum Edition
Volkswagen Commercial Vehicles Amarok Aventura 3.0 TDI 4MOTION 240 PS 10sp Automatic
Volkswagen Commercial Vehicles Multivan Style Long 2.0 TSI 204PS 7spd DSG
Volvo XC40 Recharge
Volvo XC60 Recharge Plug-in Hybrid T6 Plus
Electric Vehicles
Genesis Electrified GV70 – 180kw+180KW AWD motor (sport)
Polestar 2 Long Range Single Motor
Nissan ARIYA 87kWh Evolve e-4ORCE
ŠKODA Enyaq Coupe iV 82kWh vRS
Subaru All-New Solterra Touring AWD 218PS 71.4kWh 150kW
Volkswagen ID.4 Style Edition 77kWh Pro Performance 204PS
Volkswagen ID.5 GTX Style 77kWh GTX 4MOTION 299PS
Volkswagen Commercial Vehicles ID Buzz Style SWB 204PS 77kWh Pro Electric 1 Speed Automatic
Volvo XC40 Recharge
Hybrid
Nissan X-Trail e-Power e-4orce Tekna 5 Seats
Porsche Cayenne E-Hybrid Platinum Edition
Volvo XC60 Recharge Plug-in Hybrid T6 Plus
Pick Ups
Ford Wildtrak Double Cab Pick-up 3.0 Diesel 10 Speed Auto
Isuzu D-Max V-Cross
Volkswagen Commercial Vehicles Amarok Aventura 3.0 TDI 4MOTION 240 PS 10sp Automatic
Family Towcars
Bentley Bentayga Extended Wheelbase
Genesis Electrified Gv70 – 180kw+180KW AWD motor (sport)
Land Rover Defender 90 X-Dynamic HSE D250
Mazda CX-60 3.3D 254ps AWD Takum
Nissan ARIYA 87kWh Evolve e-4ORCE
Nissan X-Trail e-4ORCE Tekna five seats
Polestar 2 Long Range Single Motor
Porsche Cayenne E-Hybrid Platinum Edition
ŠKODA Karoq SportLine 2.0 TDI 150PS 4x4 DSG
Subaru All-New Outback 2.5i Boxer Touring Lineartronic AWD
Volvo XC40 Recharge
Volvo XC60 Recharge Plug-in Hybrid T6 Plus
Large Family Towcars
Kia Sorento 2.2 CRDi
Volkswagen Commercial Vehicles Multivan Style Long 2.0 TSI 204PS 7spd DSG
Luxury
Bentley Bentayga Extended Wheelbase
Genesis Electrified GV70 – 180kw+180KW AWD motor (sport)
Land Rover Defender 90 X-Dynamic HSE D250
Porsche Cayenne E-Hybrid Platinum Edition