West Country receives most votes for dog-friendly campsites in Caravan and Motorhome Club's Paws of Approval scheme
15/01/2020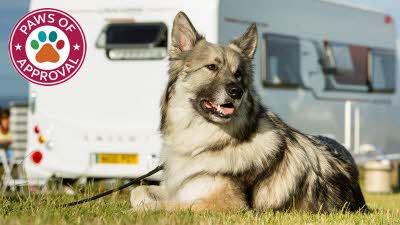 Over 23,000 dog-owning Caravan and Motorhome Club members have taken part in the Club's Paws of Approval scheme so far, with 92% rating Club campsites as 'excellent', 'very good', or 'good' for dog friendliness and facilities when surveyed over a six-month period.
Two of the three highest-rated campsites with a score of 4.7 out of 5 are in the West County and these sites are the Treamble Valley Caravan and Motorhome Club Campsite in Truro, Cornwall and Ilfracombe Caravan and Motorhome Club Campsite in Devon. The other highest rating site is Thetford Forest Caravan and Motorhome Club Campsite in Norfolk. All these sites were praised for the number of good dog walks from the site, a good dog exercise area and welcoming staff, as well as facilities such as dog bins.
Three other campsites that are snapping at the heels of the top scorers are geographically well spread, each with a rating of 4.6 out of 5. These are Rookesbury Park Caravan and Motorhome Club Campsite in Hampshire, praised for its agility equipment and accessibility to the adjacent forest. Stamford Caravan and Motorhome Club Campsite in Northamptonshire was praised for its dog shower and proximity to the woods while Yellowcraig Caravan and Motorhome Club Campsite in East Lothian is popular due to the nearby forest, beach and dog wash area.
Harvey Alexander, the Caravan and Motorhome Club's director of marketing, said: "Dogs stay for free on all our campsites and with forty percent of our members owning dogs, it is important that we provide the right facilities. We know that being able to travel with the family pet is a major motivator for many of our members and thousands have responded to our survey; it is great to see that so many of our campsites rate very highly with accessible dog walks, facilities and exercise areas."
The Caravan and Motorhome Club launched the Paws of Approval scheme early in 2019, asking members to rate campsites on dog friendliness and facilities. With some forty percent of Club members owning dogs, the Club was keen to get their opinion on the facilities available at its campsites. The Club was also keen to recognise those campsites that go the extra mile and ideal and make it easier for members to identify the most suitable campsites for a holiday with their dog.
For more information on the Caravan and Motorhome Club's Paws of Approval Scheme, please visit www.camc.com/paws
- Ends -