I Pini
Via Delle Sassette 28, Fiano Romano (Roma), 00065, Italy
View on map
Why stay here ...
A small, friendly campsite within easy reach of Rome, I Pini is a haven of tranquillity offering sensational views over the nearby hills. The site has everything you could wish for from a relaxing break, including a pool complex with slides, an on-site restaurant and children's entertainment during the high season. The site's shaded pitches are set on grassy terraces.
You'll find information for tours and nearby attractions at reception. A bus runs from the site to Rome, where you can explore the Colosseum, Pantheon and the Vatican. Just outside Rome, Tivoli is worth a visit for the ruins of Hadrian's Villa and the beautiful gardens at Villa d'Este.
Around and About
Rome, Fiano Romano, Lake Bracciano, Naples, Pomeii, Vesuvius, Gardens of the Villa d'Este, Orvieto, Horse riding, Walking trails, Mountain biking, Sailing.
Prices
Map
Directions
31 miles north of Rome From the North on the A1 turn right at Fiano Romano junction signed 'Roma Aerport, Civitavecchai, Rome North'. Toll booths in 2500 meters. After tolls turn right signed Fiano, RIETI. At roundabout take second exit signed "Roma and Zone Industriale. At next roundabout take 1st exit (SP Fiano/Romano Traffico Locale). After 2 miles go straight over roundabout then turn left opposite the IP garage (SP Capena) Site is signposted on right after 1.5miles.
Sites key: Overseas Site
Postcode:

00065

Region:

Italy

Distance to Calais: (kms)

1656
GPS:

Lat 42.1516 / Lon 12.57679

Michelin map no.

563
Transport links
Buses go to: Rome, Saxa Rubra, Fara Sabina

Daily public transport within 2 kms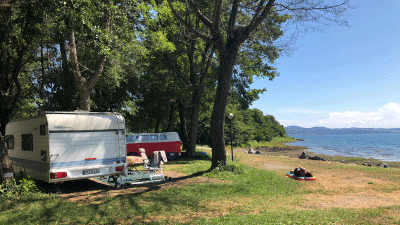 20.73 miles