My touring adventure - February edition
25/01/2017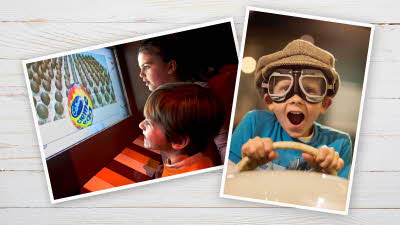 Often described as the 'Heart of England', you'll discover scenic and historic towns nestled amongst idyllic countryside. There's plenty to see and do in this part of the UK. You could easily spend a fortnight exploring the area and experiencing the region's best attractions. We can show you how to make the most of your visit.
Stop 1: Chapel Lane Club Site
We started our Midlands adventure at Chapel Lane Club Site. It's the perfect rural escape but close enough to the M42 so you're near everything you need. You'll enjoy open touring spaces amongst tree lined pitches - you might even spot some of the local wildlife on your restful stop.
You'll have peace of mind knowing that the playground will keep your little ones entertained for hours. When the kids have worked up an appetite, take a trip to Cadbury World and indulge in some sweet chocolate.
If you're looking for some culture, why not visit the Birmingham Museum and Art Gallery. We loved the collection of natural history on display as well as the Edwardian architecture. You won't be disappointed!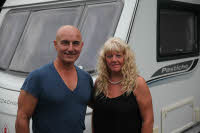 "Birmingham Cathedral, the museum and art gallery, the wonderful atmosphere at Victoria Square… we're definitely coming back for a longer stay!"

Paul and Karen Caddic, caravanners from the Isle of Wight
Stop 2: Chapel Farm CL
Along the way, we stayed at the beautifully rural Chapel Farm CL – ideal for those seeking an off the grid break. You can enjoy the view from the comfort of your 'van as you look out across the site and the sweeping vistas of Wales.
After your relaxing start, why not visit The Transport Museum in Wythall where you can see over 80 different vehicles. The smell of nostalgia will transport you back to decades gone by – you'll absolutely love it!
If smell alone rekindles yesteryear, you'll appreciate the power of steam at the Severn Valley Railway – a must-see attraction during your stay. You'll experience the scenic countryside along the way, even stopping at Highley. You could visit the Engine House Visitor Centre, where you'll learn about the areas' industrial past and it's exciting future.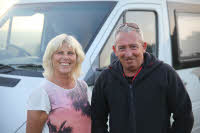 "This is a proper old-fashioned CL: quiet, and spectacular panoramic views. We're here to visit the huge amount of National Trust properties in the area."

Andy and Rachael Walford, motorhomers from Wales
Stop 3: Malvern Hills Club Site
Next on our touring adventure, we stopped off at a Club site that sits south of Birmingham. Malvern Hills is a very spacious site, so even when it's busy, you won't feel crowded or overwhelmed. There's a kids' play area, so rest assured younger visitors will be kept entertained and there's a communal lawn where you can play garden games in the summer.
Take in sensational scenery as the site sits on the edge of the Malvern Hills, which is an area of outstanding natural beauty.
Enjoy a breath of fresh air and take a stroll through the Malvern Hills on one of the areas many walking trails.
If you're feeling particularly energetic, you could take a slight detour to Upton-upon-Severn where there are plenty of boutique shops and pubs to keep yourself occupied during your stay.
Once you've finished some retail therepy, make your way to Morgan Motor Company's factory and get up close with some famous hand-built sports cars, or take in an event at the Three Counties Showground.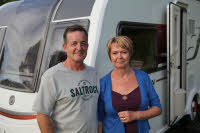 "We love the town of Upton-upon-Severn, where we had a lovely meal in The Swan and enjoyed browsing the independent shops."

Jackie and Phil Richards, caravanners from Porthcawl
Stop 4: Warwick Racecourse Club Site
We decided to head further south to take in the historic towns of Warwick and Royal Leamington Spa. You can stay in the heart of these historic centres by staying at Warwick Racecourse Club Site. Here you enjoy a warm welcome from the site wardens as you arrive into a beautiful pitching area. The site is perfect for those seeking a back to nature experience.
You can enjoy a lovely woodland walk or take the path to Warwick – it's only 10 to 15 minutes on foot. If you're feeling particularly peckish, head to the weekly market to buy some freshly baked bread – you'll instantly feel the small-town charm as you wander around the square.
For some retail therapy, head on over to Royal Lemington Spa and see its Regency splendour amongst the boutique shops. You can hike to Warwick Castle and explore the colourful history of this ancient building, where there's also a birds of prey show or if you're feeling particularly adventurous, test your catapult skills by operating the impressive trebuchet.

"Our top tip is to visit the Lord Leycester Hospital. These 14th-century timber-framed buildings remain in use housing ex-serviceman and their families."

Terry and Ennyd Larratt, motorhomers from North Wales
Stop 5: Harbury Fields Farm Touring Park
Our next stop takes us to Harbury Fields Farm Touring Park, where stunning views and a peaceful setting are the order of the day. We highly recommend a leisurely 45 minute walk around the farm - you'll find it hard not to fall in love with this gorgeous site. Dogs are welcome.
Relive England's auto-motive past at the British Motor Museum. Definitely an attraction for car enthusiasts – you might even spot a classic car or two. Afterwards, you can relax and unwind in The Crown Inn for a bite to eat or try a local ale.

"We come here just to relax, and there are so many parks in Leamington Spa to walk our dog, Woody. We also love Hatton Locks."

Chris and Chrissie Head, caravanners from Flitwick
Stop 6: Hill Farm CL
For the ultimate getaway from it all experience, why not visit Hill Farm CL and take in the beautiful panoramic views of the area. You'll feel right at home, as a warm welcome awaits.
If you're a nature lover, head on over to Brandon Marsh SSSI Nature Reserve which is the perfect place for walking and spotting rare breeds of wild fowl along the way - so don't forget to bring your welly boots.
As you look out across the marsh, you can sit back and relax as you enjoy a slice of homemade cake and a traditional pot of tea – you've definitely earnt it by now.
If you're looking for an indoor activity then look no further than Compton Verne Art Gallery. Here you'll stare in wonder at the wealth of spectacular collections on offer, often described as being 'an unforgettable experience' – it's a must see for art lovers. As you walk the halls of this stately home, you'll step back in time as you take in the splendour of the Regency décor.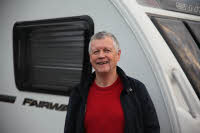 "The main draw for me is the site's amazing views. Owners Roy and Amanda make you feel so welcome."

Bernard Keavy, caravanner from Warwickshire
Stop 7: The Crofts CL
Our final stop brings us to The Crofts CL which is a popular site that lies on the edge of a resting rugby pitch. Have a go at playing with the locals or simply spectate. Here the spacious pitching areas stretch out, providing the perfect sunny spots during the summer months.
You could take a well-deserved break to the Kings Head Inn in Churchill. You could try some proper pub grub – we recommend the beef and ale pie! After your 'accidental' detour, take a short trip to Stoneleigh Abbey as you discover the incredible architecture of this Grade 1 listed mansion.
The grounds offer time for quiet contemplation or you can take a tour of the abbey. We recommend you book well in advance, as tours fill up quick.

"Being at the edge of rugby pitches that are not being used for summer gives us a very flat, grassy, sunny and open pitching area. There is a bus stop half a mile away with regular buses to Leamington, Warwick and Coventry."

Dave Drabwell, owner of The Crofts CL