Happy 110th birthday to the Club
14/06/2017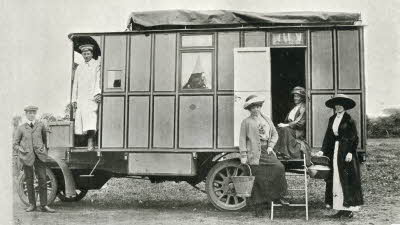 Since 1907, generations of 'vanners and campers have enjoyed heading out into the fresh air and the open road with the Club. It was our founder, John Harris Stone, who paved the way to make caravanning holidays a popular pastime.
From our humble beginnings with just ten tourers, we have grown to over 350k members strong and represent more than one million caravan, motorhome, trailer tent and tent users. In that time, our original values have always remained true to everything we do - inspiring people to get out and explore the great outdoors together, encounter precious experiences and find a new sense of adventure.
The rise in popularity of caravan and motorhome holidays has seen hundreds of thousands of visitors to our sites each year – members and non-members alike. We are proud to be able to offer you the opportunities to visit beautiful and cultural locations, from beaches to mountain views, all over the UK (and abroad). With a choice of approximately 3000 destinations, including the largest privately owned network of quality sites in the UK, we are recognised as Europe's largest touring organisation.
Here's to the next 110 years
The Wanderer Caravan made its first journey in 1885. This wooden, horse-drawn, purpose built caravan was the start of a new pursuit in travel and leisure holidays. In 110 years since the Club was formed, there have been significant cultural and technological developments which we have embraced every step of the way. We are very proud of what we've achieved through history and you can view this via our timeline and picture gallery.
In 2017 the Club went through a brand evolution and became the Caravan and Motorhome Club to inspire a new generation to experience the adventure of travel in the great outdoors. The new brand recognises our heritage and the 40% of members who are motorhomers.
Our latest venture has seen the launch of our glamping offering, making outdoor experiences accessible to those who don't own a caravan, motorhome or tent – or anyone who simply fancies a change of scenery and accommodation that is set up for you. You'll find luxury glamping pods and yurts on some of our existing sites. To try one out, take a look at glamping opportunities on Experience Freedom.
Looking ahead, we'll always be underpinned by our core principles of bringing together people interested in touring, camping and the great outdoors. And we will continue to provide you with ongoing opportunities to experience great adventures and build lasting memories for many years to come.