Bradgate CL owners win Silver at the Visit England Awards
13/06/2022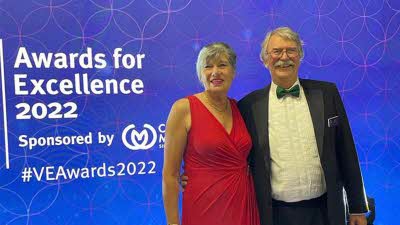 The owners of the Club's Bradgate Certificated Location won the Silver award at the VisitEngland Awards this month for the Bed & Breakfast and Guesthouse of the Year Award, awarded to their B&B; Horseshoe Cottage Farm that is located on the same site.
Husband and wife team, Tim and Linda Jee, have created two places to stay in the tranquil surroundings of the Leicestershire countryside. One of our top CL sites, Bradgate Caravan site which boasts first-rate facilities including electric hook up points and four water points, as well as superfast broadband, awnings and dogs stays included in the nightly rate.
Image: Bradgate Certificated Location
Just 200 yards from the CL is their award winning, Horseshoe Cottage Farm B&B which has been sympathetically restored whilst still maintaining many of the traditional features of the 200 year old stone farmhouse and barns. The close proximity of the B&B is perfect for when you'd like family and friends to stay nearby, whilst you relax in your caravan.
There are many attractions and events in the area to explore, from Bradgate Park, the home of Lady Jane Grey, located opposite the site, to the Great Central Railway just two miles away. Head to the centre of Leicester itself and visit the King Richard III visitor centre or take a journey that is out of this world at the National Space Centre.
Image: A deer at Bradgate Park
Foodies will be in their element with local farmers markets held weekly, nearby. You'll also be spoilt for choice with the abundance of fantastic pubs, some within close walking distance of the site too.
Rated five-star by our Club members, Bradgate CL is constantly receiving excellent reviews with guests particularly commenting on the warm welcome, the beautiful surroundings and the superb location.
The Caravan and Motorhome Club were headline sponsors of the VisitEngland awards and would like to congratulate Tim and Linda for their well-deserved award, which celebrates the very best that England has to offer. We look forward to our members enjoying many future stays with them.