Caravanning: A mainstay of UK tourism
11/12/2013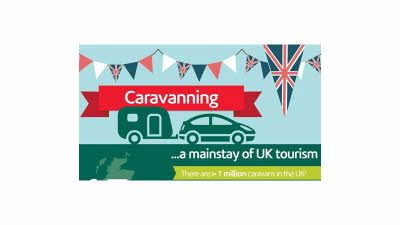 Please include attribution to caravanclub.co.uk with this graphic.
1.7 million people make up the UK's caravanning community, and there are over a million caravans in the UK, which includes touring caravans, motorhomes and static caravans. There are many reasons why caravanning is beloved by so many people, like the freedom of being able to go anywhere and at the same time enjoy the great British countryside. This freedom also allows you to pick where you want to go and without spending a fortune, as caravanning makes for a very reasonably priced holiday.
Increasing popularity
The popularity of caravans is increasing - three new Club sites have opened this year. The increased popularity of caravan's might be due to caravans being very affordable if you're on a budget. Recession busting prices like £22 for a family of four per night is the average pitch price for a Club site, have led to a massive 30% rise of online searches for 'caravanning' in the UK from May 2012 to May 2013. However, caravanning appeals to those who are on a budget and those who want to break the bank, one in ten National Lottery millionaires have bought a new caravan with their winnings.
Contribution to tourism
Caravanners also contribute heavily to UK tourism, in 2011 there were a whopping 11.92 million caravan trips taken. On their holidays Club members spend more than £400 million a year on gifts, visiting local attractions, eating out, fuel and buying local food in the towns, villages and cities they visited. Overall, Britain's Caravan industry is worth £6 billion a year and employs 115,000 people, significantly helping Britain's economic recovery.
There are many beautiful caravan parks to stay and pitch at throughout the UK. Our map shows that there are great Club parks next to, or practically in, some of the UK's most popular national parks. You can pitch up right next to the Lake District at Borrowdale Club site or wake up to the sunrise from the Pembrokeshire Coast at St David's Lleithyr Meadow Club site.
Our Infographic shows that caravanners have been important to the UK tourism and economic recovery and we're proud to say The Club remains a fundamental pillar of the caravanning community. We offer tips to first time caravanners and veterans, directories on our beautiful sites and great deals on caravan insurance and motorhome insurance. So become a part of the caravan culture, let's keep British tourism interesting and towing in the right direction!