Club welcomes Mims Davies MP to head office
12/05/2022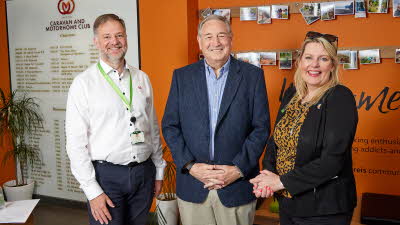 The Caravan and Motorhome Club was delighted to welcome Mims Davies MP to its head office in East Grinstead, West Sussex in May.
Ms Davies, who is Parliamentary Under-Secretary of State for Employment, had expressed an interest in visiting the Club's headquarters as it sits within her Mid Sussex constituency. The Member of Parliament is keen to promote tourism within the area, and she was joined on the day by the Town Mayor of East Grinstead, Cllr John Dabell. After meeting the Club's Director General, Nick Lomas, and Emma McQuillan, Head of Governance, the visitors were given a tour of the Club's Contact Centre and Distribution Centre.
Mims Davies MP in the Club's Contact Centre
After her visit, Mims Davies commented: "I was very appreciative of the hands-on insight and the information given as to how your company works, it was a great pleasure to meet your staff and chat to members.
"Camping and caravanning is a fantastic way to holiday and see our fantastic country. As with the booking of any holiday, unless you have been before it always feels a bit of a gamble... With your club your members know that they will be visiting a fabulous site with good quality facilities. Going on holiday with confidence in your location and accommodation makes a brilliant start to a vacation."