Lady Margaret's Park welcomes Ken Skates for a visit
24/05/2023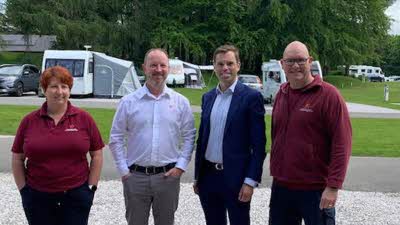 Image of Lady Margaret's Park Club campsite staff, Antony Davies (Director of Sites and Accommodation) and Ken Skates.
The Caravan and Motorhome Club were delighted to welcome Ken Skates, MS for Clwyd South for a tour of our Lady Margaret's Park Club Campsite last week, to celebrate Wales Tourism Week.
Mr Skates previously served as Deputy Minister for Skills and Technology and Deputy Minister for Culture, Sport and Tourism, he is now the Welsh Government's Minister for Economy and Transport.
Having undergone a £3.6m redevelopment, which included a new facilities block, a new playground and social space that includes outdoor seating, there are also new premium and service pitches. We also installed new EV charging points and improvements to the site entrance and roads. Lady Margaret's Park Club Campsite is open all year to members and offers 99 touring pitches, with 87 being hardstanding. We are also currently running a fast check-in trial for our guests.
After his visit, Mr Skates commented: "It was great to visit Lady Margaret's Park Caravan and Motorhome Club campsite today in my constituency of Clwyd South to celebrate Wales Tourism Week 2023. It was easy to see why it is a popular destination for tourers. I am sure that campsite visitors across the year will also bring a welcome boost to the local visitor economy."