Celebrate National BBQ Week: 28 May - 3 June
08/05/2018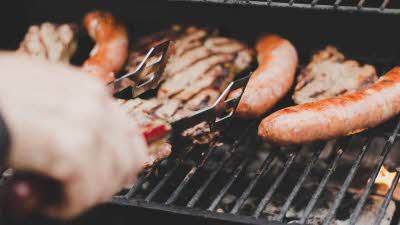 With the sunny weather on the rise, there's no better way to celebrate than getting out in the 'van and sparking up the barbecue.
To celebrate National BBQ Week, we've picked out some campsite-friendly recipes for you to try out, some of which have been contributed by our members. Take a look at the Club Together discussion to see all of our members' suggestions.

Simple Sticky Chicken
Try this simple but satisfying chicken dish provided by Grayginge on Club Together. Serve with warm pitta breads and a fresh salad.
Diced chicken breast

3 tbsp soy sauce

5 tbsp golden syrup
Mix together soy sauce and golden syrup in a bowl. Marinade the chicken breast in the sticky mixture overnight. When you're ready to cook, skewer the chicken and cook on the barbecue, turning until cooked through and golden brown. Top tip: If you're using wooden skewers, make sure to soak them first to stop them burning on the fire.

Spicy Bean Burgers
Mexican salsa and fiery chilli powder spice up top chef Ben Bartlett's vegetarian version of the All American hamburger… See this recipe and more in his new book, Carry on BBQing.
800g tinned kidney beans

2 tbsp salsa

100g breadcrumbs

25g freshly chopped coriander

4 tsp chilli powder

1 medium egg

2 tbsp olive oil
Wash and drain the beans then blend in a food processor. Mix in the salsa, breadcrumbs, coriander, chilli powder and egg. Using your hands mould he mix into 8 burger shapes. Brush each burger with olive oil and grill on a medium-hot heat for 5 minutes on each side until golden.

Jumbo Prawns on Sticks
Get stuck in with this easy grilled prawn recipe from Martin Dorey. Check out Martin's Camper Van Cook column in the Club Magazine every month for more camping recipes.
4 cloves of garlic, finely chopped

Black pepper

50g butter

20 fresh jumbo prawns
Thread two or three jumbo prawns on skewers and put them on the BBQ. While they are cooking (they will only take a few minutes) mix the garlic and black pepper in the butter in a ramekin or small pan, then place over the heat to melt the butter and give you a very garlicky hot dip. When the prawns are done, peel them, dip them and enjoy!

Save 10% on all barbecues and accessories
Did you know that Club members receive 10% off all barbecues and accessories from our Club Shop? Take a look at our great deals and try some of these dishes out for yourself!