Morocco with Bailey
03/04/2023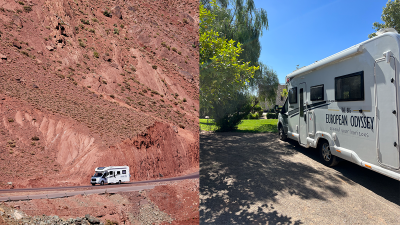 The very mention of Africa conjures images of great open savannahs, snow-capped mountains, wild animals, ancient cultures and vast swathes of desert. It's not, if I'm being honest, a place that comes to mind for most people when thinking about potential touring destinations. But it should be. Yes, you heard me right, we should all be spending more time in Africa in our leisure vehicles.
My love affair with Africa stretches back over twenty years, during which time I've not only lived there but travelled extensively through over half of the continent's countries. However, at no stage during that time had I ever considered taking a motorhome there. After all this is Africa we're talking about, a land far away from our fair shores. Or is it?
Tucked away in the northwest corner of this vast continent, with the balmy waters of the Mediterranean Sea to the north, the rugged Atlas Mountains cutting through its heart and the endless sands of the Sahara Desert to the south, Morocco is a country of dazzling diversity and endless intrigue. It's a world apart from anything you may have experienced in Europe, a country full of unique culture, epic mountains, great deserts, a glut of ancient cities and people ready to welcome you with genuine warmth. What's more it's only a short ferry ride away, ninety minutes to be exact, from mainland Europe.
Our own ferry arrived into the smoothly operated Tangier's Med Port under balmy blue skies, a sign of things to come on the weather front. After a quick stop for an x-ray of the motorhome, the purchasing of vehicle insurance and a local SIM card we were on our way. Having joined up with the Bailey of Bristol and Caravan and Motorhome Club Sahara Challenge a few days earlier in Seville we were still adjusting to travelling in a convoy, but with each passing kilometre were beginning to enjoy the sense of shared adventure, something that we'd not experienced on The Big European Odyssey since setting off last May. More than anything though we were, as a family, hugely excited to be on African soil in our motorhome, not something you get to do everyday.
The first few days in Morocco passed cruising down towards Marrakech on smooth roads and with ever increasing temperatures. By the time we had reached Marrakech itself it felt as if summer had truly arrived, albeit still in March, and so it was a welcome relief to arrive at our site and find not one but two swimming pools. I think there can be a misconception that campsites in Morocco are not great, and while some are on the simpler side of things, there are many that would not be out of place in Europe, such as Camping Ourika. At €25 a night for a family of four with EHU it was easily the most expensive site we stayed at in Morocco, but worth every penny for the quality of it.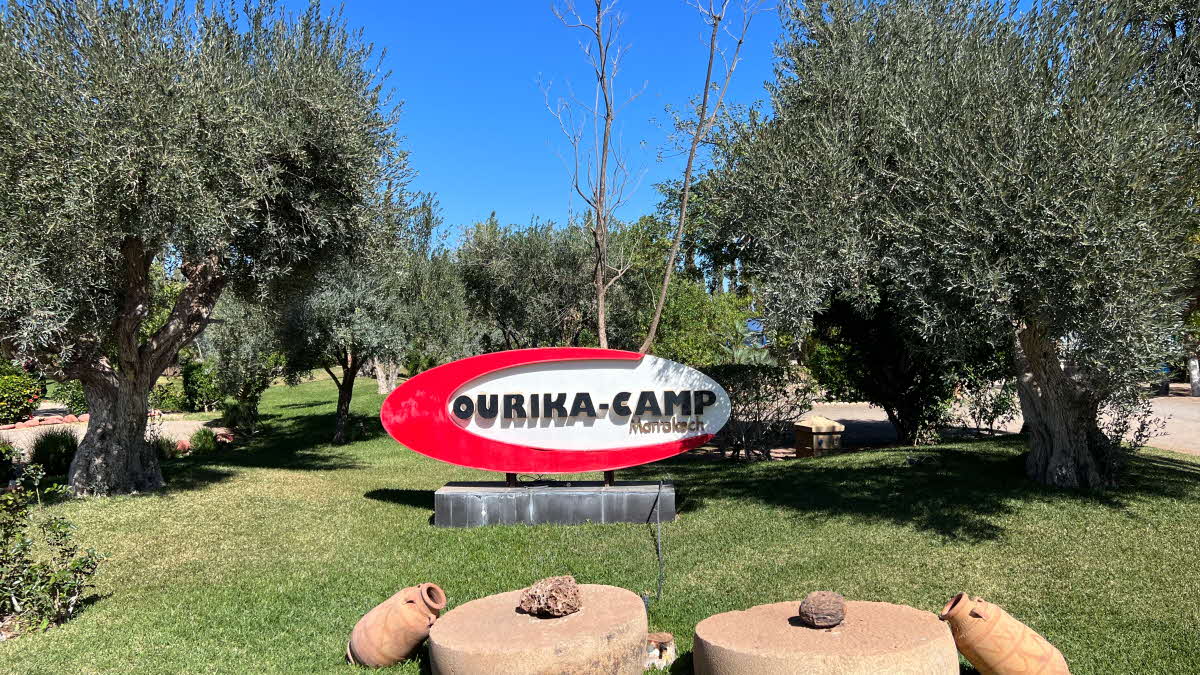 For those who've never been to Marrakech it can, with its cacophony of noise, exotic smells, riot of colours and labyrinth of alleys and souks be a little overwhelming at first. But once you adjust to the pace of life there it becomes an enchanting maze of curiosity, something to pique the interest around every corner and always a warm smile and offer of mint tea from the many shop owners who call it home.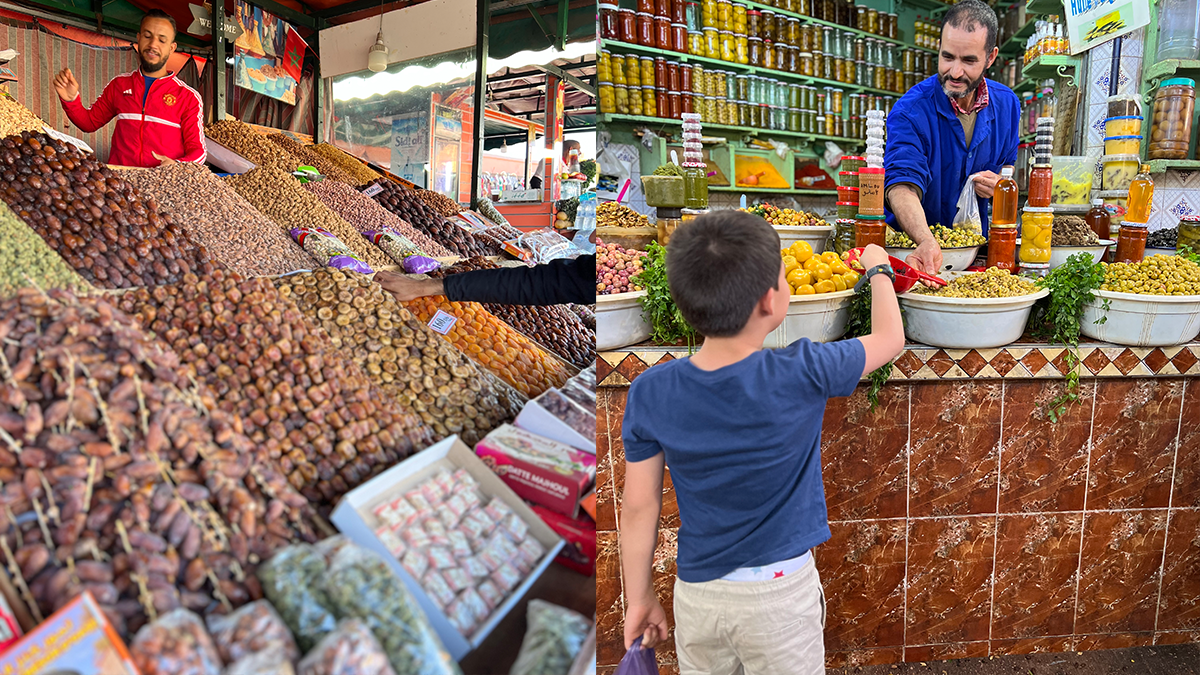 Tasked with cooking for the entire Sahara Challenge crew, which had swelled to twenty five by this time, mine and Kim's focus was to head into the souks to gather the supplies we would need for dinner - a task made all the more difficult with Harrison and Dorothy along for the adventure. Not that they are difficult, only that children are revered in Morocco and so everyone wanted to fuss over them, offer them free fruit and generally make them feel special and as much a part of everything as the adults. Something that is actually very refreshing travelling as a family.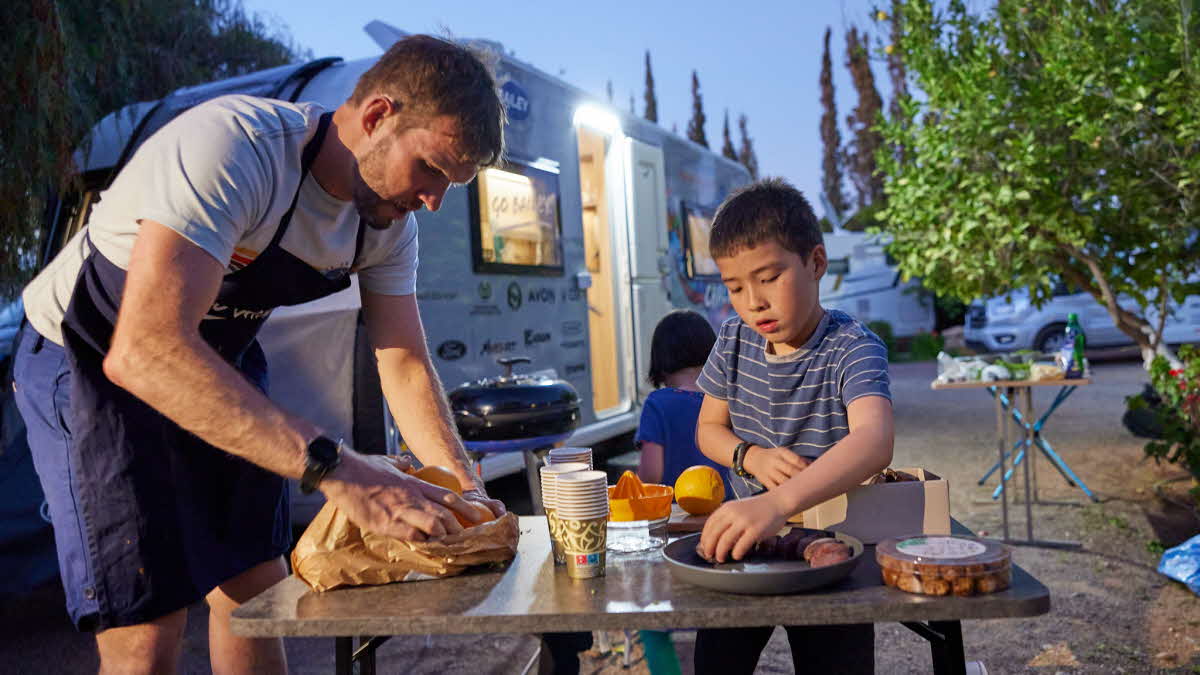 Following a highly successful meal, complemented by Harrison and Dorothy's fresh orange juice (a staple of Marrakech life) it was time to head over the Atlas Mountains, which for myself and Nick Howard meant a long day of pedalling as we set out before the rest of the party were awake, intent on completing the 180km route before them.
What ensued was the most incredible day on the bike, a reminder that Morocco and its many mountain passes (which unlike their European counterparts are often far more genteel in their gradients) are something of a cycling paradise for those that love to head away from civilisation and into the mountains. Our early start, combined with the crew's lengthy lunch stop, ensured we arrived into Ait Benhaddou first, albeit caked in dust after a last minute off-raid detour. Never has an ice cold coke tasted so good.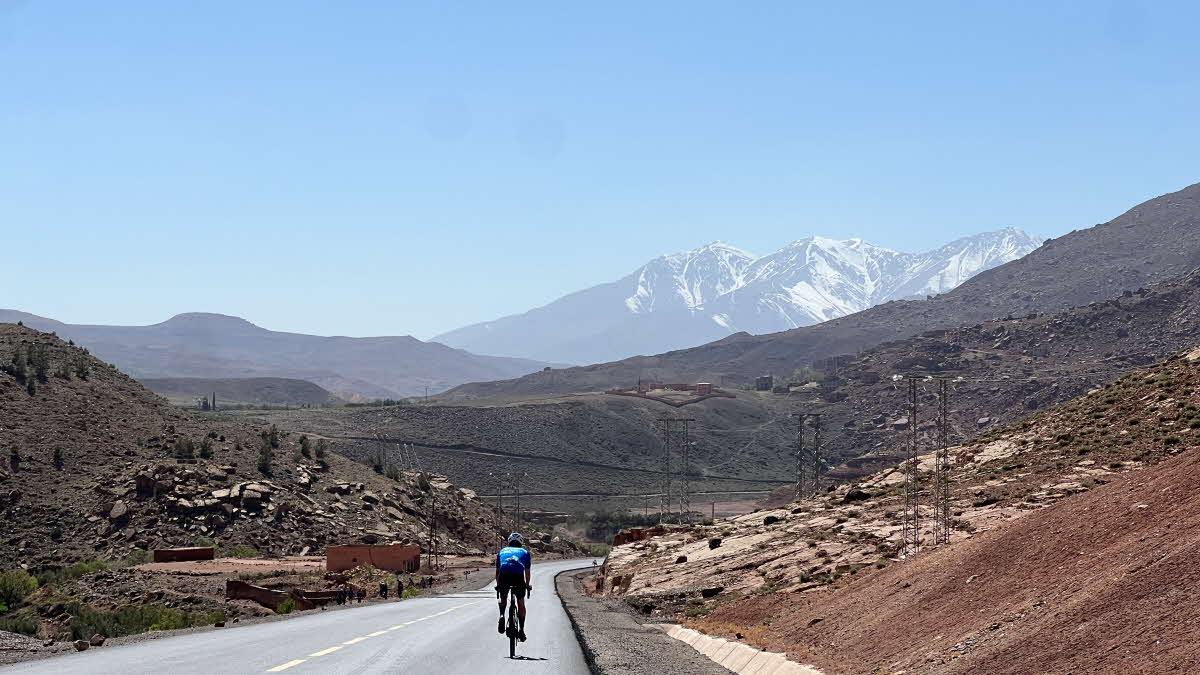 Located in the foothills on the southern slopes of the High Atlas, Ait Benhaddou is quintessential Morocco with its ancient earthen buildings surrounded by high walls, creating an imposing example of the architecture of the region. The oldest parts of the ksar date back over 800 years and are a designated UNESCO World Heritage Site. A climb to the top can be challenging in the heat, but go early and you will be rewarded with spectacular views for your efforts.
It was in Air Benhaddou that our time with the Sahara Challenge sadly came to an end, with their route taking them towards the iconic dunes of M'hamid, and our own journey heading through the heart of the Anti Atlas Mountains. As we said our farewells we did so with an element of sadness, such was the fun we'd shared, but each knowing that Morocco was most definitely a touring destination that more people should be considering for their next big adventure. After all, Africa's not really that far away….
Moroccan Lamb Tagine
Morocco is a country rich in culture, awash with history and a dazzling array of landscapes that makes for an incredible adventure for those prepared to make the short journey over from southern Spain.
However, if you decide that a tour to Morocco is not for you, but you still want a taste of the cuisine that is such an important part of the national culture, give this recipe a try. It uses many of the spices that can be found in souks around the country and is a fitting centrepiece for any gathering of friends or family.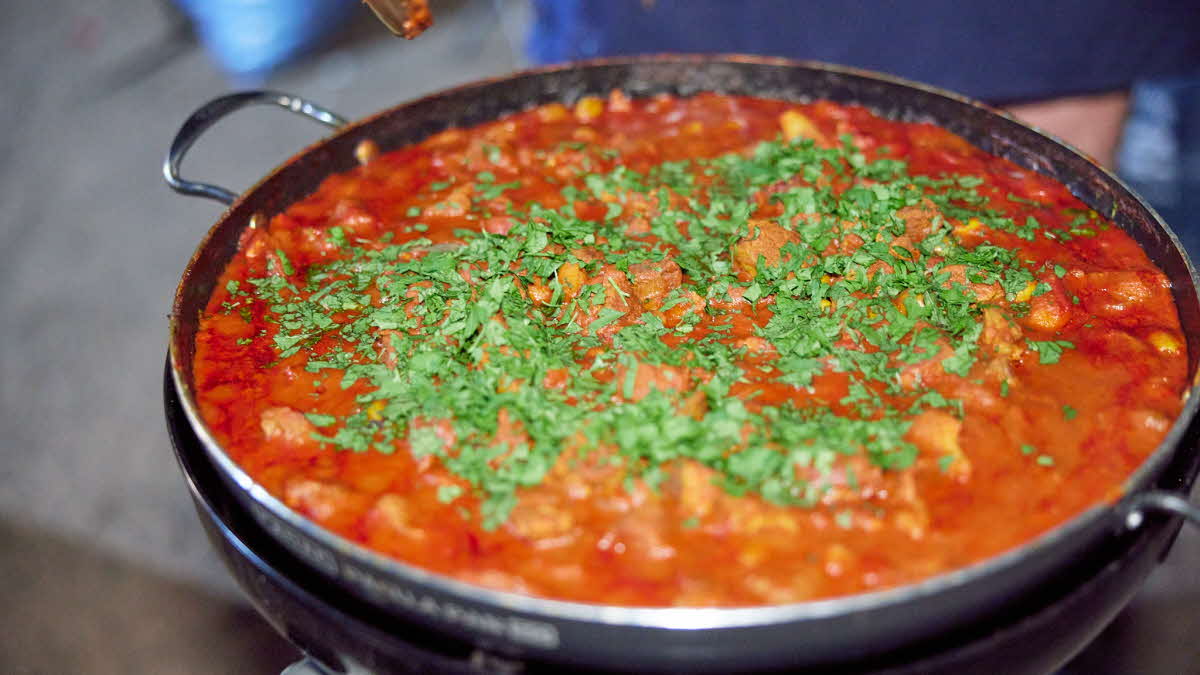 Ingredients (serves six)
Tagine
1.5kg diced lamb

2 onions, finely diced

4 cloves of crushed garlic

125g almonds, whole

125g apricots, chopped in half

2 tins of chopped tomatoes

1 tin of chickpeas, drained

1 litre of vegetable stock

4 teaspoons of ras-el-hanout

1 teaspoon smoked paprika

1 teaspoon ground cumin

1 teaspoon turmeric

1 teaspoon cinnamon

Salt and black pepper, to season

Small bunch of coriander, to garnish the dish
Couscous
250g couscous

One red onion, finely diced

200g unsalted cashew nuts, roughly chopped

100g dried apricots, roughly chopped

Seeds of one pomegranate

Small bunch of fresh mint

Juice of one lemon

2 tablespoons olive oil

Pinch of salt
Method
Start by cooking the diced onions and garlic in a little oil over a medium until they are turning light brown. At this stage add in the diced lamb and brown off the meat.

Next stir in the spices and cook for a further few minutes to release the flavours before adding in the tinned tomatoes, vegetable stock, chopped apricots, almonds and chickpeas. Mix well, reduce the heat to low and allow to simmer for around an hour, stirring occasionally and adding a little extra stock if required.

While the lamb is simmering you can prepare the couscous. Add the dry couscous to a pan and cover with boiling water before putting a lid on. The couscous will cook by absorbing the boiling water, usually about ten to fifteen minutes. After which allow it to cool down.

Meanwhile finely chop a red onion, the unsalted cashew nuts, the remaining apricots and a small bunch of fresh mint. Add these ingredients to the cooled couscous, along with the pomegranate seeds, olive oil, lemon juice and a pinch of salt before mixing well.

Serve the lamb tagine with the couscous, garnishing with freshly chopped coriander leaves.