Auto-Trail Expedition 67
The new Expedition 67 van conversion from Auto-Trail really catches the eye in terms of price by coming in at under £38,000. Nick Harding assesses its budget-friendly credentials.
Grimsby-based Auto-Trail already has a strong foothold in the panel van conversion market with the likes of its V-Line and Adventure ranges.
The two new 'Expedition' models – both based on the 5.99m Fiat Ducato – really catch the eye in terms of price. The 66 is £36,995, while the 67 on review here rolls in at £37,995 on the road. There are no options packs; instead, there's a deliberate policy that allows you to discuss anything above the standard specification that can be fitted by your dealer.
Build quality – 81%
The (only) choice of black for the exterior is a clever one as it means Auto-Trail doesn't have to worry about colour-matching bumpers and mirrors. The windows, meanwhile, are less costly units (although they're still double-glazed and tinted, and come with concertina blinds and flyscreens), and the wheels are black steel with plastic trims. Alloys, at £672, are one of just a few factory options.
Heating and hot water are courtesy of Whale, and the systems are fitted to the chassis, freeing up internal storage space. The 25-litre gas tank (in lieu of a locker and cylinders arrangement) does a similar job. The fresh and waste water tanks – both 68 litres – are also underslung (and insulated). Do note that there's no step at the sliding door – if you want one you'll need to speak to your supplying dealer.
Inside, I recognise plenty of fittings from other Auto-Trail van conversions – the rear travel seat, for instance. As for the rest of the interior, the flat-doored lockers are fully-lined, and it seems there's been no scrimping on lighting. Panelling around all the fitted windows doesn't suggest cut-price camping either.
Driving – 82%
With Fiat's 140bhp engine as standard, you get plenty of performance and decent economy (careful drivers will easily top 30mpg). There are options for power upgrades (from £1,175 for the 160bhp unit), plus the attractive but expensive automatic transmission (£2,795, but you'll also have to order alloy wheels).
Cab air conditioning and cruise control are standard, as are driver's and passenger's airbags – worth noting, because rivals will sometimes offer such things packaged as cost extras.
There's no stereo system; otherwise, the cab is standard Ducato, with the cup holder console containing single 12V and USB power outlets.
Daytime – 84%
The floorplan, featuring a compact rear lounge with two short settees and a pedestal leg table (both pieces stow in the wardrobe for travel), holds no surprises.
There's decent lounging space at the front, too – and a larger table, thanks to a swing-out extension section. The cab seats are easily swivelled and – critically, for some – have height adjustment so they can be on the same level as the rear travel seat.
The front lounge doesn't have a rooflight but there is one over what will surely be the main on-site seating area at the back where you also get opening windows each side as well as one in each rear door.
If you want a television that's another issue to sort via your dealer. The side of the wardrobe looks capable of taking a bracket, while an aerial, wiring and sockets will need to be arranged.
Night-time – 78%
At night the slatted bases at the back easily pull together and the two backrests can be dropped in to fill the gap, making for a rear double that I measured at 6ft x 4ft 4in max/4ft 1in min. Although the cushions make for a pretty flat bed surface, you might want to consider a mattress topper.
There are just two reading lights (one each side of the bed), plus ambient strip lighting over the lockers. Pleated blinds rather than insulation panels are priced at £295 for the side windows and another £295 for the windscreen.
Kitchen – 79%
Again, the layout is fairly standard in this department. The kitchen extends across the sliding door aperture and features a typical stainless steel, two-gas-rings-and-sink combination with a grill set under the former. A flip-up section provides worktop space and storage extends to a trio of different-sized lockers, a cutlery drawer in the kitchen unit, and a single overhead locker.
Two mains sockets are nearby, with a splash panel to the left of the hob and a wind guard along the worktop just inside the doorway. To the left of the kitchen, there is a wardrobe with an 85-litre, three-way fridge set just off the floor. It's a Dometic 8-series model, with a removable freezer box.
Washroom – 77%
There's more room in here than you'd expect, thanks mainly to the flip-down basin that fits flush to the mirrored vanity unit when not needed. It's not the deepest, but it certainly does the job. This leaves plenty of room for showering – where you get a trigger-operated outlet and a curtain – and using the swivel-bowl toilet. The washroom walls are GRP-lined.
There's just a small vent overhead and single plughole in the shower, but fittings include toilet roll and towel holders as well as a double hook – the latter two items on the back of the door. Low-level open shelving could prove handy on site.
Details – 80%
The Expedition is strong on storage – add the overcab and rear seat bases to areas already mentioned (there are hatches for accessing the undersides of each settee just inside each rear door).
The wardrobe is a decent size, as are the overhead lockers (two in the front lounge, four at the back). I counted two mains sockets and two double USBs, plus blanks should you decide you want more.
There's no floor carpet – grab some off-cuts from your local specialist if you really feel the need. Likewise, sourcing your own scatter cushions will save you money (and you'll get the colours your like). The rear travel seat is sculpted and has high, fixed head restraints. It's a little narrow if you're considering it for adults.
The conversion work is backed by a five-year conversion warranty (it can be extended to 10).
Verdict – 80%
Regardless of the price, sometimes you just step into a motorhome and it feels right. That's the vibe I get from this Auto-Trail Expedition. The price is low because corners have been cut in terms of fittings rather than during the actual build process.
More like this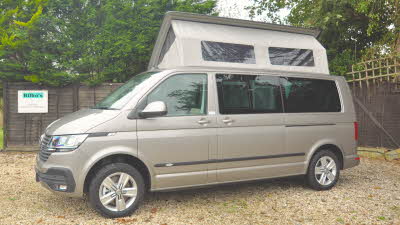 By Nick Harding
05/12/2021
Size isn't everything but the extra room the long wheelbase version of the Celex VW campervan conversion from Bilbo's certainly makes a lot of difference, as Nick Harding found out.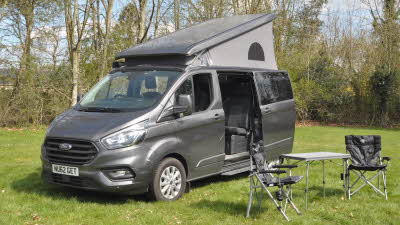 By Nick Harding
11/07/2021
The Ford Nugget could appeal to those who want to a campervan to double-up as a main means of transport as it has five travel berths and is excellent to drive. Nick Harding assesses its other qualities.