Bailey Phoenix+ 640
The Bailey Phoenix+ 640 offers a good mix of balance of value for money, towability and creature comforts. Rob McCabe checks out this new-for-2021 four-berther which offers a fixed island bed.
The phrase 'something for everybody' is much-overused but it does neatly sum up Bailey's four-range model line-up for 2021, containing everything from the dinky £17k/ sub-1,000kg Discovery D4-2 two-berth to the eight-foot-wide £31k/1,790kg Alicanto Grande twin-axle models.
Somewhere in between these two extremes is arguably where you'll find the best balance of value for money, towability and creature comforts – which brings us neatly to the Phoenix+ 640. This centre-washroom/fixed island bed four-berther offers a fantastic layout, great looks, a thoughtful standard equipment roster and respectable towing weight for just over £20,500 – that's only £2,100 more than the only fixed-bed Discovery model but a whopping £5,600 less than the equivalent layout in the next-up Unicorn Black range. That bit of number crunching suggests this Phoenix+ is well worth a closer look.
Build quality – 95%
The Phoenix+ caravans have GRP sidewalls that not only look fresh and modern in all their silvery sleekness, but offer a lot of impact resistance too. The same material also coats the inner walls, enhancing the bang-up-to-date décor.
There wasn't a hair out of place on the test caravan, with a very pleasing precision to the joinery and a perfect score for locker doors, blinds, flyscreens and slats, that all moved in and out or up and down reassuringly sweetly. The attractive, two-tone
overhead locker doors feature a fabric-look lower panel that's convincingly realistic. The big island bed base is a nice bit of engineering – it barely needs a couple of fingers to lift to its fully open position, where it'll stay of its own accord until you bring it back down to earth with equal nonchalance.
Towing – 92%
The 640's MTPLM of 1,411kg hardly qualifies it as a lightweight, but that's a pretty decent figure for a well-equipped four-berther and puts it within the reach of a lot of towcars. All the heavy kitchen appliances are ideally sited over the axle, and every caravan that comes out of the Bristol factory these days has its gas locker on the sidewall – you couldn't ask for better weight distribution. One thing you don't get as standard on this range is Al-Ko's Active Trailer Control, although you can specify it as a £515 factory-fit option.
Daytime – 90%
You'll quickly feel right at home in the lounge, although there are only two scatter cushions. The sofas are fab, feeling nice and plump and extending right into the front corners. Each is nearly six feet long, so it's disappointing to encounter just one reading light on each side.
Another disappointment is the fact that the front chest sits at two different levels when extended, limiting its usefulness as a table. Luckily, the free-standing table is easily retrieved from a shelf under the bed – where you'll also find the spare wheel, neatly concealed under its cover. There's still a decent amount of storage space under here, as there is under the seat lockers up front (the nearside one can be accessed from outside).
Staying entertained isn't a problem. TV viewing stations are provided on the dresser top by the entrance door and on a dedicated shelf in the bedroom, and the fitted JVC stereo boasts both Bluetooth and USB connectivity. There are two USB charging points located in the lounge and the bedroom.
The panoramic front window plays a big role in keeping the living quarters bright and airy during the day. It's served by a two-section fabric blind, the upper part of which covers just a small area (so you can open just this bit in the morning if you want to keep your leopard-print onesie a secret from the rest of the world).
A big shout-out to for Truma blown-air heating, which went about its business quietly and efficiently during the test.
Night-time – 94%
The 640 has a layout that's hard to fault. The bedroom is at the back, and the centre washroom cunningly serves as an en-suite when there are just two of you on board and as a facility equally accessible to any overnighting guests spending the night up front. Said guests have the option of two excellent singles that cater for sub-six- footers or a big, comfy double that quickly takes shape after pulling out a set of slats that glide along like Torvill and Dean in their prime.
The main bedroom is a strong selling point. The focal point is the bed itself which pushes back easily into its space-saving day configuration to allow you to make the most of the area's credentials as a dressing room. There's a long mirror in here, served by a dedicated downlighter and within easy reach of the mains socket by the TV shelf.
When fully extended, the bed is 6ft 2in long and offers terrific comfort and support. Each side of the bed is flanked by a wardrobe with a cupboard underneath, and a little bedside shelf for your specs and phone.
Kitchen – 87%
There's a nice bit of styling in here – the main worktop/sink unit juts out a bit further than the hob and there's a gap at floor level that gives it the appearance of a freestanding cabinet. There's not much work surface, although the dresser opposite can help out if needed; and if you're not using the hob, it is hidden by a hinged section of work surface that sits atop the usual glass cover. The Phoenix isn't far enough up the food chain to merit an electric hotplate, but there is a fitted microwave to complement the separate grill and oven. Good to see two mains sockets – you can have the kettle and the toaster doing their thing simultaneously.
Washroom – 88%
This is not the biggest nor most glamorous washroom you'll ever come across, but that will suit a lot of caravanners just fine. Personally, I'd be happy to trade a bit of space here in return for a roomier bedroom and lounge – which is exactly the proposition on offer with the 640.
Having said that, the shower cubicle is a good size and has a useful foot shelf that doubles as a repository for shampoo and gel. Storage is perfectly fine for two, and the blown air outlet ensures that this compact room is kept nice and warm. A sliding door shuts it off from the bedroom, with a lockable, domestic-style door doing the same for the lounge/kitchen area.
Lighting – 88%
A few years ago, when LED lights first set off on their ultimately successful quest for caravanning world domination, those bits that ran above overhead lockers were routinely described as providing 'ambient' or 'mood' lighting. These are a bit full-on – what I really hankered after here was a dimmer switch so that I could tone it down a touch. But the main culprits are the lamps that serve those big shelves in the front corners – these guys are just way too bright. Shame, because they'd look super-nice with a more gentle illumination level.
The kitchen is served by a smart set of flush-fitting lamps on the underside of the overhead lockers that looks a lot more impressive than the long strips of tiny LEDs that often live here. The washroom is bathed in light, thanks to a ceiling lamp, one in the shower and another above the mirror, all operated by a single pull cord. In the bedroom, the expected reading lights are supported by more above-locker strips and a dedicated downlighter for the long mirror.
Verdict – 91%
Twenty grand is a lot of money to most of us but I have to say that the Phoenix+ 640 offers outstanding value. It's nicely put together and it feels like a great place to be – the layout in general, and the bedroom in particular, are sure to attract lots of fans.
More like this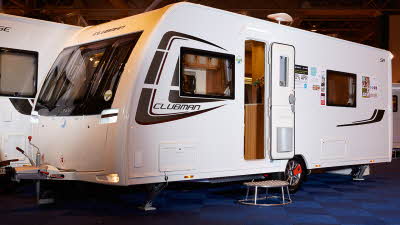 By Rob McCabe
08/01/2019
Rob McCabe tests a four-berth caravan with plenty of pedigree