Coachman Laser 545 Xtra
Looking for a caravan with a bit of extra space to relax in? At 8ft wide the Coachman Laser 545 Xtra offers just that but Rob McCabe takes a closer to see whether size really does matter.
How do you improve on something that's already really good? Easy – just give folk more of it. That's exactly what Coachman has done with the new Laser 545 Xtra, increasing the width of the much-loved centre washroom/island end-bedroom layout to 8ft, with a surprise in store in the lounge. Curious? Yep – me too!
BUILD QUALITY – 95%
Coachman enjoys a strong reputation for its approach to making caravans, and I saw nothing on this new model that would make a dent in that rep. The workmanship that's gone into the interior is flawless – there's beautiful carpentry, including dovetailed drawers, and neatly concealed piping and wiring inside lockers and cupboards.
The fully bonded, polyurethane-framed structure of the caravan means you get a 10-year body warranty – subject to an annual service at an Approved Workshop.
TOWING – 89%
It's heavy – no getting away from that – but with an MTPLM of just over 1,700kg, this single-axle 545 is not beyond the towing capabilities of a number of modern SUV-style vehicles. The main consideration is that
8ft width, which may call for some careful route planning if you're venturing away from the A-roads.
It's a nicely balanced caravan, with the kitchen heavy mob all clustered together almost exactly over the axle. It goes without saying that automatic trailer control is included as standard.
DAYTIME – 90%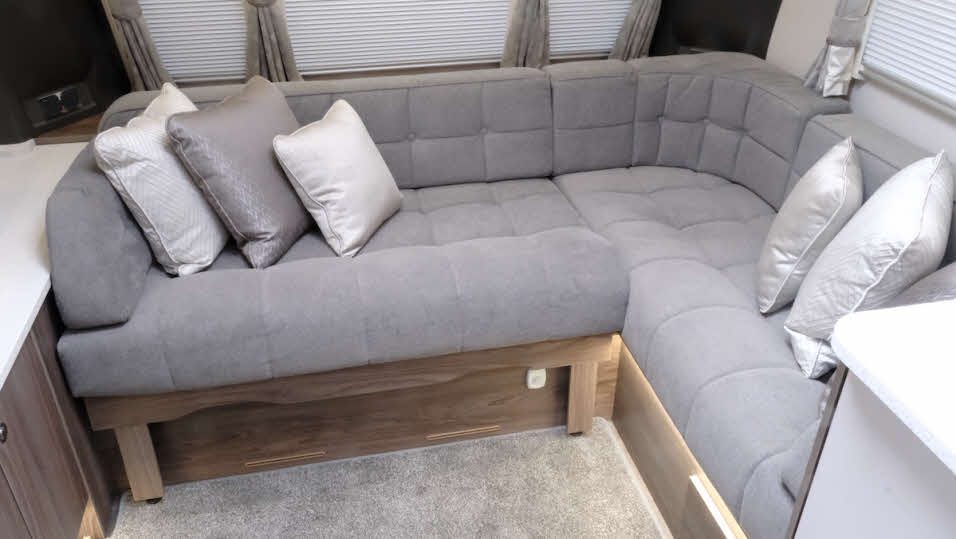 And here's your surprise: a beautiful L-shaped front lounge instead of parallel sofas. I'm pretty sure I've been in pubs with smaller dance floors than the square-footage on show here. This is where those precious few inches of extra width make their presence most felt. The seating along the front and offside is sumptuous, and deep too – I'm 5ft 11in, and my feet were dangling above the floor when relaxing right back into the sofa.
The 545 will sell predominantly to couples, who will be properly spoiled when they settle into their favourite corner. That leaves another very comfortable space for a third person, although adding a fourth won't be the most sociable set-up. In fact, the space offered by that 'dance floor' could easily accommodate a chair, which made me wonder about offering a folding one that could be secured under the island bed when not needed. Just a thought…
Of course, the L-shape set-up precludes having a centre chest of drawers with the always-useful extendable tabletop, so the freestanding table will have to be brought into play for all snacks and meals. At least it doesn't have to be carted far – its dedicated hidey-hole is adjacent to the lounge.
As befits a 21st-century caravan, connectivity is bang up to date. There are four USB sockets (two by the entrance door and one in each of the bedroom reading lights), two TV stations, a Bluetooth-enabled fitted stereo with pairs of branded speakers in the lounge and bedroom, and a wireless phone-charging pad on the front window shelf.
The removable carpeting is divided into no fewer than five sections, so you can leave some areas uncovered or put down your own fluffy rugs. The dark-oak-like flooring is certainly attractive enough to be left exposed.
Storage is generous, headed up by the big space under the double bed, the base of which can be lifted and lowered with a one-handed ease that belies its sturdiness. Outside, I like the twin-locker arrangement at the front. The nearside one is the gas locker, which can accommodate two cylinders; the other is for storage. Neat!
NIGHT-TIME – 94%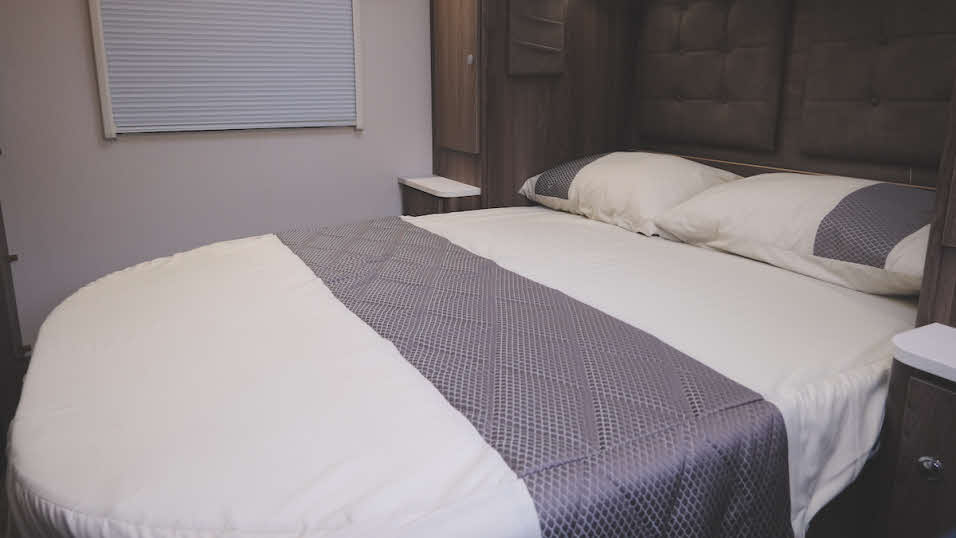 It's a wonderful bedroom – the designers have really gone the extra mile to make it as cosy as possible. The centrepiece is obviously the bed itself, which in day mode retracts to create more floor space – a real benefit when you're using this facility as a changing room. Fully extended, the bed is 6ft 2in long, and dreamily comfortable and supportive. There's also a handy low-level mains socket so you can use your hairdryer or straighteners by the long mirror.
For entertainment, there is a TV station, or you can stream music from your phone, or operate the radio from the lounge, courtesy of the speakers on the underside of the overhead lockers.
Each occupant has their own wardrobe and cupboard, and as well as a usefully sized bedside shelf there's a pouch on the wall for slimline items such as phone, specs or remote. There's a subtle, floor-level night light if you need some gentle illumination, although activating it is the preserve of whoever's on the left-hand side because that's where the switch is.
With its centre-washroom set-up, the Laser accommodates overnighting guests better than many fixed-bed models. They get a very fine bed too, courtesy of sprung seat bases that slide out to meet in the middle and upholstery sections that form a tighter unit than the Scotland football team back four (you're going to have to indulge me with that one).
KITCHEN – 97%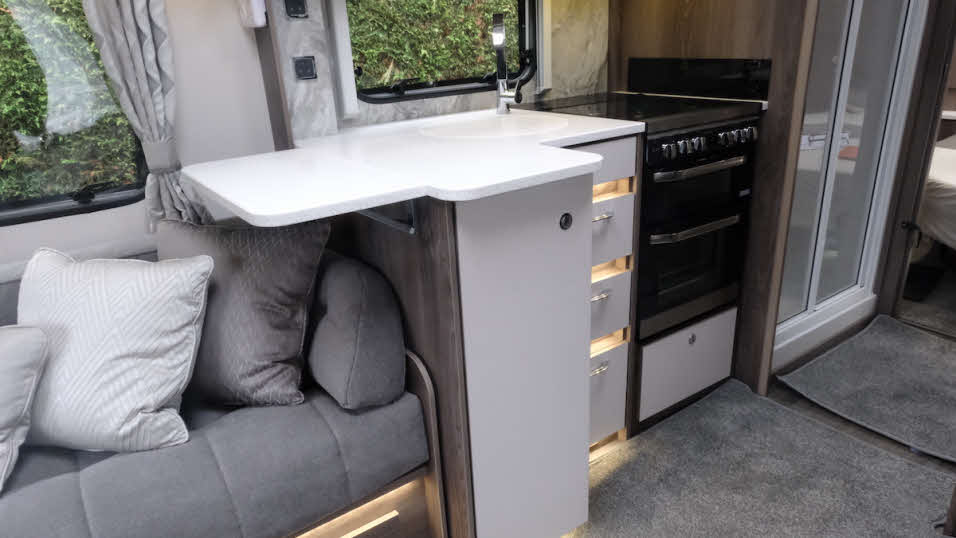 Now, I do like a good caravan kitchen – and this one is a pleasure to look at and to use. As in the lounge, there's a palpable feeling of space when you're on front-line cooking duties and, thanks to a fold-up extension and the thickest-set flush-fitting sink cover I've ever seen, the L-shaped work surface is generous too.
The black/chrome/brushed stainless steel Thetford cooker with cast-iron pan rest is about as beautiful as you could reasonably expect a caravan appliance to be, and the equally shiny microwave is very smartly integrated. It sits above a fancy touchscreen extractor fan and opposite a fancy built-in slimline fridge that lets you open the door from either side. Needless to say, I couldn't get enough of that.
WASHROOM – 91%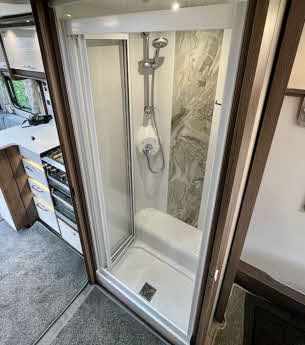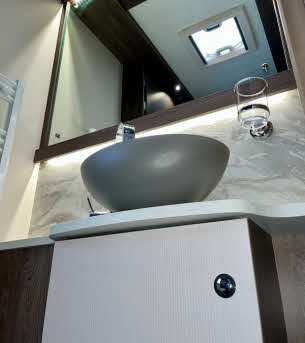 The midship position of the washroom facilities means they are en-suite to the bedroom, but also accessible to guests. As you face the back of the caravan, the shower cubicle is on your left (generous footrest, soap/gel trays, dedicated LED, flip-out flannel holder – all boxes ticked). On your right is the washroom proper, which is very easy on the eye – although it can be a little gloomy in daytime, due to all that dark wood. The big, dressing-room-style mirror and tall radiator/towel radiator bring some glamour to the proceedings.
LIGHTING – 95%
The difference that good-quality lighting can make to the overall ambience of a caravan has never been better demonstrated than in this marvellously illuminated example. The bewildering options available range from a task lighting setting that would rival an operating theatre's to a subdued background glow that brings a feeling of warmth to the outfit.
The latter is well-illustrated by the three-tiered ambient strips that adorn the front of the kitchen drawer unit – there for no other reason than to look nice. Three flush-fitting lamps and a striplight amply take care of more practical kitchen needs – as soon as your sautéeing onions start to take colour, you'll see it.
The set-up in the washroom really enhances the classiness of the surroundings, too. There are flush-fitting pin lights above the overhead locker and mirror, while the latter has a full-width LED strip above it and another underneath it to show off the basin and the attractive marble-look splashguard behind it. The expected ceiling-height area lighting in the lounge and bedroom is complemented by four and two reading lamps respectively; and another layer of mood lighting under the overhead lockers in the lounge adds even more sophistication.
With the blinds down in the evening, a bit of jazz on the stereo, a glass of wine to hand and the lights down low, it all looks and feels wonderful in this newest Laser.
VERDICT – 93%
Yes, it's expensive, but you do (literally) get a lot of caravan for your money. It's hard to imagine any new owner feeling short-changed by this terrific vehicle.
More like this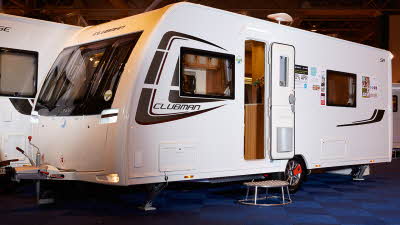 By Rob McCabe
08/01/2019
Rob McCabe tests a four-berth caravan with plenty of pedigree