Swift Challenger X 880 review
Swift Challenger X 880 review
Our expert tester Rob McCabe reviews the eight foot wide Swift Challenger X 880 which features a fixed island bed and acres of living space.
How do you improve a caravan range that's already a great success? Simple – make those caravans bigger! That's exactly what Swift has done with the all-new Challenger X, the 'X' in this case standing for 'extra-wide'; all four Xs are an impressive eight feet across. There are two twin-axle models and two singles, one of which is the island-bed 880 on show here. There is a lot to see – literally – so let's get cracking.
Build quality – 93%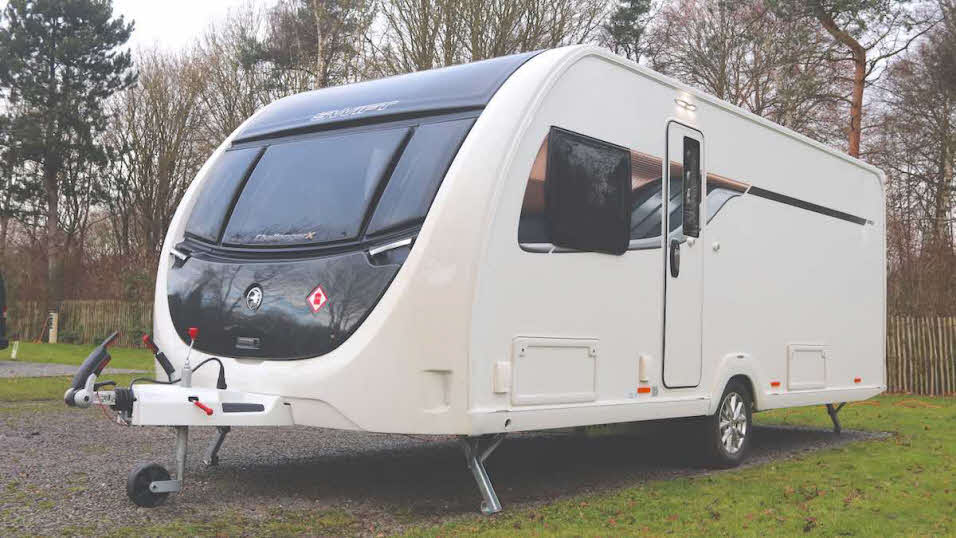 All Swift Group motorhomes and caravans are put together using the 'SMART' construction method. In essence, this means that the walls, floor, ceiling and front/rear panels are hung on a skeleton entirely devoid of wood – the framework is made of rot-free polyurethane, and there's a decade-long bodywork guarantee to back up the manufacturer's confidence of resilience to water ingress.
Our test example was impeccably presented. The furniture construction inside is as neat as a pin; peeking inside the wide-opening lockers and hatches reveals just how tidily everything is finished off, and the quality of the joinery is first-class. Most impressive.
Towing – 85%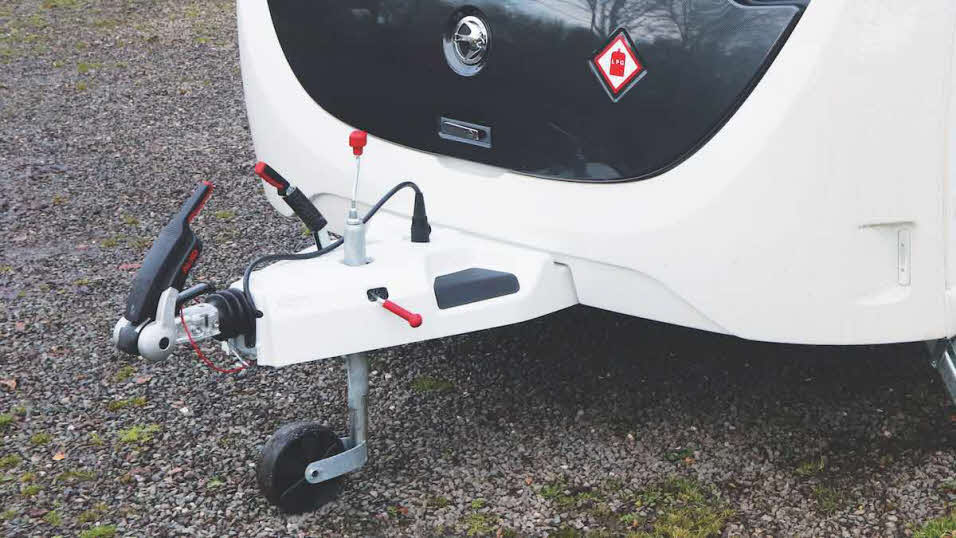 It's hardly a lightweight, so the 880 will need a vehicle of substance to undertake towing duties. It's reassuring to note that weight distribution is spot-on: all the heavy stuff in the kitchen is either directly over or slightly fore of the axle. On a caravan that costs a chunky 27 grand as tested, it's surprising that Al-Ko's much-lauded ATC trailer control system isn't fitted as standard; you have to shell out another £349 for that. The eight-foot width, meanwhile, may mean some careful route-planning is needed – access to some tucked-away Certificated Locations may only be possible if you hold your tummy in!
Daytime – 92%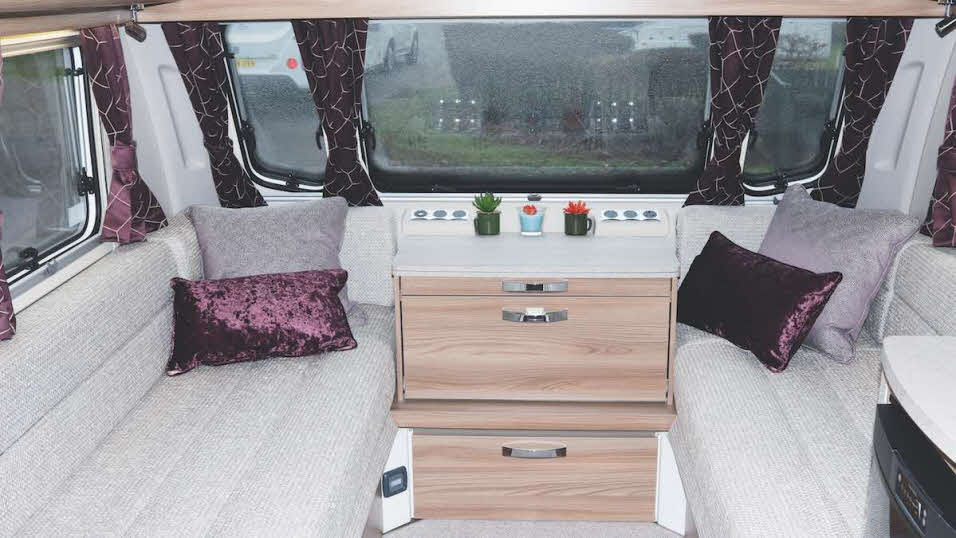 Once you've arrived on site, you'll really reap the benefit of the living space at your disposal, those extra few inches of width making their presence felt most in the lounge. The free-standing table is an extra-wide fitment too, so you can really go to town on dressing the table if you're having guests round for dinner. For all other occasions, there's the extension to the front chest.
The lounge really is a beauty. I've said many times that Swift's designers really have the knack when it comes to interior decor, and that doesn't seem to have changed. It looks and feels classy, and the blending of colours and materials has been done subtly to eliminate any risk of it looking dated in the years to come.
The touchscreen panel over the door controls everything from selecting the fridge's operating mode (yes, really!), to working the lights and the radio. The latter offers DAB as well as FM and you can pair your phone or tablet with this system via Bluetooth, so you can listen to your own playlists.
Note that our test vehicle's external gas barbecue point, mains socket and hatch leading to the nearside front seat locker are part of the £625 Lux pack, which also includes an illuminated kitchen splashback, and a keyfob-operated alarm and awning light. An 80W roof-mounted solar panel is included as standard.
Night-time – 90%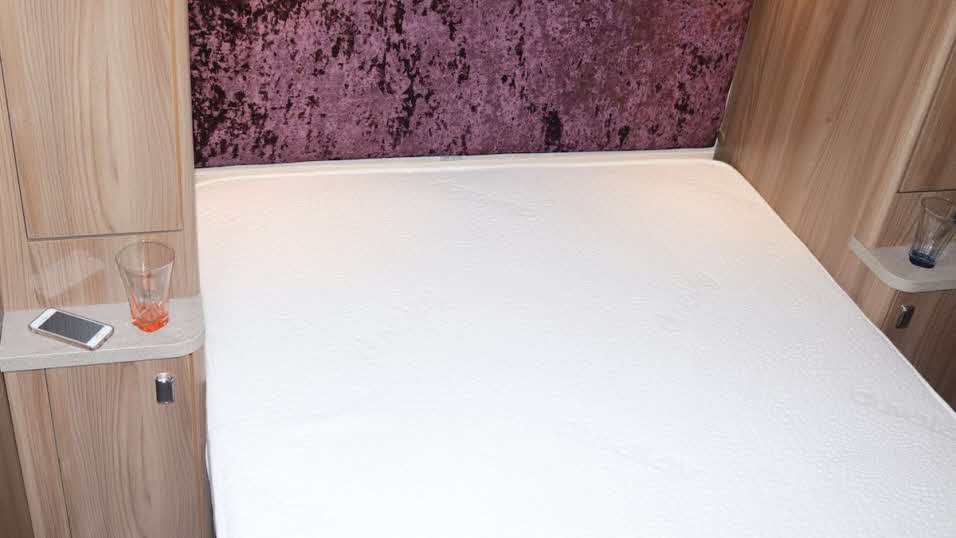 This is pretty much the bedroom with everything. You get a wide-opening sunroof, a wardrobe each, a substantial bedside shelf each, a TV viewing table and a big illuminated mirror (which opens to reveal a shallow cupboard).
The bed itself is sumptuous – and there's no need for a shortened daytime mode here. The simple maths is that the caravan is eight feet wide and the bed juts out 6ft 2in – so there's plenty of room beyond the end to walk past.
The concertina blind that shuts off the bedroom is the one minor let down: it's not the most attractive colour, for one thing, and it doesn't convey quality in the way that a proper door would.
If you happen to be more than seven feet tall, the front lounge makes up into a double bed that will accommodate you with room to spare – it's an astonishing 7ft 5in long. It's extremely comfortable and there are no slats to be wary of – the base sections slide out from under each sofa to meet in the middle. I would think this is more likely to be used as a couples' caravan, though, particularly given the location of the washroom right at the back of the bedroom.
Kitchen – 91%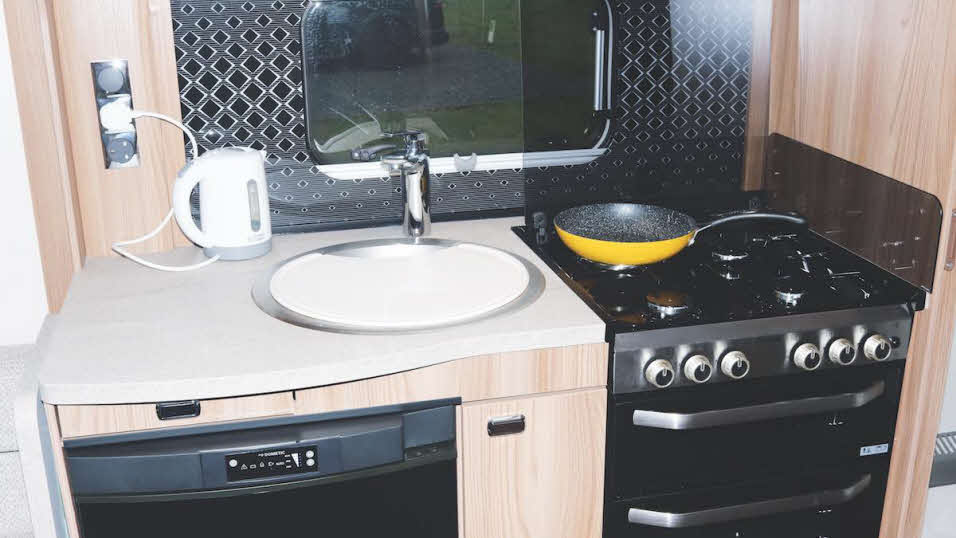 As you'd expect nowadays, there's a fitted microwave and you have an electric hotplate on the otherwise gas-fuelled hob – so you can use each of these whenever possible to save on gas while you're using the hook-up. There's a separate grill and oven too.
For two people, there's more than enough good, deep, uncluttered storage space (including sturdy pull-out wire racks) to go around. Work surface is decent too, boosted not only by the little extension that flips up into the lounge area but also by the fitted acrylic sink cover/ chopping board. This is shaped in such a way that you can still use the sink when it's in place – a welcome, touch. The surface is pleasingly tactile and chunky; granite-effect material also features on the front chest in the lounge and on the bedside shelves.
Washroom – 83%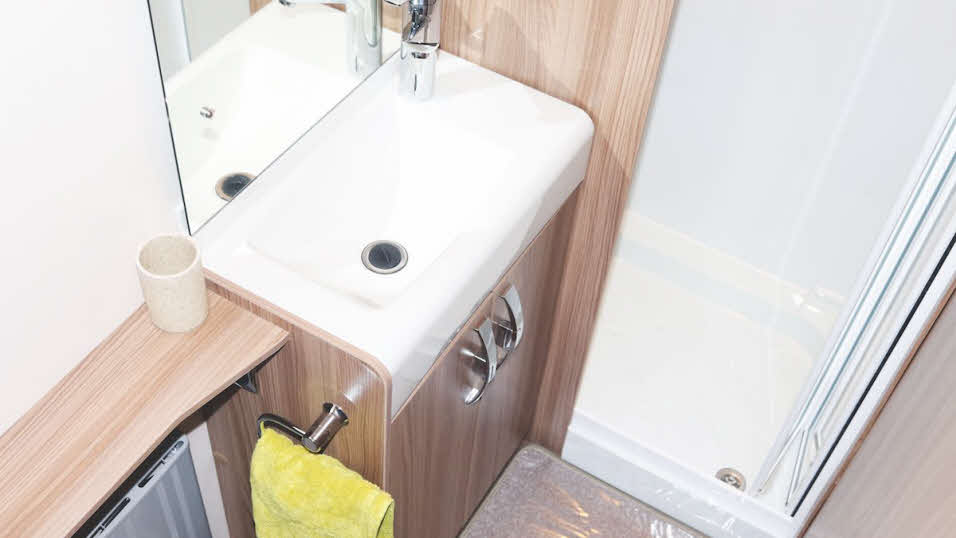 This end facility is small. That's not a criticism, just a statement of fact – many would-be buyers will be delighted to see that the 880's designers haven't 'wasted' space on a room in which such little time is spent. However, those who like their caravans to have a washroom that's four-star-hotel roomy and plush might like to look elsewhere: it feels rather corridor-like back here, although there's a plethora of storage options for such a modest space. Of course, if you're not sure what would be best for you then make sure you check out our caravan buying guide to help you work out what's suitable.
Lighting – 93%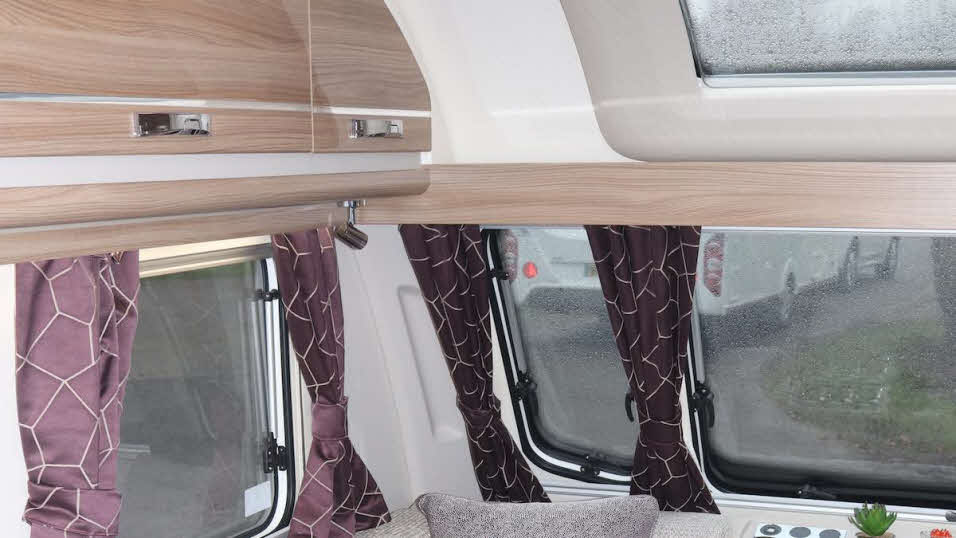 The aforementioned control panel above the door has a neat feature – a dimmer function for the ambient lighting in the lounge and bedroom. Each tap on the screen nudges the brightness up or down a notch, giving you even more say over how much or how little illumination you want when you settle down for the evening. There are four reading lights in the lounge too, so any overnighting guests are guaranteed one to themselves however they make the bed up.
The kitchen is brilliantly lit, thanks to two sturdy lamps on the underside of the overhead lockers and a trio of flush-fitting pin lights on the ceiling binnacle. Two readers in the bedroom complement the ambient strips, while the illumination in the washroom includes a separate lamp for the shower cubicle and one for the mirror above the wash basin (the mirror in the bedroom also has its own downlighter, which is good to note).
Verdict – 90%
Those few extra inches of width have been put to outstandingly good use, especially in the beautiful lounge. It's a well-made, well-presented caravan that offers oodles of practicality and some clever tech too. The washroom is the only area that feels slightly compromised, but that does little to dilute the appeal of this handsome newcomer.
In the market for a caravan? You can view caravans for sale in our Classifieds section. Don't forget, we've reviewed plenty of of vehicles to help you find exactly what suits your budget and needs.
More like this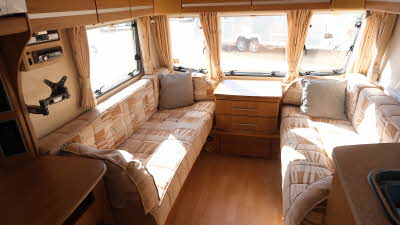 By Rob McCabe
24/11/2021
Despite demand for used caravans being at an all-time high it is still possible to unearth a bargain if you know what to look for. Rob McCabe casts his eye over three potential second-hand gems.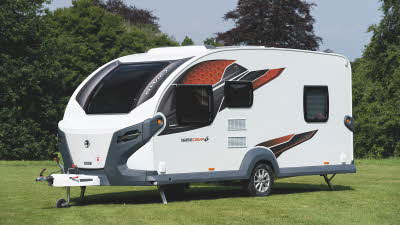 By Rob McCabe
10/11/2021
Ready for an adventure? Rob McCabe takes a closer look at the innovative Swift Basecamp 6 which is designed with active families in mind.