Adria Coral 670 DC
Nick Harding assesses the merits of the three-berth Adria Coral 670 DC which comes on a Fiat Ducato base and offers a rear fixed island bed and an options list as long as your arm.
Slovenian manufacturer Adria has been represented in the UK for something like half a century now. Its caravans are very popular popular and it boasts a wide range of motorhomes, too, with
 a portfolio that starts with van conversions and goes all the way through to A-classes.
Centre stage here is the 7.5m-long Coral 670 DC, one of a series of low-profile coachbuilt models offered with 'Axess', 'Plus' and 'Supreme' specification levels. This Plus version starts at £61,325 but extras – such as 'Pack 2' (£2,590, includes front fog lights, passenger airbag, traction system, leather steering wheel, etc), a £3,060 'Luxury Pack' (Fiat spare wheel, steering wheel controls, central cup holder, awning), £1,560 150bhp engine upgrade, £490 solar panel, £1,530 habitation air conditioning, £890 cab metallic paint and £275 bedding set – take it to more than £70,000.
Build quality – 89%
Adria has long used tough polyester (GRP) as the exterior skin for its products. It feels particularly solid outside and in – the only surprise is that the company only offers a two-year warranty for the habitation side of its work (the bodywork has a 10-year back-up, transferable for the first seven years).
Driving – 84%
Fiat's sure-footed Ducato underpins the Coral 670 DC and the upgrade to a 150bhp engine here (standard size is 130bhp) improves the overall driving experience.
There are four travel seats but it's a mixed report in this department. The facility to transport two extra passengers behind the cab 
is to be applauded but converting the settees
 to individual travel seats isn't straightforward.
 It involves a fair amount of cushion-switching and the result is a forward-facing seat with three-point belt on the nearside and a rear-facing unit with lap restraint on the off. There's no window on the latter side although there's a 'media wall' into which you can plug your devices.
Daytime – 80%
The Coral has a pleasing lack of straight edges, its sleek interior providing plenty for style enthusiasts to comment upon.
The daytime arrangement of twin short settees either side of a sturdy, adjustable, fixed pedestal-leg table works well. The gloss white table-top itself is hinged in the middle and can be easily tipped out of the way if you need access to the cab. Meanwhile, the cab seats swivel seamlessly and there is a nice flat floor throughout the living area.
The light tones of the furnishings and double sunroof arrangement overhead provide a bright and airy environment. However, there's a darker upholstery option for those who might feel pale colours will soon show the marks.
Night-time – 83%
The rear island bed is a terrific highlight – it can even be raised or lowered electrically via a switch in the garage. Angled wardrobes increase the available width of the sleeping area and there's a comfortable mattress with
 upper-section angle
 adjustment should you want 
to sit up. There are useful
 ledges each side, while twin
 touch-sensitive reading lamps
 offer two levels of illumination. 
Other aspects of note are a padded
 headboard, high-level lockers on the back wall and a Midi Heki overhead.
The slatted bed base hinges upwards, providing access to storage space as well as the fresh water tank. A sliding door provides some bedroom privacy.
The third sleeping berth is a rather convoluted affair, made up from the lounge seating. Like the extra travel seat, it might be best for occasional use only.
Kitchen – 79%
On first inspection the kitchen seems rather compact and maybe you'll be a bit disappointed if you like a food preparation area with plenty of permanent worktop. But there are plenty of positives. The hob – boasting three different-sized gas rings in a line – is an efficient use of space, allowing for some work surface in front.
Additionally, two loose panels can be integrated with the shaped sink to provide more prep room. There's an integrated extractor unit, a handy aluminium rack set into the wall for smaller items, excellent splash panelling and storage in the form of a series of soft-close drawers, a locker under the oven/grill and two overhead lockers.
Across the galley, there's a generous 142-litre narrow fridge with freezer compartment and automatic energy selection. The locker above it could be adapted to house a microwave oven.
Washroom – 83%
Washroom facilities are split between a toilet room on the nearside and a shower cubicle offside; the latter is indicative of the Coral's mix of style, quality and practicality. The double doors with a lock are more sturdy than most.
Despite the fact the shower sits over the wheel arch, there's plenty of room for washing, and there's a hand ledge for your shampoos, soaps etc. There's a fixed rail for wet clothing, plus a rooflight, while opposing plugholes should ensure water drains efficiently.
The WC is home to a Thetford swivel-bowl toilet and a counter-top basin, the latter flanked by a toothbrush mug and soap dispenser. There's excellent locker storage plus a wide, illuminated mirror.
Details – 87%
There's plenty more worth highlighting in this Adria. The wider than average habitation door (complete with window and waste bin), for example, as well as the fact the interior lockers are easy to open and feature shelving with proper lining. Excellent LED lighting throughout, a trio of floor-level storage hatches and a good selection of USB/mains sockets are further features that impress.
I'm not a fan of the cheap-looking plastic hinges for the seat bases, however, or the sprung cassette roller blinds/flyscreens (concertina blinds seem more up-market), and the TV bracket hidden behind a removable panel in the offside lounge locker is not very practical. However, these niggles are more than outweighed by the quality on display everywhere else.
Verdict – 84%
Great styling and a high calibre of build quality bode well for the Coral 670 DC. Check out the different trim levels and be prepared to pay for some extra essentials – the Luxury Pack and Pack 2, for starters – to make it into the complete package for you.
More like this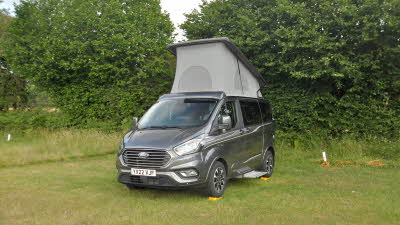 by Nick Harding
06/10/2023
Nick Harding takes a look at the award-winning, four-berth Monza