Broadway review
Auto-Sleepers' Broadway EL has been taking centre stage for some 17 years. Nick Harding puts its latest iteration under the spotlight
The 'EL' made its debut in 2006, and its winning formula means it still warrants a place in Auto-Sleepers' Broadway line-up today.
It has a starting price of £81,200 but budget for a little more as the Premium Pack and Winter Pack are effectively default options (£2,500 and £295 respectively) – there's yet to be a Broadway produced without them.
The Premium Pack covers alloy wheels, cab air-conditioning, cruise control, Thule awning, colour reversing camera, 80W solar panel and, the most recent upgrade, Zenec's Z-N965 media system. The Winter Pack gives you a Truma combi heater upgrade, cab blinds, fresh and waste water tank heater blanket and wheel arch insulation.
It's built on a Peugeot, but if you want automatic transmission, Fiat's Ducato base and 140bhp engine are available for a £2,500 premium.
Meanwhile, free options include a full over-cab set-up rather than the low-profile pod pictured, and five soft furnishing alternatives. 'EL' stands for 'end lounge' and you certainly get a lot of that here.
Build quality – 80%
The Broadway has always been Peugeot Boxer-based, but these days it's on the long-wheelbase chassis-cab, which gives extra stability on the road. That 289kg payload may not seem a lot but do bear in mind this is only a two-berth and it comes pretty much fully loaded as far as kit is concerned. The coachbuilt bodywork is GRP with aluminium skirting. Other premium features include flush-fitting windows, a one-piece habitation door with window (the cab central locking extends to here, too), exterior access lockers and fixings for a bike rack on the rear panel – the latter set low for ease of use. Fresh and waste water capacities are 102 and 71 litres respectively.
Driving – 76%
Peugeot's latest 165bhp motor gives a noticeable pep you don't always get with a coachbuilt motorhome. It will happily sit at UK speed limits having wasted little time getting there and – depending on individual driving styles – 30mpg-plus should be on your radar. Another bonus: the chassis is a driving licence-friendly 3,500kg.
The cab highlight is the touchscreen 'infotainment' unit, providing DAB radio, sat-nav, reversing camera monitor and Bluetooth.
Daytime – 79%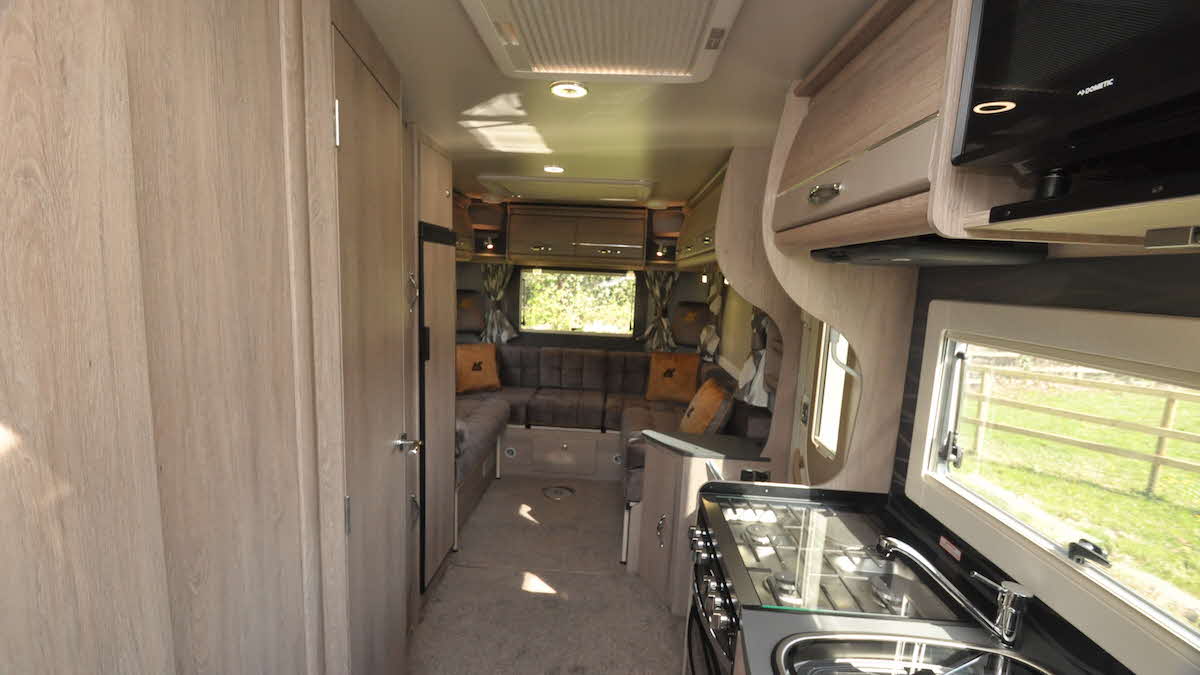 The floorplan is a long-term favourite on these shores. That end lounge really does give you so much more daytime living space than a similar-size vehicle with permanent beds. With just two on board, you'll want to make the most of the sprawling opportunities in a lounge like this, with its two corner head restraints and four scatter cushions. The windows to three sides are large enough for generous views out and come with cassette blinds and flyscreens, plus there's a large rooflight. All the fittings are in place to plug in the free-standing TV – an Avtex smart model with 19.5in screen, complete with soundbar – at a suitable level on the nearside. You get a choice of tables – a free-stander for meals and a single-pedestal leg unit for more occasional use.
Night-time – 74%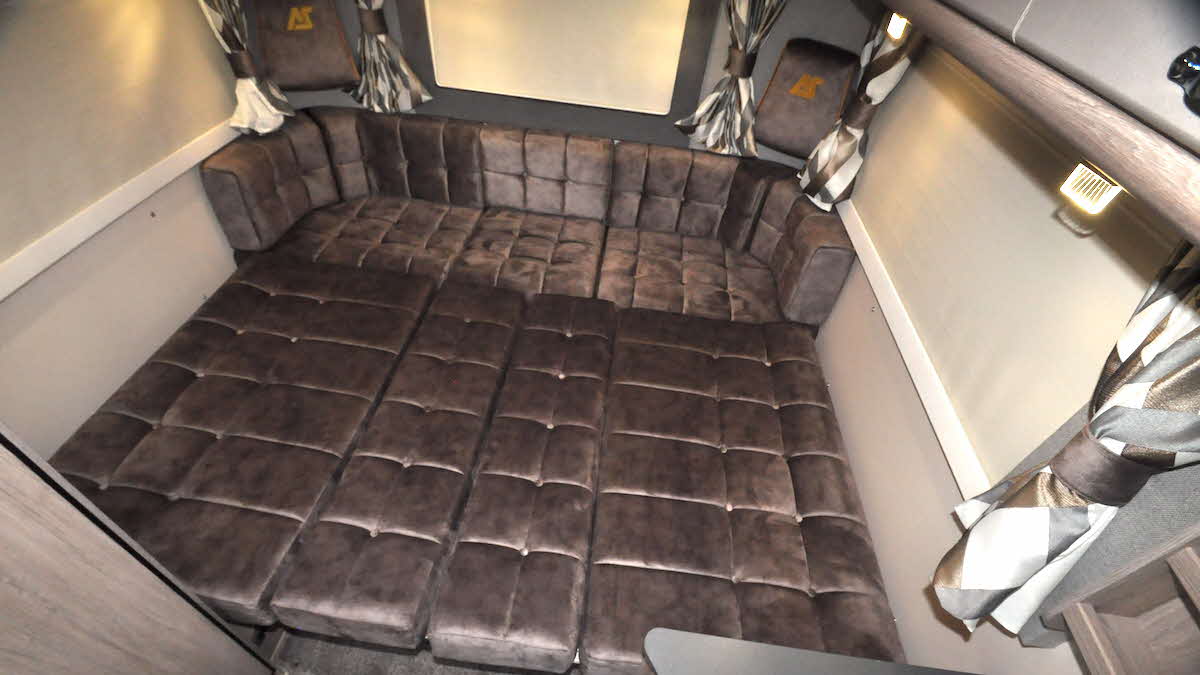 A huge double (7ft 3in x 6ft 2in) or twin single beds (6ft 2in x 2ft 4in) – it's your decision. It's certainly a nice choice to have, and either option is relatively easy to make up. Personally, I do find the mattress a bit firm – you might feel a topper is in order.
Night-time illumination includes paddle lights on rails – again on three sides so you can direct light wherever you want it – as well as plenty of ceiling downlighters. All are individually switched. Lined curtains complement the blinds, ensuring a good level of night-time blackout.
Heating is courtesy of Truma's Combi 6 system, using mains and/or gas, with iNet as standard, meaning you can operate it all remotely.
Kitchen – 88%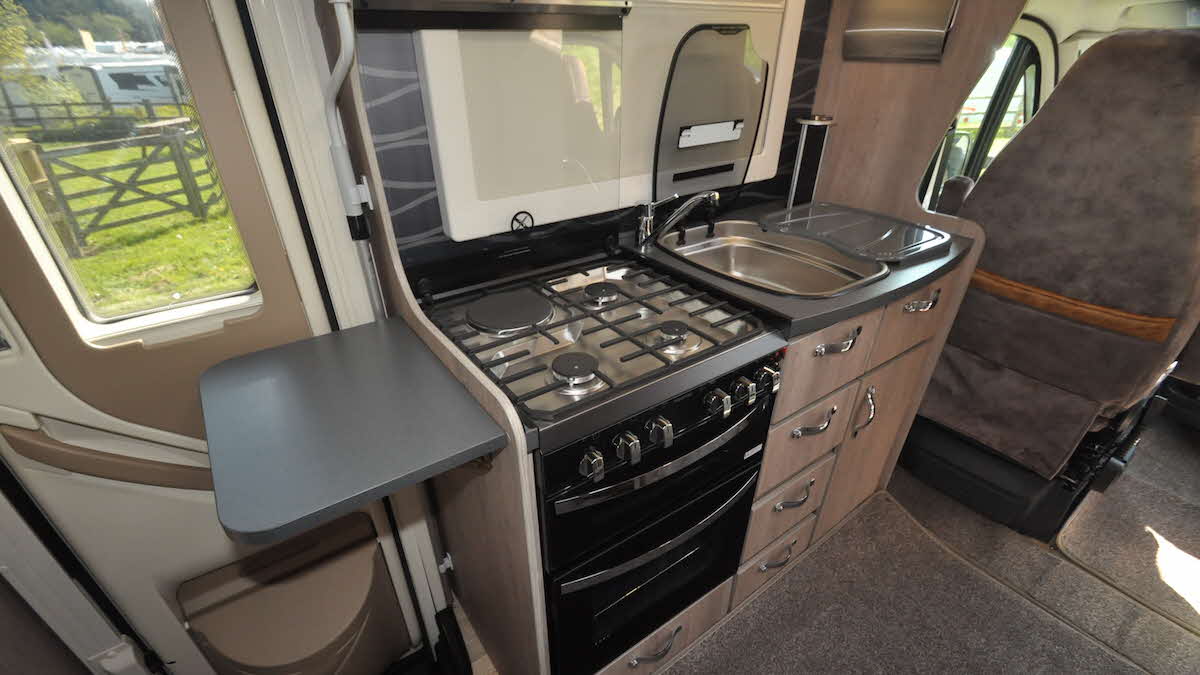 The Broadway kitchen contains a cooker (dual-fuel hob, separate oven and grill) and a microwave oven that is housed directly over the sink and its add-on drainer. Worktop space is generous and includes a flap that folds down across the corridor just before the cab, as well as a more conventional flip-up extension on the left of the kitchen unit.
Storage includes a trio of drawers (one for cutlery) and lockers of various sizes, with a waste bin close to hand in the habitation door. Other fittings range from an extractor unit and a pull-up gang of three mains sockets, to a cutlery drainer that fixes to the sink's lid when it's in its open position. Why, there's even a kitchen roll holder – and a safe. Any criticisms? The single locker over the hob is home to two bottle-holders and four small wine glasses, but the latter store at the very back and could be somewhat inaccessible.
Across the corridor is a Thetford slimline fridge with freezer (total capacity is 142 litres).
Washroom – 86%
First impressions may suggest a lack of space, but then you realise that the wall housing the handbasin and a high-level locker with mirrored doors actually swings round to create a shower cubicle.
The shower is on a riser bar and there's an extending section of clothes line, as well as a double locker and some open shelving over the Thetford swivel-bowl toilet. All that's missing is a window (there's no space for one) – a small rooflight suffices for ventilation.
Details – 84%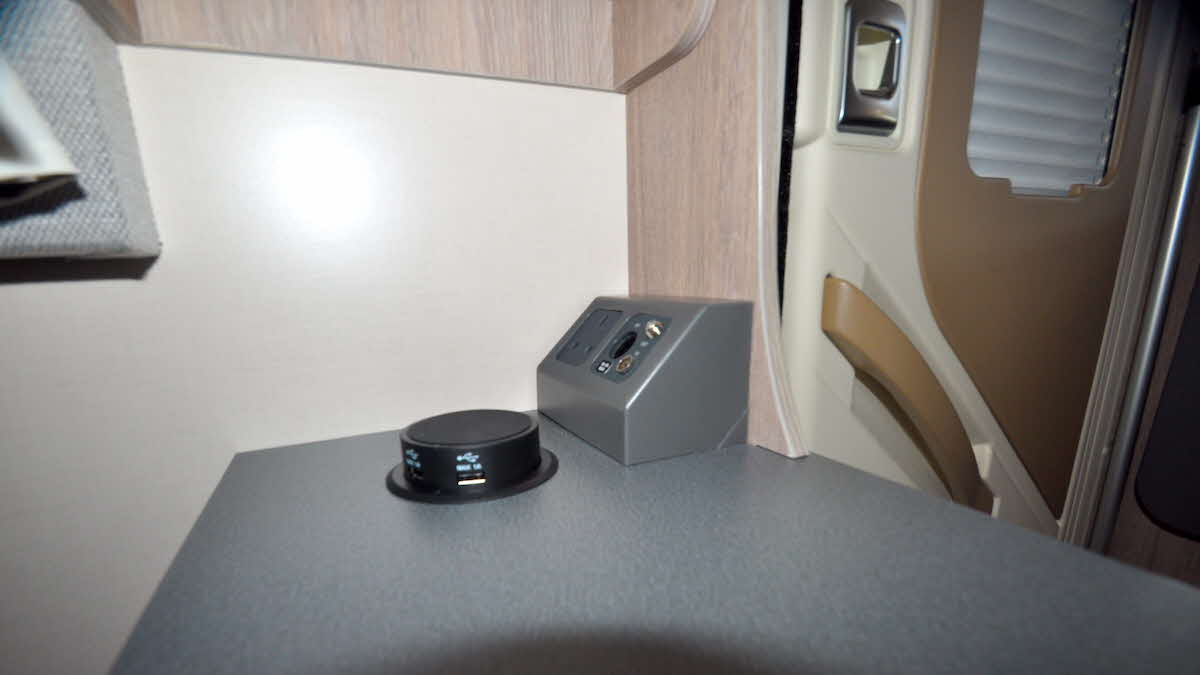 Auto-Sleepers has thought of everything, from the opening sunroof over the cab and the blinds for the cab windows, to the phone charger pad with two USB ports. A Sargent Cat 6/S7 tracker is pre-fitted – annual subscriptions start at £100. There's a fire extinguisher attached to the base of the driver's seat. Carbon monoxide and smoke alarms are also on board. An electric step and big grab handle are helpful aids at the habitation door. A full complement of cutlery and a 12-piece crockery set complete the many, many details.
Verdict – 81%
The two-person set-up, large lounge, generous specification and Auto-Sleeper pedigree all appeal. No wonder the Broadway EL scooped top prize in its class in the Club's 2023 Motorhome and Campervan Design Awards.