Auto-Trail Expedition C72
Bargain, hunted
Nick Harding puts the spotlight on Auto-Trail's latest competitively priced, family-friendly coachbuilt
For a company that rather quietly celebrated 40 years of continuous motorhome production in 2022, Auto-Trail knows how to blaze... well, a trail.
It offers the most comprehensive range of all UK motorhome manufacturers, with coachbuilts, van conversions and A-class models in its portfolio. When it comes to the former, the company is better known for its more premium products – but it's not afraid to turn its considerable power to more affordable models.
And, just when other manufacturers are starting to switch to Ford-based coachbuilts, Auto-Trail heads back to Fiat with its new-for-2023 Expeditions – a four-model line-up that continues the value-for-money ethos of its van conversions under the same name. The C72 on test here is a traditional overcab coachbuilt design, with that Hi-line front pod offering a double bed, although it does mean overall height is some 3.16m.
Keeping things very straightforward also means a frills-free list of optional extras. Prices start at under £60,000 for the standard, four-seater Expedition C72. Here, though, we are testing the full six-berth variant, which also boasts a no-extra-cost chassis upgrade (to 3,650kg) and the £921 double dinette with additional seatbelts option.
There are two other extra items on this example – an Xzent infotainment system (£367) and concertina blinds to all cab windows (£620). Other factory-fit options you may wish to consider are restricted to an alternative upholstery, alloy wheels, and a rather pricey upgrade to the 180bhp engine with nine-speed automatic transmission.
There's nothing stopping you from adding to the initial specification (perhaps a reversing camera, additional security or a solar panel), but the additional cost means you might want to take a look at the C72 equivalent in the Imala line-up, the next range up.
Build quality – 78%
At Auto-Trail, the coachbuilt bodies are a single component, which is mechanically lowered onto the chassis, giving greater structural rigidity. The standard cab colour is Expedition Grey, graphics are kept to a minimum and the finish hints at the lower-cost level of the vehicle – standard wheels with plastic trims, the windowless habitation door, etc.
That maximum chassis weight upgrade (check that your driving licence permits you to drive this version) gives an extra 150kg of payload, although the double dinette lounge option also added here incurs a 25kg weight penalty.
It's worth checking the exact details of warranties offered on any new leisure vehicle. Auto-Trail is something of a leader here, with five-year cover for the conversion as well as the bodywork.
Driving – 78%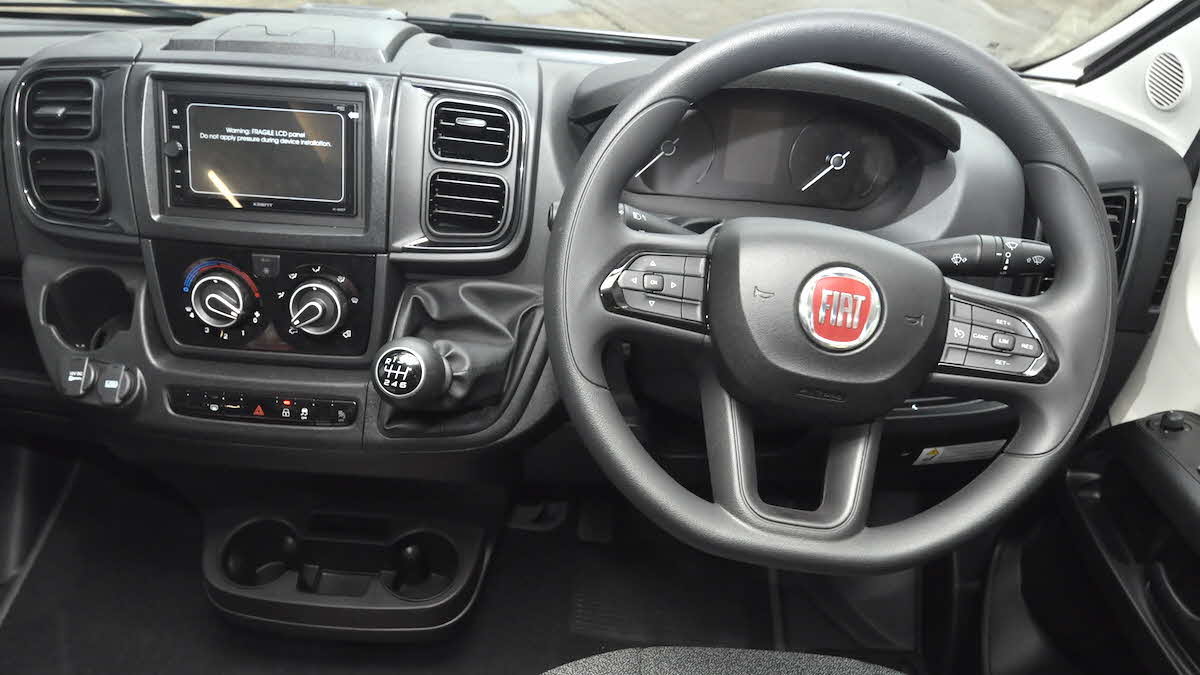 Can you believe this is the Series 8 version of Fiat's venerable Ducato? Latest models have Euro 6d engines, with all Expeditions offering the 140bhp version as standard.
The published mpg rate for the C72 is 26-30, depending on load and your driving style.
Cab air-conditioning is standard, while the Xzent X-227 double-DIN infotainment system option offers DAB+ digital radio, Apple CarPlay, Bluetooth and USB connectivity.
Daytime – 79%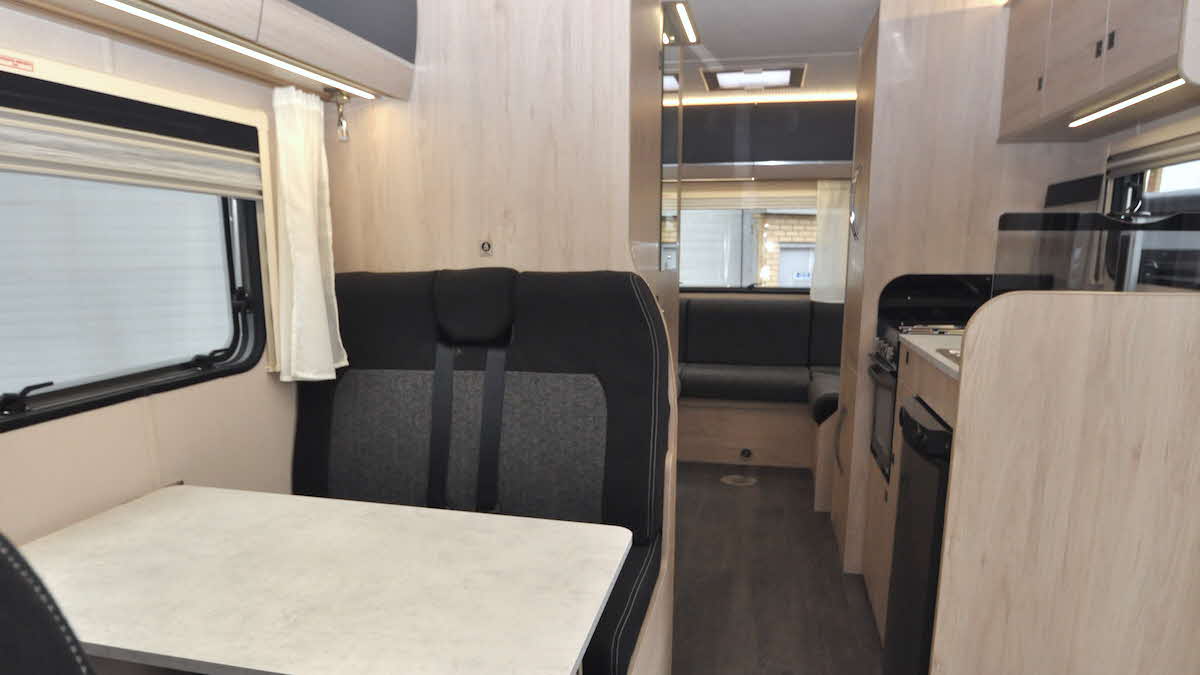 It may be all about keeping costs down, but the C72 still offers two seating areas. In double dinette format as here, the forward seating area allows four to sit at a table that attaches to the side wall. There's also fixed seating opposite, and the cab seats swivel (although that's not really of much benefit with a lounge like this).
Those cab seats are in standard Fiat trim, which blends almost exactly with the upholstery throughout the rest of the living quarters.
Then there's the U-shaped seating at the back, where generously sized windows to three sides also give you good views out. There's a standard rooflight overhead and the upper walls are lined with lockers (six in total), broken up by open shelving in the corners. As with the forward lounge area, there are individually switched reading lights and strip lighting to the undersides of the lockers.
Night-time – 79%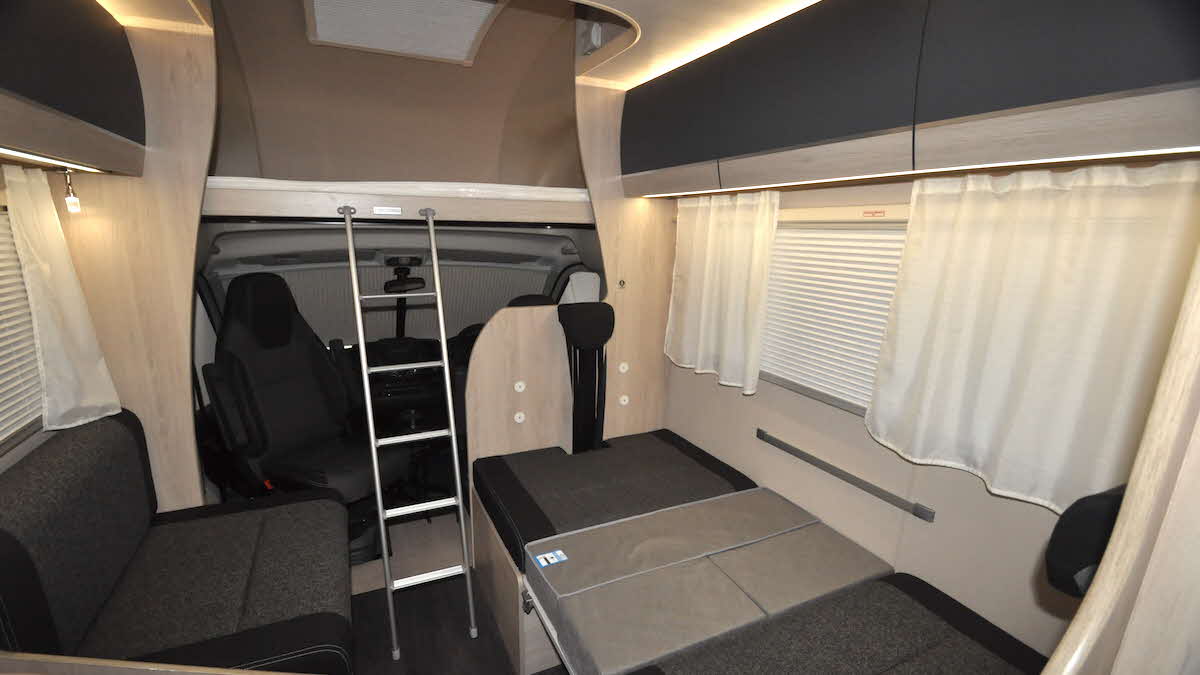 Sleeping six in a motorhome is no mean feat – and even if you don't want to go the full complement, it's great to have some flexibility. That overcab double, for example, is easy to put into place: just pull down the hinged section, remembering to clip in the retainer, and ensure you can get to the ladder as you do so. This is when you'll feel the benefit of that high overcab pod, especially as there's also an opening sunroof here for ventilation.
Making the rear lounge into a transverse double is also straightforward – pull-out slats bridge the gap between the side seat bases, then it's just a question of rearranging the cushions to suit.
The biggest challenge is likely to be where you put the excess of unwanted cushions when you have all the beds made up: smaller ones can go on the floor under the rear double; the backrests for the travel seats will be trickier, but you might get away with leaving them in situ.
Kitchen – 68%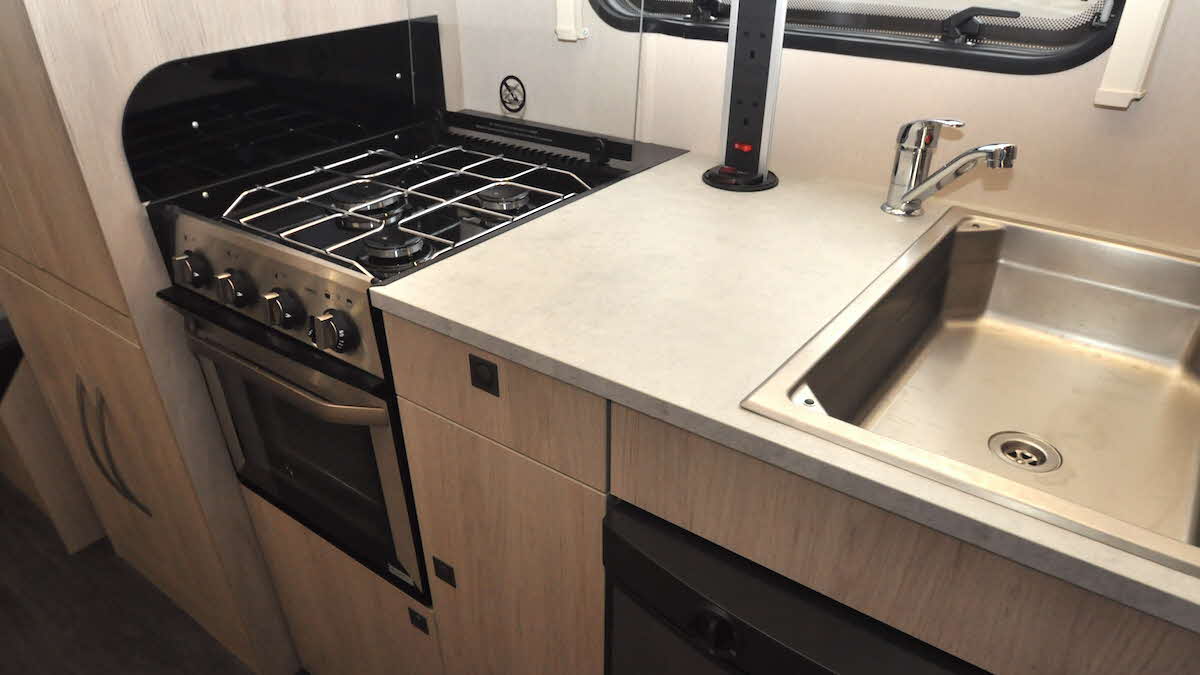 The kitchen unit sits along the nearside mid-'van and includes a Thetford Triplex cooker with three gas burners and a combined oven and grill. To its right, a rectangular sink sits over a Dometic 85-litre fridge with removable freezer compartment. There's handy permanent worktop space between the hob and the sink, where you'll also find a pull-up set of three mains sockets.
Storage includes the upper-level lockers (all shelved), a small cutlery drawer under which is a shelved cupboard, and a floor-level pan store beneath the oven. A strip light provides the main illumination. For extra kitchen storage, you could steal space from the wardrobe (the pedestal leg and table for the rear lounge also stow in here) or – better still – the double-doored, shelved locker below it.
Washroom – 80%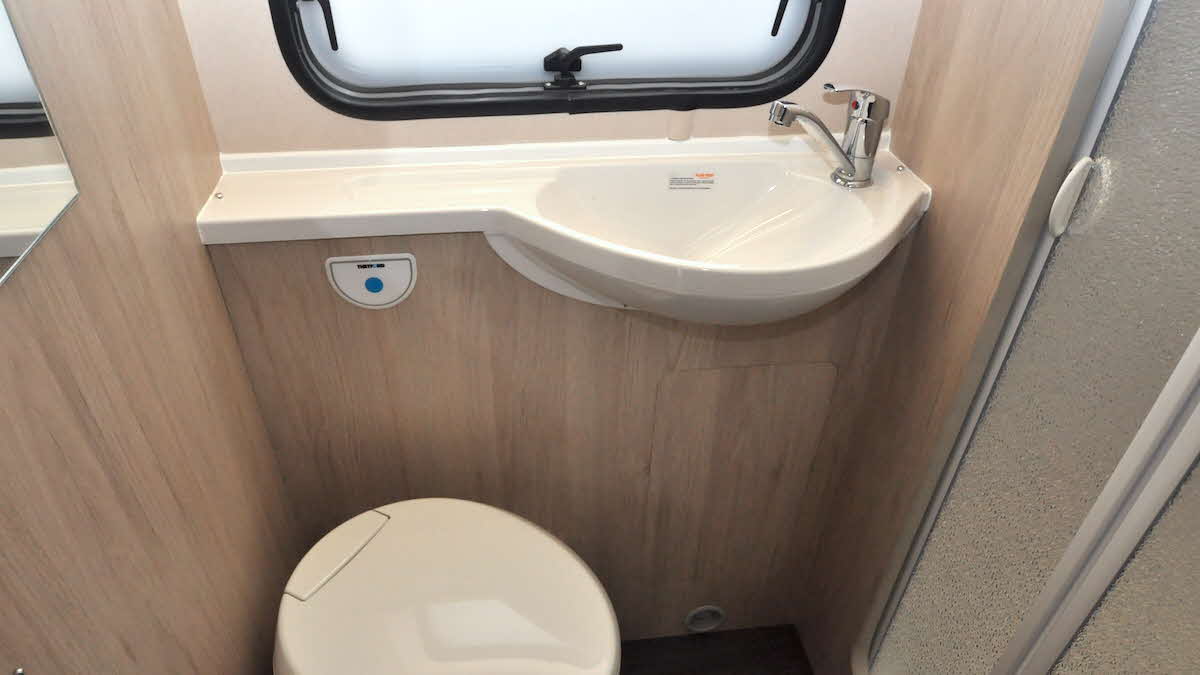 This is a large washroom with space for a separate, fully lined shower cubicle as well as plenty of room to use the other facilities – a swivel-bowl toilet and fixed handbasin. Some of the other fittings here you might struggle to find in far pricier vehicles – the solid, locking door with clothes hood and towel-holder, the opaque window, the fixed hanging rail in the shower.
On the down side, the shower is on a holder rather than a riser bar, and storage is limited to a single high-level locker.
Details – 67%
You'd expect anything calling itself budget to be short on details, but the C72 can hold its head high. Significantly, all-round storage is very good. As well as the usual upper lockers, there's space in the seat bases, with exterior access on both sides to the room at the very back. Removable carpets, a 100Ah leisure battery, concertina blinds and flyscreens as well as net curtains, and a flyscreen at the habitation door (where you'll also find a couple of coat hooks plus a branded umbrella) are also on the kit list.
The central locking might only cover the cab doors, but you get an audible warning before the habitation door step retracts when you turn on the ignition.
Hardly a detail, but Truma's Combi 4, working from gas and/or mains electricity can also be used whilst on the move.
Verdict – 76%
Auto-Trail has absolutely nailed it here, offering the most competitive of pricing against an overall specification that's more than acceptable – and a floorplan of utmost flexibility.