Rimor Evo 77 Plus motorhome review
High five!
Nick Harding tests out a five-berth motorhome with a competitive asking price. Let's see what you get for your money...
Want a drop-down double bed in a motorhome with an end lounge? Or a second drop-down double bed, and an additional lounge? It's all packed into this Ford-based, five-berth coachbuilt, with an overall length still shy of 7m.
Part of the Trigano family, Rimor counts the likes of Adria, Benimar, Chausson, Roller Team and Tribute among its stablemates, as well as UK manufacturers such as Auto-Sleepers and Auto-Trail. Few of these, however, offer a Ford Transit-based coachbuilt with this configuration of beds and living space.
Build quality – 80%
The exterior is rather free of frills. Graphics are minimal on the all-white bodywork, while there's the slightest of mismatches between the colour of the cab and the rest of the vehicle. Ford's front bumper and cab body trim are plain grey (no paint matching). The habitation door (and hence the floorplan) isn't switched for UK use, and there's only a low-level magnetic catch to protect it against unwanted gusts of wind when open.
Driving – 84%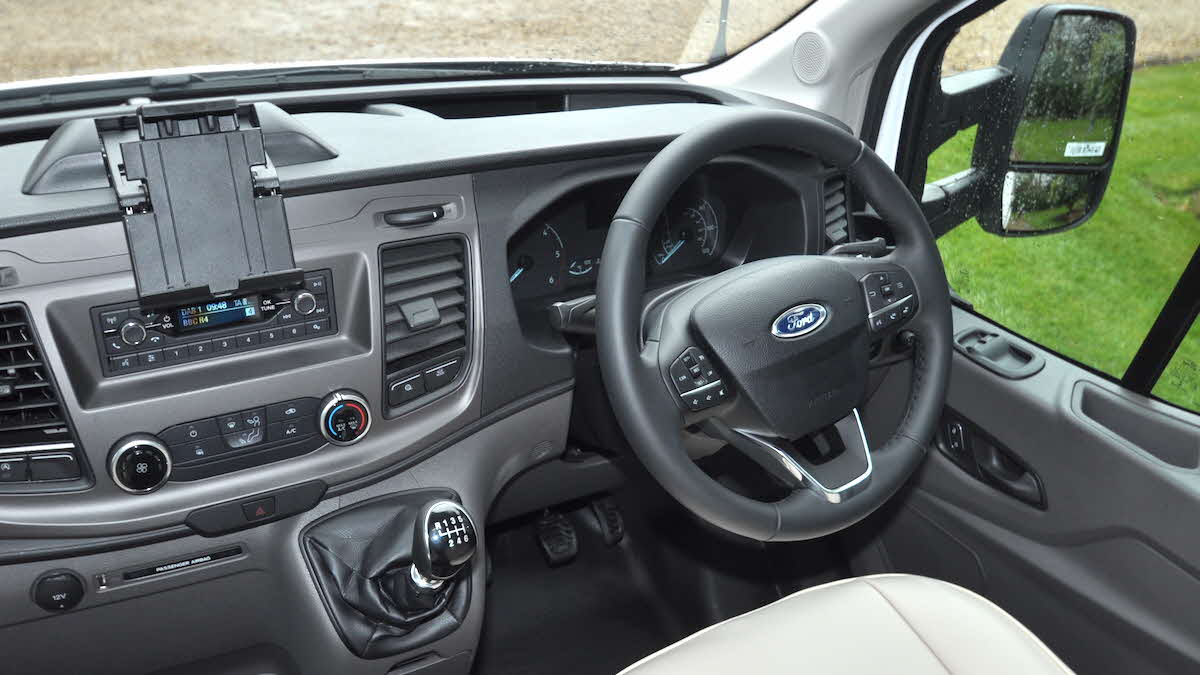 A full week's use, which included driving on everything from motorways to narrow country lanes, was enough to convince me of the Transit's driving qualities. With Rimor's UK importer, the Hull-based dealership MandC Ltd, supplying a vehicle with Ford's impressive 168bhp engine with six-speed manual transmission, things got off to a good start.
There's a more basic trim for the Ford cab. Nevertheless, manual air-conditioning, DAB stereo with Bluetooth connectivity and steering wheel controls are all here. The handy, fold-out portable device-holder can take phones or even a tablet – in fact there's a lot of valuable cab storage, including open shelving in the overcab pod.
Only the fifth passenger gets a raw deal here. That final travel seat is rearward-facing, has an overlong squab and only features a lap restraint. In addition there is no window immediately adjacent.
Daytime – 78%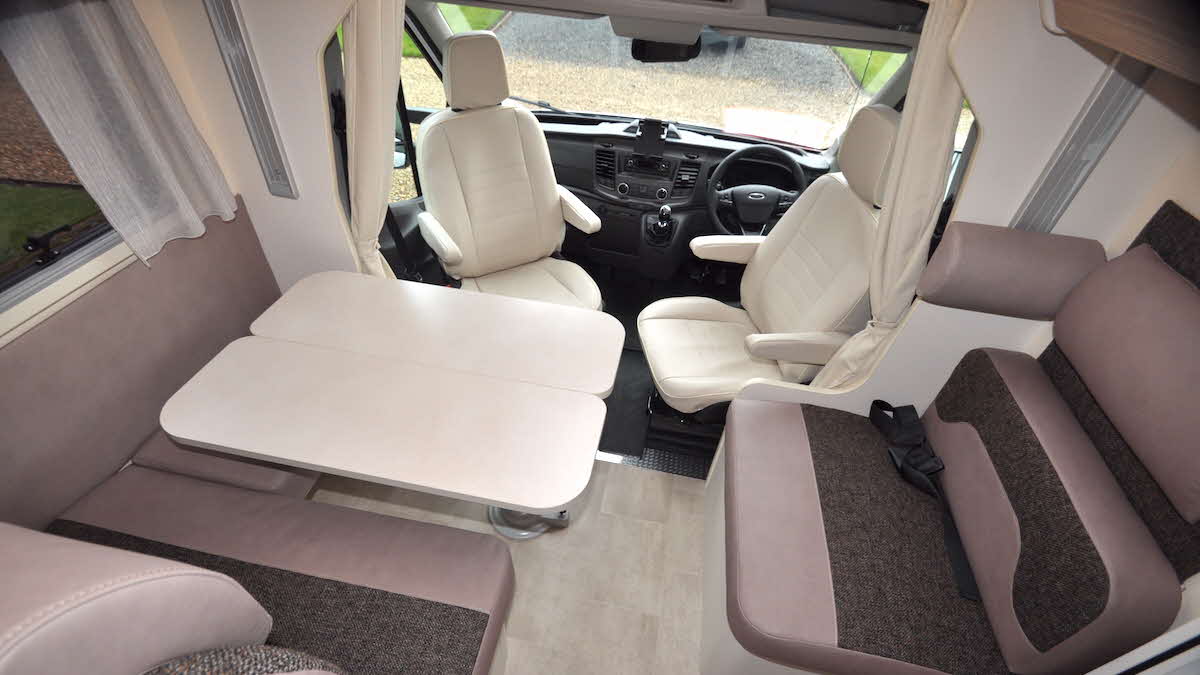 Of the two lounges, the rear one will appeal to UK customers more, although daylight is a bit restricted here because of the overhead bed. You do get windows to the three sides, though – all top-hinged with concertina blinds and flyscreens. Plus there's plenty of LED illumination, some of which is dimmable. You'll probably want to add your own scatter cushions and so on for additional comfort.
The front lounge offers more daylight, despite having just the one side window. It benefits from the opening sunroof over the cab and fixed glazed upper section of the habitation door.
Both seating areas are served by fixed pedestal leg tables, featuring manual adjustment for height and fore and aft, as well as hinged tops that can be folded over when you want easier access.
Heating and hot water are from Truma's Combi. It's gas only, but can be used whilst driving. Upgrading to mains electricity costs an additional £295.
Night-time – 84%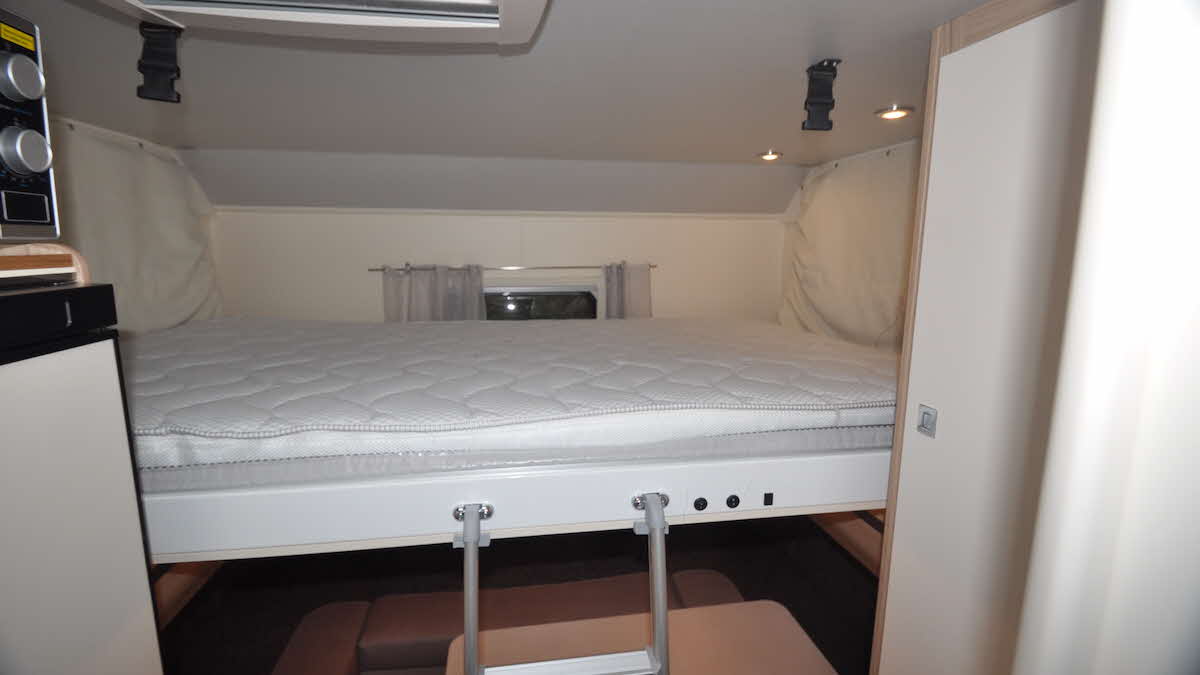 I suspect the electrically operated drop-down double over the rear lounge will emerge as 'Bed 1' for most users. Both beds require a simple flick of a switch to bring them down and ladders provide access. Unfortunately, the forward double does impede access at the habitation door.
Rimor prefers to call the Evo 77 Plus a five-berth, but at a squeeze you could consider the third sleeping area – made from the lounge seating, with a couple of additional inserts – another double should you be accommodating guests.
Kitchen – 69%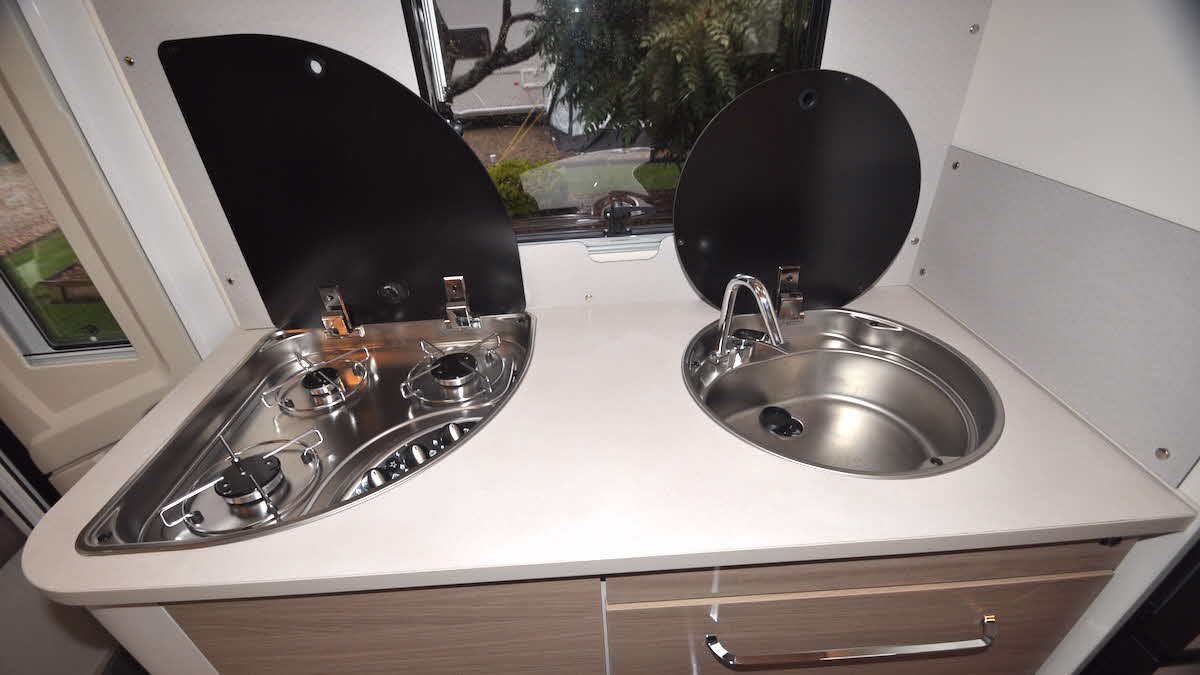 There are a few anomalies here. The first two result from changes made in the UK. The microwave oven's location, over the fridge, means it's far too high for convenient use; and the conventional oven (without grill) is set diagonally opposite the main kitchen unit, directly under a full hanging-height wardrobe (might food odours be an issue here, I wonder).
Meanwhile, the worktop height, at 89cm, is lower than in many other motorhomes, but will be seen as a benefit to shorter users.
There's a triangular three-burner hob and a separate, circular sink in matching stainless steel, with a small area of permanent worktop between the two. Storage is good, with two very deep overhead lockers (neither is shelved) as well as a large cutlery drawer and a deeper drawer directly under the sink. There is an equally generous shelved locker under the hob.
Details to appreciate include the locking function for the drawers and the side rail featuring a couple of adjustable hooks. There's a single mains socket, too – UK customers get a choice of location for three additional 230V, 12V and USB sockets. The slimline fridge to the right of the kitchen unit has a decent capacity and automatic energy selection, with a fixed freezer compartment and, in its base, a slide-out section designed to hold bottles upright.
Washroom – 83%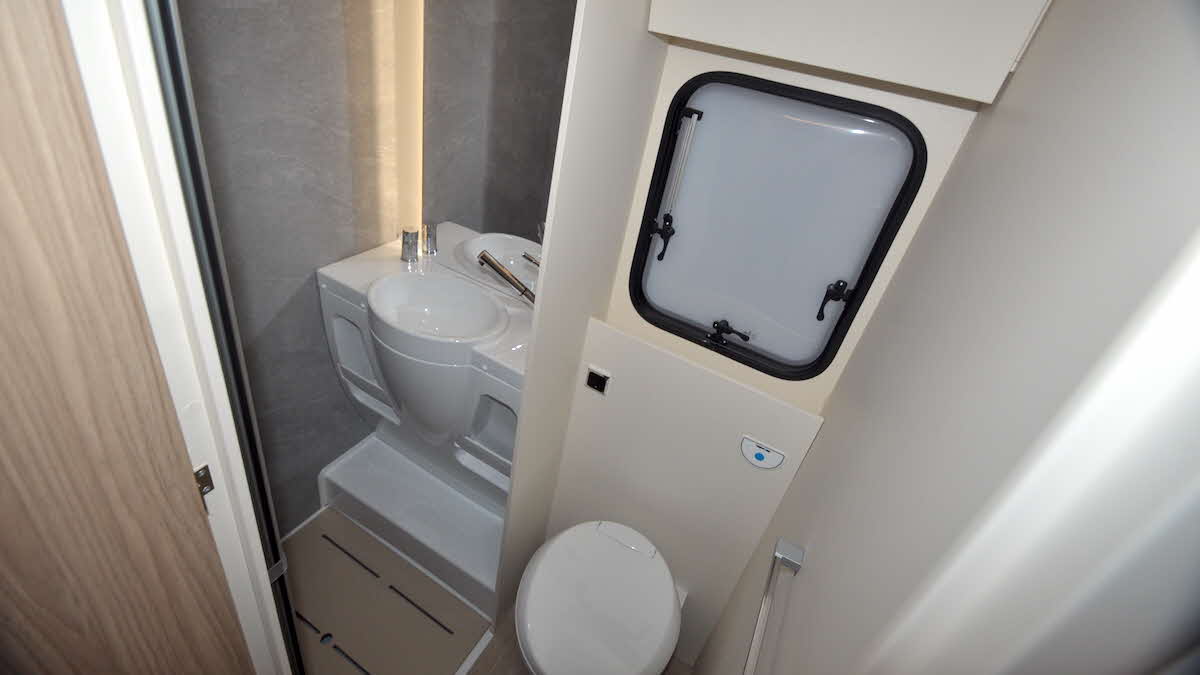 This is a very generous washroom. A small step up and you're faced by a Thetford swivel-bowl toilet with an opaque window behind it. To your left is a shower cubicle which is also roomy enough to house a fixed basin. Look up and there's a rather neat rain shower fitting, while the tap at the basin also extends for showering purposes. Underfoot, there's a loose panel to remove before you turn on the water; just the one drainage hole, though.
Storage is limited to a couple of open pockets in the plastic moulding under the basin and a small high-level locker above the toilet.
Check for yourselves, but I found the effect you get from the plastic mirror in the washroom a little weird.
Details – 77%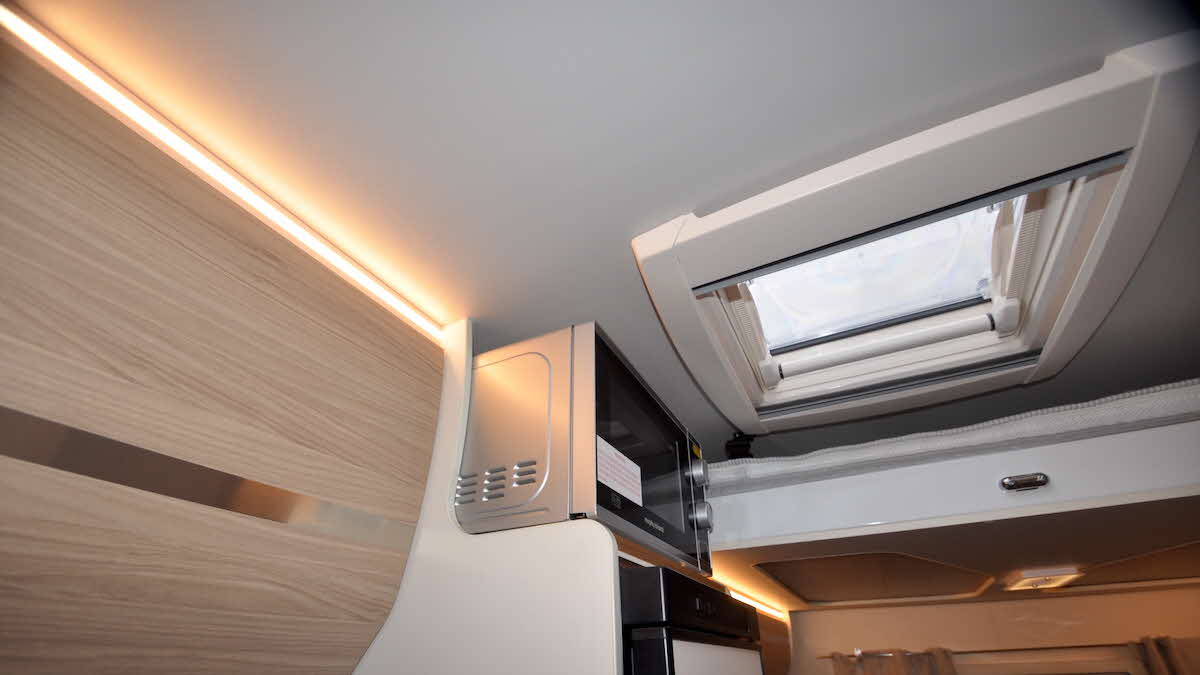 It's often in the detail that imports lose out over their UK-made rivals. Central locking doesn't extend to the habitation door, for example, and the lack of a waste bin here looks like an opportunity lost. But considering the low price, it's a real plus that items such as the TV aerial, full flyscreen at the habitation door, rear camera system, Thatcham Cat 1 alarm and tracker, bed protection nets, solar panel and more are standard kit.
Note also practical fittings such as the panel on the washroom wall with two coat hooks and two elasticated magazine pockets, as well as lockers to the undersides of both of those beds. There's an excellent array of interior lighting. It includes a strip running the length of the kitchen, and similar for the undersides of the beds – all touch control.
Verdict –79%
By current standards, this is certainly a bargain. Given that it is well screwed together, user-friendly and provides a few neat surprises, the Rimor is a smart package. As a final bonus, it's all on a driving licence-friendly 3,500kg chassis.