Roller Team Auto-Roller 707
Roller Team Auto-Roller 707
George Hinton takes the six-berth Roller Team Auto-Roller 707 motorhome on a family holiday to test its credentials, with the rear bunk beds proving a particular hit.
The six-berth Auto-Roller 707 from Roller Team is based on Fiat's 130bhp Ducato motorhome chassis. It is UK-friendly, featuring a main door on the nearside.
Review taken from the August 2017 edition of the Club Magazine
Build quality – 88%
The 707 features plastic body framing and 54mm Styrofoam insulation throughout. The exterior is all hail-resistant glass fibre.
There's little evidence of rattles on the road, apart from the inevitable murmurings of the glass hob cover and oven linings way back aft.
Apart from a small step down from the cab there's a level floor, rear access being via two inbuilt steps, while the garage, created by folding the lower bunk away, allows carriage of bikes etc inside, with four lashing rings provided.
Driving – 89%
The 130bhp unit provides ample power, but upgrades and automatic gears are optional.
 A fitted Driver's Pack at £999 includes cab
 air conditioning, electronic stability and traction control systems, cruise control, electric, heated mirrors, steering wheel controls for radio and telephone and the passenger's airbag. A DAB/FM radio and colour reversing camera are standard.
Maximum weight is 3,500kg but this is automatically upgraded to 3,650kg if an optional seventh seat belt is ordered. Fuel consumption over 777 miles averaged 26.5mpg, with a best of 27.5, which included pottering around Norfolk, and a worst of 25.9 on the motorway.
Daytime – 82%
The front lounge includes two L-shape settees and there are no fewer than 14 cushions plus four bolsters (various sections are removed to create legroom for travel). It's a superb spot in which to relax and/or eat, but can you imagine making up a double from that concoction? There are five infill cushions as well, plus a couple of bridging boards.
The practical interior has dark woodstrip vinyl floors, while upholstery is mocha-colour velvet with leathercloth wearing edges and contrasting piped detail. Dark wood frames cream panels in the locker doors.
As well as excellent LED lighting, there's a flyscreen door and an awning light. Space heating is courtesy of a Truma Combi boiler under the offside dinette, with blown warm air distribution throughout. The fresh water tank is under the nearside seat base and the waste tank is underfloor.
Storage is nearly all in roof lockers – just one seat base is available for bedding, but access is crude: lift off the ply lid
 having removed the cushion.
 Four shallow roof lockers go 
up and down with the main,
 electric drop-down bed,
while two deeper, shelved,
 fixed ones lay just aft. There's
 a small wardrobe, while a
 roomy unshelved cupboard below 
houses the electrical trip unit. Gas taps 
are below the oven, while the 95Ah battery (charged by a 120W solar panel) is behind the gas locker. The upper rear bunk has cubbies on the back wall which took one child's clothes for a week. Over-cab shelves include a USB socket.
The fixed table folds in half as well as swivelling every which way. However, after a week it began drooping, as two of its four fixing screws were pulling out. Some emergency hole-plugging soon put that right. A pointless fold-down support leg does not support the heavy extension.
Night-time – 73%
The main bed – set above the lounge/dinette – has an adjustable ladder for access, but two users agreed it was unyielding, despite a 4in mattress. Maximum headroom is 29in. The dinette conversion beneath is far too complicated to make up as a double or triple, and more feasible as two single beds. Just removing the backrests will allow the full 24in width to be used, with a maximum length of 6ft 3in.
The rear bunks, running across the full width, get all the accolades. With comfortable foam mattresses, each has a mini window for light and air plus an LED spotlight. These and the electric bed have safety nets and the top bunk has a dedicated ladder.
All windows have Remis flyscreens/blinds, main side windows also featuring Austrian blinds.
Kitchen – 81%
The L-shape kitchen has an oven and grill with electronic ignition and three gas burners without. There's sufficient worktop in the corner, while the sink has an Argo metal swivel mixer tap and a decent-sized waste point with a loose rubber plug, but there is no drainer.
Ventilation comes from mini Heki and wind-up Heki rooflights, as well as the sliding window. Low level storage under the sink comprises two capacious galleried pull-out shelves, interspersed by a cutlery drawer, all hidden away behind a lockable cabinet door. The Thetford N3141 fridge opposite was liked for its deep bottom drawer, ideal for bottles and cartons, and generous 15-litre upper freezer compartment. However, it's awkward to open, as the latching handle meets the side of the wardrobe.
Washroom – 89%
This washroom is compact but encloses a shower tray with levelling duckboard and two drains. There is an excellent rectangular basin. Mirror splashbacks on two sides are excellent, while the tap head pulls out to double as
 the shower head. The temperature remains stable once set and there is a wall bracket 
to hook the spray onto. Four-fold doors
 with magnetic closure keep the toilet area dry, and there's a small pull-down drying
 rail above.
Ventilation is fine, with both rooflight and opening window, and the door lock will be appreciated by large families. There's a towel rail on the door and a gown hook beside the Thetford toilet, but no toilet roll holder, despite plenty of space.
Lighting – 88%
LED lighting is impressive, although smaller people may struggle to reach the washroom 
light switch, located under the single roof locker. Strip lighting under the kitchen cabinets provides excellent illumination to complement the powerful triple downlights in the ceiling.
Verdict – 84%
The 707 makes excellent use of its space and bunks are always a good solution for children. It's a pity the dinette double bed conversion is so Heath Robinson – it's really the only serious flaw here – but regarding it as two singles gets round that. Overall, good value and deserving a place on any family's shortlist.
More like this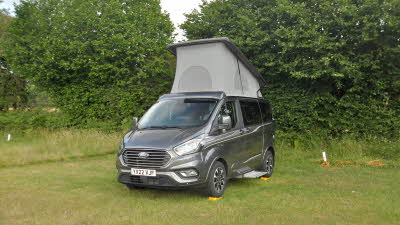 by Nick Harding
06/10/2023
Nick Harding takes a look at the award-winning, four-berth Monza