Towcar review: Porshe Cayenne E-Hybrid Platinum Edition
Hot stuff
James Batchelor puts the class-winning Porsche Cayenne hybrid through its paces... and is impressed by the performance
Few towcars have impressed our Towcar of the Year judges as convincingly as the Porsche Cayenne E-Hybrid in recent years – and it picked up the Caravan Weight over 1,700kg Class win in the most recent edition. So we thought it was about time we put the car through a longer test away from the gruelling Millbrook Proving Ground – the home of the Towcar awards – and out on public roads.
Comfort – 79%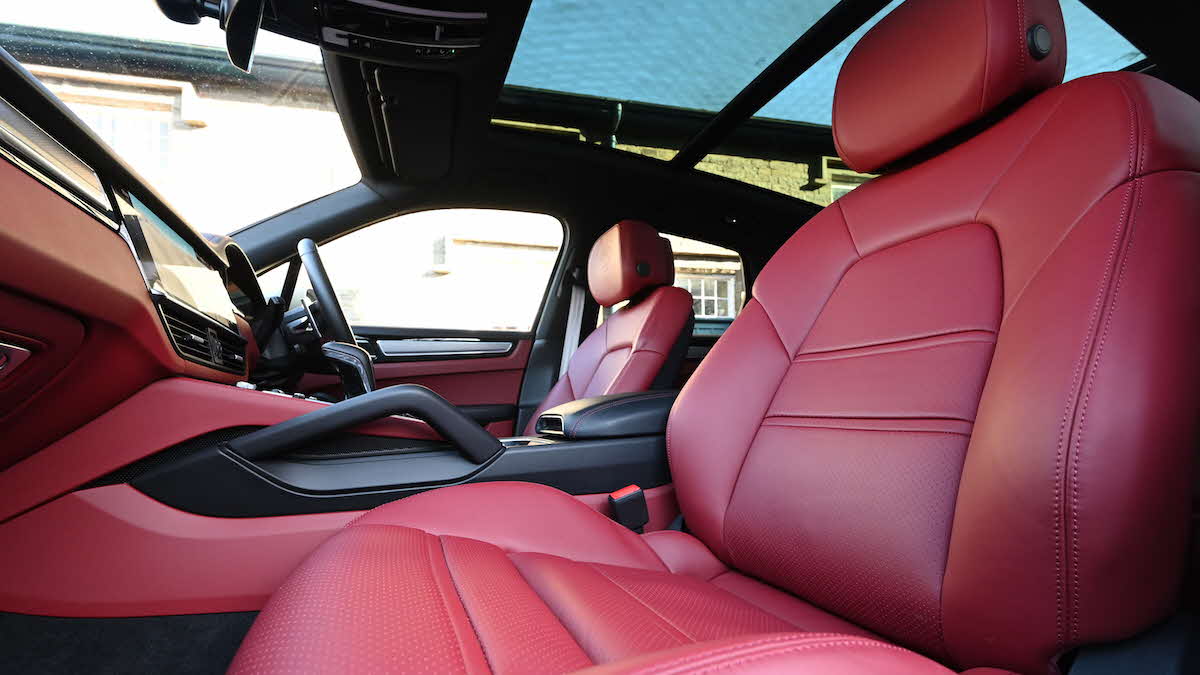 Porsche caused a stir when it launched the Cayenne two decades ago, but the car is now a household name. Once-awkward looks have softened over time, the current version featuring enough distinctive Porsche styling cues while still very obviously having a practical, estate-car-like SUV body shape. But, more than that, the Cayenne has adapted to stay relevant. We've seen fuel-sipping diesels, powerful V8 petrols, stylish coupe variants and efficient plug-in hybrids. It's the latter we're focusing on here.
When this current generation of Cayenne launched in 2018, the E-Hybrid was designed to appeal to customers looking for a sporty driving experience but also cheaper running costs. And with Porsche no longer offering diesel power, petrol-electric power could be the caravanner's best option.
The E-Hybrid features the same 3.0-litre turbocharged V6 petrol engine found in the entry-level Cayenne, but adds a 100kW electric motor. Recently, Porsche has upgraded the battery that powers the electric motor from 14kWh to 17.9kWh, meaning a claimed 25 miles of pure electric driving, with CO₂ emissions coming to just 75g/km. Combined power output is a stonking 456bhp with 700Nm of torque; there's even a Turbo S E-Hybrid with a stomach-churning 542bhp.
The battery is charged via a Type 2 connection and the Cayenne has a maximum charging speed of 3.6kW, which equates to around four hours for a full charge when plugged into a charger of the same kW. Pay £732 and Porsche will increase the maximum charging speed to 7.2kW, dropping the fastest full charge time to less than three hours, which is useful if you have a 7kW home wallbox or want to use the public charging network. However, while other carmakers throw in the charging cables for free, Porsche will relieve you of £210 for a Type 2 cable.
The tastiest extras have been reserved for the very extensive optional equipment list. A surround view camera costs a hefty £522; soft-close doors are £497; adaptive air suspension is £1,511 while two-tone leather upholstery is £2,753 (only white and black are the free colour options). It makes the electronically extending and retracting towbar seem comparatively cheap at £858. Our car had all of these options fitted – including the 'Crayon' grey paint colour at £1,683 – which bumped the price up considerably.
You don't have to raid the options list, though, as the Cayenne E-Hybrid is well specified as standard. LED headlights, cruise control, two-zone climate control, leather upholstery, and front and rear parking sensors come for free. Porsche doesn't even charge if you want the model badges and brake callipers painted from the E-Hybrid's trademark lime green to black. Our special Platinum Edition throws in black exterior trim, 21in alloys, quad exhaust pipes, a panoramic roof, keyless entry, a heated steering wheel and driver's memory package.
Aside from the fixtures and fittings, the basics are well considered with exquisite build quality, fantastic technology and a driver-focused interior. The analogue rev counter that's flanked by digital screens is a lovely touch, while the driving position is pure Porsche – hugely adjustable and gives a sporty feeling. Back seat passengers are very well catered for with loads of head- and knee-room, while the seats themselves can slide backwards and forwards. Boot space is excellent at 645 litres; if you want to carry the charging cables around with you, Porsche provides two bags that attach to the floor.
Driving – 92%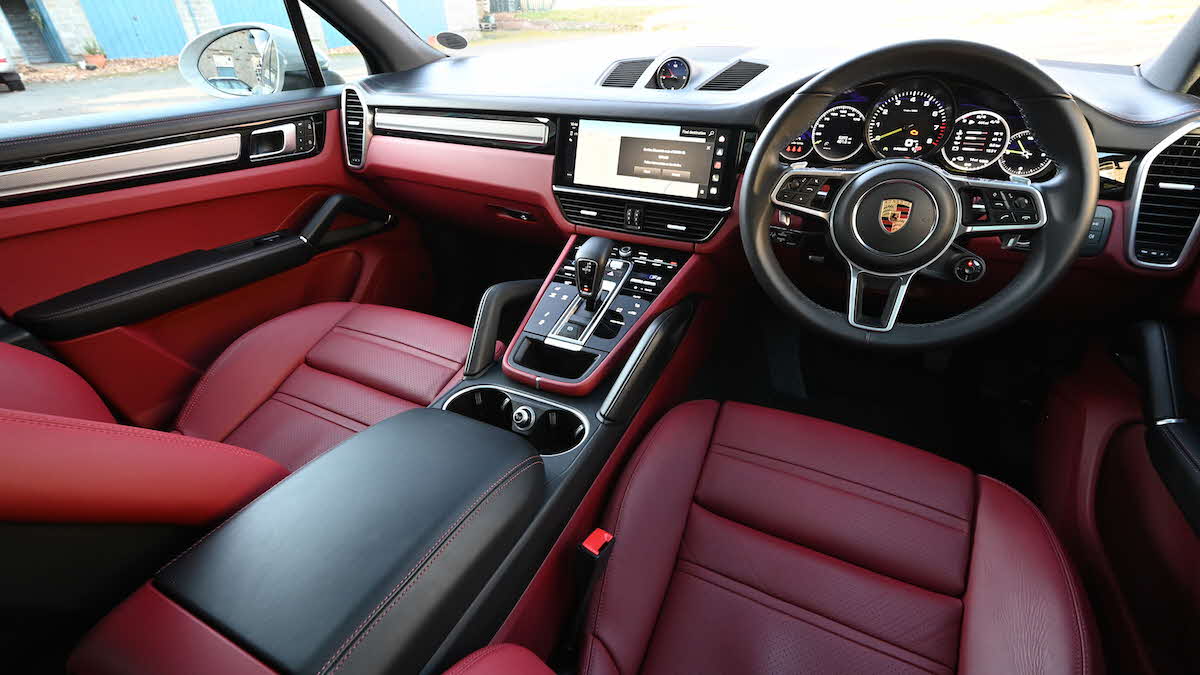 No other SUV goes, stops or handles quite like the Cayenne; there's a poise and precision that other SUVs lack, and yet the Cayenne can deliver a relaxing driving experience that's as good as any other premium-badged off-roader. The steering is weighty and accurate, and the ride, even on 21in wheels, is smooth – the standard steel springs and adaptive dampers do an excellent job, but we recommend the optional air suspension as it works better when towing – and compliant.
The performance from the combined petrol-electric motor set-up is astonishing, with 0-62mph coming up in five seconds. A number of driving modes feature, with all modes getting an overboost function that unleashes the car's full performance for 20 seconds.
The only real criticism of the driving experience is the brakes. Being regenerative, they have a slightly artificial feeling, meaning it can be difficult to modulate pressure.
Towing – 87%
Perhaps the biggest surprise is how well the Cayenne tows; all of the car's outstanding characteristics when driving solo remain present when hitched. Aside from the very occasional pull or slight moment of porpoising on our test route, the Cayenne really took control of the caravan, almost giving the impression of it not towing anything at all.
Power is delivered smoothly, and the petrol-electric set-up also means progress is swift even up steep inclines. When towing, that 25-mile electric range disappears fast, but even with a depleted battery and the car's considerable weight, the V6 copes extremely well – it sounds great too. Easy access to the car's electrical sockets and mirrors that allow for easy attachment of towing mirrors are just the icing on the cake.
Verdict – 86%
The Porsche Cayenne E-Hybrid ticks virtually every single box. It comes with few compromises and could be the perfect car for those after a sporty drive and excellent towing abilities. Arguably, it's in a league of its own.


Photography by Nathan Morgan. With thanks to the Glanusk Estate, Crickhowell