Ginger Baker
Oneputt replied on 06/10/2019 15:56
brue replied on 06/10/2019 16:18
Posted on 06/10/2019 16:18
Hearing the news about him I remembered seeing him and the Cream band at Mothers Club in Erdington many years ago. John Peel was the DJ, it was one of those memories that doesn't go. Strange to see them in such a small place, we just stood around with drinks and could actually hear the music.
BoleroBoy replied on 06/10/2019 19:35
Posted on 06/10/2019 19:35
ive got just about all the live material Cream recorded (not a lot 'officially') and its listented to regularly.
Ginger played on Jack Bruce's 50th birthday concert and, along with Gary Moore, who also played, went on to record as BBM (Bruce, Baker, Moore) now sadly all gone....
but the music lives on....
a genuine icon has passed...
RIP Ginger
richardandros replied on 07/10/2019 05:46
Posted on 07/10/2019 05:46
I remember watching him play what seemed like a 10 minute drum solo - with Cream - I think it was "Toad" - brought the house down - and I definitely agree with Oneputt - the best drummer ever. Like BB, I've got most of Cream's albums, including some on vinyl.
richardandros replied on 07/10/2019 07:20
ABM replied on 08/10/2019 18:51
richardandros replied on 09/10/2019 05:08
Posted on 09/10/2019 05:08
Until I started looking, the other day - I didn't realise just how much material was out there on You Tube. There is a lovely interview with all three of them after their rehearsals for the Albert Hall concerts.Here
On one clip, someone had posted a comment about Ginger - which was so true and made me smile - "Ginger Baker never aged - he always looked old!"
(I also found some early John Mayall with the Bluesbreakers and some later stuff with Clapton. I also came across the explanation of where the "Clapton is god" saying came from)
Trouble is - all of this reminiscing made me feel old
Freddy55 replied on 09/10/2019 11:20
Bluemalaga replied on 09/10/2019 21:47
Posted on 08/10/2019 18:51 by ABM

Over 11 minutes at the Albert Hall, Staggering, staggering, staggering !!

Thank you R & R for the feed to it
BoleroBoy replied on 10/10/2019 08:23
Posted on 10/10/2019 08:23
sky arts running the Cream story at the mo, on catch up.
my favourite version of toad has to be on Wheels of Fire (the Live at the Filmore disc)...also contains my favourite Spoonful along with a classic Traintime and the definitive Crossroads....where Claptons second solo was voted right up there as the best of all time....
ok, i liked them
DavidKlyne replied on 13/10/2019 00:13
Posted on 13/10/2019 00:13
I think heavy metal or whatever it was called passed me by. I was very into music when I was younger but after the Beatles I seemed to be doing other things. I liked some of what I would call the more mainstream stuff. There was an Imagine programme on about Ginger Baker the other night seemed an interesting fellow in an odd way! Must admit I didn't take much notice of drummers except perhaps Sandy Nelson.
David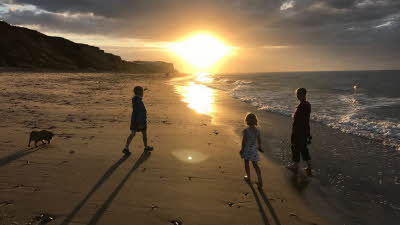 Image: Cromer beach, near Seacroft Club Campsite, Photo by Julie and Lee Weatherill
Find late availability on our UK Club campsites over the next eight weeks!