Caravan and Motorhome Club announces sponsorship of English National Surf Championships
13/04/2017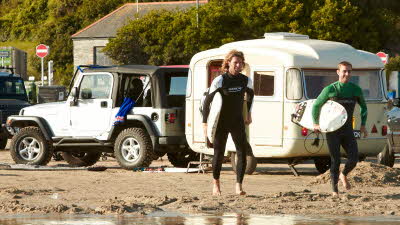 Operated by Surfing England and held over the first May bank holiday weekend from 29 April to 1 May 2017, the annual national contest – now in its 44th year – will see women and men of all ages battle it out across 19 divisions in Perranporth, Cornwall, a huge beach famed for its spectacular surfing.
Harvey Alexander, director of marketing, the Caravan and Motorhome Club commented:
"The English National Surfing Championships are one of the highlights of the UK surfing calendar and every year draws scores of competitors and spectators to the south west to enjoy a thrilling competition in spectacular surroundings. The Caravan and Motorhome Club has some fantastic sites close to surfing beaches and there is always somewhere for surfers to dry their wetsuits after a long day on the waves."
Nick Rees, operations manager, Surfing England said:
"It's great to work closely with the Caravan and Motorhome Club on such a prestigious event. For a company that provides for surfers to then support the event, our organisation and our exciting vision for surfing, is brilliant. We couldn't ask for a better partner on the journey."
Entries are now open and surfing enthusiasts and extreme spectators alike can also book their perfect break to Cornwall to coincide with one of the highlights of the UK surfing calendar.
For caravanners and motorhome enthusiasts keen to catch the action as a stream of awesome amateurs seek surfing glory in the prestigious three-day event, these are some of the best Club accommodation spots to relax and dry those wetsuits:
The nearest Club site to Perranporth Beach (four miles) and one of the prettiest campsites in Cornwall, this charming 36-acre woodland park boasts stunning sea views guaranteed to get guests in the surfing spirit. Within easy reach of world-famous Newquay, this is an ideal base for both enjoying the Championships and exploring the region. Pitches start from £17.80 per night for a standard pitch and two adults.
With panoramic views across the Atlantic towards St Ives and fantastic walks along the coast on its doorstep, St Agnes is also just five miles from the Championship's location and many of the region's famous local beaches. Pitches start from £14.50 per night for a standard pitch and two adults.
For those looking to combine coastal delights with the Cornish countryside, Carnon Downs is hard to beat. Located just three miles outside of the cathedral city of Truro amidst 20 acres of landscaped grounds, the site provides easy access to both Cornwall's south as well as north coasts. Pitches start from £25.00 per night for a standard pitch and two adults.
For more information please visit www.camc.com.
-Ends-
Caravan and Motorhome Club membership is just £49 per year and provides members with access to over 200 Club sites and 2,500 privately owned places to stay in the UK. It also offers a choice of close to 300 sites across Europe including France, Spain and Germany amongst other destinations. All members can take advantage of expert advice, overseas travel services and exclusive member offers and discounts. This includes a comprehensive range of insurance options designed by members, for members. There is no membership requirement for campers who want to pitch up at over 40 Caravan and Motorhome Club sites.
Media enquiries
Nikki Nichol, external communications and sponsorship manager at the Caravan and Motorhome Club on 01342 336 797 / 07771 834 443 or email nikki.nichol@camc.com.
Emma Wayman, Gigi Mann or Rachel Gaston at Siren Communications on 0207 759 1150 or email camc@sirencomms.com.
Notes to editor
Champions of the great outdoors, the Caravan and Motorhome Club represents the interests of over one million caravanners, motorhomers and trailer tent owners across the UK.
For further information about becoming a member of the Caravan and Motorhome Club please visit www.camc.com or call 01342 318 813.