Caravan and Motorhome Club grows its partnership with Surfing England
14/03/2018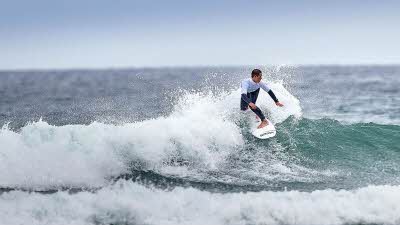 The Caravan and Motorhome Club is delighted to announce its continued partnership with Surfing England and the English surfing community.
The Club is once again the headline sponsor of the 2018 Caravan and Motorhome Club English National Surfing Championships which will take place in Cornwall during May.
The agreement builds on the great relationship that began in 2014. Since then, both organisations have grown and increased their service to their members and the waves of positivity and impact from their partnership have been felt across their active communities.
Brian Morgan, Head of Communications and Events states "Surfers are a community of adventurous souls, and the Club is here to welcome them and provide different accommodation options. Whether camping, caravanning or exploring in campervans, we offer a choice of over 3,000 sites in the UK and in Europe, many near to awesome surfing beaches. Our site facilities ensure surfers get a hot shower and somewhere to dry their wetsuits so they are ready to hit the waves the next day."
Morgan continues, "The Club does all it can to encourage its one million members to get active. Club members are keen walkers, cyclists and surfers and there is a site for every member to suit their needs. We have over 30 sites located near to some of the best surfing beaches in the UK and we also offer a great choice of European sites."
For surfers wanting to travel to the Continent, Club members travelling to the Club's European sites can take advantage of some great ferry offers. The Club works with all major ferry operators – Brittany Ferries, Stena Line, DFDS and P&O – to bring its members discounts throughout the year and great value rates across popular holiday sailings including Dover to Calais, Hull to Rotterdam and Portsmouth to Caen and St Malo. Members can even take advantage of discounts of 10% off fares from Folkestone to Calais with Eurotunnel. Other ferry crossing savings include taking caravans for free on selected crossings and motorhomes/campervans going at car rate.
Nick Rees, Surfing England Operations Manager said, "Surfing will feature for its Olympic debut at Tokyo 2020 so the years ahead are crucial as we guide our sport and members and embrace the depth and culture of our community. The Club's alignment with our vision, and their support, enable us to work even harder for our sport which is brilliant."
- Ends -
Notes to editors
About the Caravan and Motorhome Club
Champions of the great outdoors, the Caravan and Motorhome Club represents the interests of over one million caravanners, motorhomers and trailer tent owners across the UK. Founded in 1907, the Caravan and Motorhome Club has 111 years' experience and prides itself on offering great value and high quality sites for caravanners, motorhomers and campervanners.
Caravan and Motorhome Club membership is just £51 per year and provides members with access to over 200 Club sites and 2,500 privately owned places to stay in the UK.
The Club also offers a choice of 300 sites across Europe including France, Spain and Germany amongst other destinations. All members can take advantage of expert advice, overseas travel services, insurance services and exclusive member offers and discounts. There is no membership requirement for campers who want to pitch up at over 40 Caravan and Motorhome Club sites.
Camping, Glamping and Motorhome Hire – for the ultimate motorhome holiday experience – plus a range of exciting events and experiences are now available to all outdoor enthusiasts through Experience Freedom from the Caravan and Motorhome Club.
For further information about becoming a member of the Caravan and Motorhome Club please visit www.camc.com or call 01342 318 813.
About Surfing England
Surfing England is a not for profit membership organisation providing a National Governing Body service for English surfers and surfing.
Surfing England deliver a professional service to its members, host the English Surfing Championships and submit English teams at elite level.