Caravan and Motorhome Club highlights 50 years of insurance expertise
17/10/2017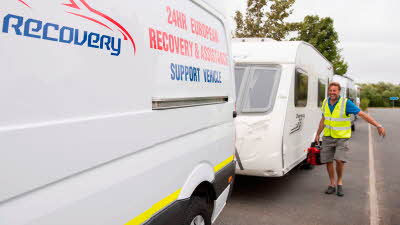 With 110 years of inspiring people to have adventures in the UK and abroad and 50 years insurance experience, the Caravan and Motorhome Club offers an unrivalled range of bespoke insurance policies for its million-plus members, tailored to reflect their ever changing needs.
Harvey Alexander, Director of Marketing for the Caravan and Motorhome Club, said that a priority for the Club is to make members aware of the extent of different policies available and the breadth of coverage provided. "Many members naturally think we just offer motorhome and caravan insurance. However, our range extends far beyond that to include car, breakdown/recovery and holiday insurance as well as home and pet insurance," he said.
90 days unoccupied home insurance cover
One unique benefit for Club members is the 90-day unoccupied home insurance cover. Appreciating that an increasing number of members travel for months at a time with their caravan and motorhome – the Club's buildings and contents insurance policies both provide cover for 90 days as standard and after 90 days on application, something other insurers won't do.
Most regular home insurance policies are invalid if a property is empty for longer than the period stipulated in the terms and conditions, which is usually 30 days. This means if a claim was made on a standard insurance policy, but the property had been left unoccupied for longer than the limit stated in the policy, then the insurer would either only pay out a limited amount, or it may not pay out at all.
"We're finding our unoccupied home insurance cover is striking a real chord with members who want to go away for longer trips – either with their vehicle, or without – especially as so many other insurers won't provide cover," added Alexander.
Standard Caravan Insurance is the most popular policy
The most popular insurance taken out by members is Standard Caravan Insurance, which has been independently rated 5-stars by Defaqto since 2013 for its wide range of features and benefits.
Premiums for the Club's Standard insurance start at £49, based on a van value of £2,000, £100 excess and four years' no-claims discount. There are no hidden admin fees, only one security device is required – many insurers demand two – and there are no storage restrictions within the UK.
The Club's Standard Caravan Insurance policy also provides Personal Accident cover for persons up to the age of 85. Many insurers won't provide personal accident insurance for people aged over 79.
Additional benefits
Additional benefits for the Standard Caravan Insurance cover and the Super Caravan Insurance cover include automatic listing on Theftcheck register, one of the largest computerised caravan registers in the UK, post-accident transportation and recovery expenses, personal accident cover (up to £20,000 and £50,000 respectively), third party liability cover and free foreign use cover for up to 182 days.
Members who insure with the Club are eligible for additional discounts, including no claims discount up to 35%, up to 15% discount for an AL-KO Secure or BPW Diamond Wheel Lock and discounts for choosing an increased voluntary excess.
Motorhome Insurance
The Club's Motorhome Insurance Scheme has been built from a real understanding of tourers' needs. Benefits include new for old cover for up to 24 months from new, with no mileage limit, full policy cover for all journeys to EU and Associated Countries up to a maximum of 365 days in any policy year, replacement lock cover, new policies up to 80 years of age, £5,000 personal effects cover, including equipment and baggage, emergency overnight accommodation and no claims discount transfers, normally matching the discount the customer has earned on another vehicle.
Red Pennant
Red Pennant is the Club's Overseas Holiday Insurance with 50 years' experience protecting Club members. Red Pennant offers holiday insurance for caravanners, motorhomers, and trailer tenters, single-trip, annual multi-trip and long stay cover option.
Members benefit from a free phone helpline manned by multi-lingual Club-trained staff, UK cover on departure and return to home, breakdown roadside assistance, vehicle and passenger repatriation and continuation of holiday travel and/or accommodation.
Single trip cover
A single trip policy provides cover for holidays from one to six days up to 122 days.
Long stay durations
This policy provides cover for long stay durations up to 185 days – ideal for motorhomers and caravanners planning one long continental holiday. This policy also allows up to two return trips home up to 14 days each.
Annual multi-trip cover
The annual multi-trip cover is popular with empty nest holidaymakers (27.0% of membership base) and pre-retired escapers (17.1% of membership base) who plan to take multiple continental motorhome trips throughout the year as it is designed for trip duration options of 31, 45 and 66 days per trip.
New additions for Red Pennant for 2017 are an increase in cover limits for storage charges from £250 to £350 (£500 to £700 plus cover) on 'Motoring Only' and 'Motoring & Personal' packages; increase in cover limits from £250 to £350 (£500 to £700 plus cover) for loss of use of car on return to UK on 'Motoring Only' and 'Motoring & Personal' packages; and an increase in cover limits from £2,000 to £3,000 (£4,000 to £6,000 plus cover) for funeral expenses in the country of death under the 'Medical and Other Expenses' section on 'Motoring & Personal' or 'Personal Only' packages.
Experienced and knowledgeable staff
Alexander said that attitudinal research carried out by the Club revealed a high level of loyalty to the Club and members trusted the knowledge and level of expertise of the staff providing information on insurance policies. Members would recommend the insurance to other people and cover was seen as the most important policy element for caravan owners, whereas the no claims discount protection came out top for motorhomers.
"Because our staff have years of experience in the caravan and motorhome sector, the insurance policies have been built with that experience in mind. We have created policies tailored to suit a whole range of needs; policies that can be taken out on their own, or combined with other policies – such as the holiday insurance and the contents insurance," added Alexander.
"And the best part is that because we are a non-profit organisation, we put the entire revenue surplus from insurance directly back into the Club's services – something all members will benefit from."
From January to December 2016, a total of 96% of claims were paid out; eight out of 10 members renew their caravan insurance with the Club, according to Club data from January to December 2016; and the Club offers a 14-day money back guarantee.
The Caravan and Motorhome Club is celebrating its 111th year of operation in 2018, and has been insuring its members for over 50 years. The Club only offers its insurance policies to its own members who have annual membership. Non-members can still be given an insurance quote which they can take up when they join.