The Caravan and Motorhome Club launches new campaign Adventure Outside
13/10/2017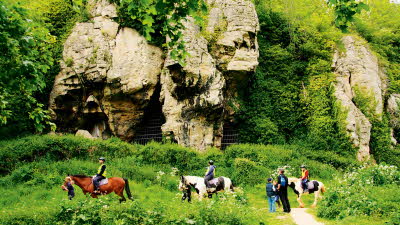 A campaign to inspire more people to be active in the great outdoors, "Adventure Outside", was launched today by the Caravan and Motorhome Club, following research that shows that 70% of their members enjoy getting outside and active.
Recent research* also highlighted that nearly 40% of the population don't follow government guidelines of 150 minutes exercise a week. 65% of those surveyed agreed that exercise enhanced their mood but nearly 30% said they found it hard to fit into their normal routine and it seems that most Brits don't take advantage of their free time on holiday to exercise either.
Only 24% of the national population say they exercise more on holiday compared to over 70% of Caravan and Motorhome Club members who like to take part in some activity when away from home.
As a nation we are too sedentary; nearly 50% surveyed say they typically sit still for between 4-7 hours of the working day and over a quarter say they find it difficult to walk the required 10,000 steps during their normal day.
Harvey Alexander, director of marketing for the Caravan and Motorhome Club launching Adventure Outside said: "Our members love to get outdoors, we want to encourage more people to join us and enjoy the best of the UK and abroad. We are passionate about getting active and healthy on sites, a holiday in the great outdoors can not only provide the required break from day to day routine, but also be very beneficial to the nation's health. We are urging people to join us and have amazing outdoor adventures in 2018."
For those that exercise on holiday, 52% said their favourite pursuit is walking, compared to 70% of Caravan and Motorhome Club members who love to walk and 43% of members who get on their bikes when on holiday compared to 6% of those questioned.
It isn't just the more accessible sports such as walking and cycling that members are interested in, an increasing number of Caravan and Motorhome enthusiasts are taking to the surf. The Caravan and Motorhome Club sponsors the English National Surfing Championships, a three day annual event held in Perranporth, Cornwall.
Alexander continued; "Our survey showed that nearly 40% of people questioned have tried or would like to try surfing. I would urge them to give it a go; we have over 30 fantastic sites close to surfing beaches and staying in a caravan and motorhome means there is always somewhere for surfers to dry their wetsuits after a long day on the waves. It is exciting to see an increasing number of members embracing this exhilarating sport and we will be promoting this again in 2018 as part of our "Adventure Outside" campaign."
The Caravan and Motorhome Club aims to provide as much information as possible to members on how to make the most of their outdoor adventure. The website is a mine of information, identifying top sites to visit for walking and cycling as well as top dog walks to ensure they choose the right location facilitating an outdoor adventure right on their doorstep.