The Caravan and Motorhome Club handed RoSPA winner of the Leisure Industry Sector Award for health and safety practices
21/06/2018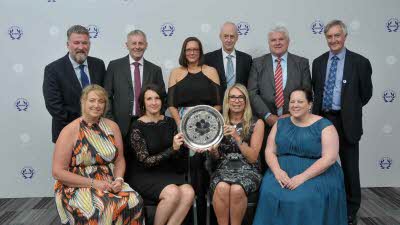 The Caravan and Motorhome Club has achieved a Winner of the Leisure Industry Sector in the internationally-renowned RoSPA Health and Safety Awards, the longest-running industry awards scheme in the UK.
They were presented with the award during a ceremony at ExCeL, London onTuesday, June 19, 2018.
The RoSPA Awards scheme, which receives entries from organisations around the world, recognises achievement in health and safety management systems, including practices such as leadership and workforce involvement.
Sean Turner, Health and Safety Manager at the Caravan and Motorhome Club said: "We are absolutely delighted to win this award. Health and safety has to be a total priority for us and this means in everything we do, starting with our head office and employees who work there. It is a real accolade to be recognised as the best organisation in the leisure industry for health and safety management performance.
To be successful, our application drew extensively on evidence from across the Club of good practice in health and safety. The judges look for organisations that can demonstrate a culture which understands risk and expects high standards in the precautions taken to protect our members and employees. The win is a recognition of the continuing care and effort from people at all levels across the Club to keep people safe."
Julia Small, RoSPA's head of qualifications, awards and events, said: "The RoSPA Awards are the most highly-respected in the health and safety arena, with almost 2,000 entrants every year, and allow organisations to prove excellence in the workplace, demonstrating a commitment to the wellbeing of not only employees but all those who interact with it."
The majority of awards are non-competitive and mark achievement at merit, bronze, silver and gold levels. Gold medals, president's awards, orders of distinction and the Patron's Award are presented to organisations sustaining the high standards of the gold level over consecutive years.
Competitive awards go to the best entries in 24 industry sectors including construction, healthcare, transport and logistics, engineering, manufacturing and education.
There are specialist awards for health at work, environmental management and fleet safety, and excellence trophies for the best international, new entry, workforce involvement and organisation operating or based in Scotland. RoSPA's top accolade is the Sir George Earle Trophy.
Headline sponsor of the RoSPA Awards 2018 is NEBOSH – the National Examination Board in Occupational Safety and Health – for the 13th consecutive year.
For more information about the RoSPA Awards visit www.rospa.com/awards
For more information on the Caravan and Motorhome Club or to book please visit: www.camc.com
-Ends-