Caravan and Motorhome Club receives RoSPA Leisure Safety Gold Award for health and safety achievements
06/04/2022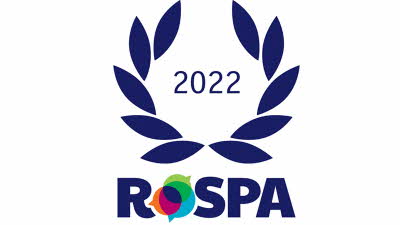 The Caravan and Motorhome Club is celebrating after landing an internationally-recognised award for demonstrating high health and safety standards.
The Club has received a Royal Society for the Prevention of Accidents (RoSPA) Leisure Health and Safety Award for working hard to ensure the safety of its staff and members.
Organisations receiving a RoSPA Award are recognised as being world-leaders in health and safety practice. Every year, nearly 2,000 entrants vie to achieve the highest possible accolade in what is the UK's longest-running H&S industry awards.
Mark Pearson, Director of Finance, Insurance and Management Services at the Caravan and Motorhome Club (and chair of the Club's H&S Forum), said: "We are delighted to have been awarded a RoSPA Leisure Safety Gold Award for our health and safety management system. It's an honour to have been recognised for something so important, and a testament to the commitment and contributions at all levels from management and team members across the Club who take their and our members' health and safety so seriously."
Julia Small, RoSPA's Achievements Director, said: "This is a fantastic and well-deserved accomplishment. All our award entrants demonstrate their unwavering commitment and passion for keeping people safe at work. By receiving this recognition the Caravan and Motorhome Club join like-minded businesses and organisations worldwide, who represent the very best in their approach to Health and Safety. I would like to add my personal thanks for all the work that it has taken to secure this well-deserved award – congratulations to all those involved, who champion and drive up Health and Safety standards every day. You are a fantastic example to others in your sector."
For more information about the RoSPA Awards, visit
www.rospa.com/awards
Ends
Notes to Editors
About the RoSPA Awards
The RoSPA Awards scheme is the longest-running of its kind in the UK, and receives entries from organisations across the globe, making it one of the most sought-after achievement awards for health and safety worldwide.

Currently, around 7million people are directly impacted by the RoSPA Awards, but the scheme's global influence is even wider – with nearly 2,000 organisations from 50 countries represented this year.

The majority of awards are non-competitive and mark achievement at merit, bronze, silver and gold levels. Gold medals, president's awards, orders of distinction and the Patron's Award are presented to organisations sustaining the high standards of the gold level over consecutive years.

Competitive awards go to the best entries in 31 industry sectors including construction, healthcare, transport and logistics, engineering, manufacturing and education.

There are specialist awards for health at work, environmental management, safety delivered outside of the workplace, leisure safety and fleet safety, and excellence trophies for the best international organisation, new entry, workforce involvement and organisation operating or based in Scotland. RoSPA's top accolade is the Sir George Earle Trophy.
About the Caravan and Motorhome Club
Champions of the great outdoors – from glamping to touring – the Caravan and Motorhome Club represents the interests of around one million caravan, motorhome, campervan and trailer tent owners across the UK. Founded in 1907, the Caravan and Motorhome Club has a wealth of experience and prides itself on offering great value and high quality campsites for tourers and glampers.
Caravan and Motorhome Club membership is just £56 per year and provides members with access to 2,700 quality campsites in the UK and overseas. The Club offers over 340 campsites across 16 countries in Europe including France, Spain and Italy amongst other destinations. Stays at these sites can be packaged with great ferry offers to create holidays that are protected by ABTA. The Club also offers a range of escorted and independent tours in Europe, Australasia, North America and Southern Africa, all of which are protected by ABTA. All members can take advantage of expert advice, overseas travel services, cover and insurance and exclusive member offers and discounts.
For further information about becoming a member of the Caravan and Motorhome Club, please visit www.camc.com or call 01342 318 813.

About Experience Freedom
Experience Freedom from the Caravan and Motorhome Club provides glamping accommodation in some of the most beautiful locations in the UK. Experience Freedom offers a choice of glamping accommodation, motorhome hire and tent camping, all of which are available to non-members. Caravan and Motorhome Club members receive a 10% discount on glamping and up to 10% off motorhome hire plus a free Club bundle worth over £50.
Experience Freedom is operated by the Caravan and Motorhome Club, a membership organisation with a wealth of experience in operating high quality campsites. To find out more, visit www.experiencefreedom.co.uk