Caravan and Motorhome Club renew commitment to Surfing England for 2021
09/12/2020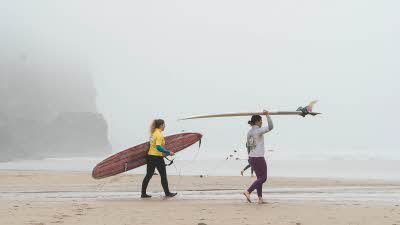 The Caravan and Motorhome Club is proud to announce its headline sponsorship of Surfing England for the eighth year, firmly showing their commitment to the surfing industry in England.
Hannah Brand, Operations Manager for Surfing England said "It's been a year that's been somewhat tumultuous for all and we are beyond proud that the Club recognise the work Surfing England have been doing throughout 2020, supporting the English surfing community with informed updates around the coronavirus pandemic and still continuing to deliver Events (in alignment with government guidance). It is incredible to see the Club standing out in the camping and motorhome industry and continuing to support our organisation. We are proud to partner with brands with such good ethos."
Brian Morgan, Head of Comms and Events at the Caravan and Motorhome Club said, "The Caravan and Motorhome Club are a community of intrepid explorers, perfectly aligned and in tune with surfing and SUP. We are the No.1 rated touring club in the UK and operate the largest number of top-quality campsites set in beautiful and scenic locations in the UK and work with over 340 campsites in Europe - many close by to some of the best surfing and SUP venues. No matter what the season, the Club offers sites for all adventurers, and those hardy winter explorers."
A strong start to 2020, the Club supported the delivery of the 2020 English Open and U18 Shortboard Championships, before headlining the return to the beach this Autumn for the 2020 English National Surfing Championships.
Hannah Brand continued "We're elated to be working with our good friends at the Club for another year. At a time that is very tough for many companies, it is simply fantastic that the Club have renewed their support to English Surfing. This is a defining moment for our partnership, and we cannot wait to get cracking with some new and exciting activations in 2021."
For surfing, 2021 is going to be a huge year as the sport debuts in the Olympics and will be showcased globally. It is anticipated the numbers participating in the sport will boom and that this ripple effect will be seen across all disciplines including bodysurf and stand up paddleboard (SUP) which is already popular. In 2021 Surfing England plans to launch a booking platform for bodyboard/surfing/SUP lessons which Members of the Club will receive an exclusive discount on of 20% on Surfing England Memberships which includes insurance for surf/SUP in the ocean and flat water, lakes, canals, rivers, as well as further offers with Surfing England partners.
The Caravan and Motorhome Club offers a choice of 2,700 campsites across the UK and Europe, many close to beaches, which provide the perfect opportunity for people to combine their passion of surfing and SUP with their love of leisure vehicle holidays.
For more information on the Caravan and Motorhome Club, please visit www.camc.com
- Ends -


Notes to editors
About the Caravan and Motorhome Club
Champions of the great outdoors – from glamping to touring – the Caravan and Motorhome Club represents the interests of around one million caravan, motorhome, campervan and trailer tent owners across the UK. Founded in 1907, the Caravan and Motorhome Club has a wealth of experience and prides itself on offering great value and high quality campsites for tourers and glampers.
Caravan and Motorhome Club membership is just £54 per year and provides members with access to 2700 quality campsites in the UK and overseas. The Club offers over 340 campsites across 16 countries in Europe including France, Spain and Italy amongst other destinations. Stays at these campsites can be packaged with great ferry offers to create holidays that are protected by ABTA. The Club also offers a range of escorted and independent tours in Europe, Australasia, North America and Southern Africa, all of which are protected by ABTA. All members can take advantage of expert advice, overseas travel services, cover and insurance and exclusive member offers and discounts.
The Club offers a choice of glamping accommodation, motorhome hire and tent camping through its Experience Freedom operation, all of which are available to non-members. Caravan and Motorhome Club members receive a 10% discount on glamping and 15% discount on motorhome hire. To find out more about Experience Freedom, visit www.experiencefreedom.co.uk