Caravan and Motorhome Club supporting Surfing England
14/04/2022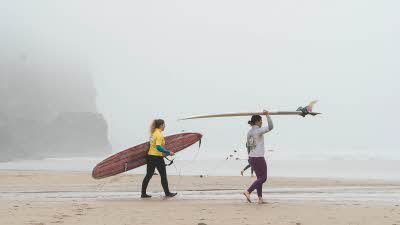 The Caravan and Motorhome Club is delighted to continue its support of Surfing England and will be headline sponsor of the Caravan and Motorhome Club English National Surfing Championships at Watergate Bay, Cornwall, 6th to 8th May 2022. This is the event where elite surfers come together and battle for those top champion spots. This event has grown in the past few years and is a true highlight on the surfing calendar for any avid surfer.
The Club is also the accommodation partner for Surfing England with over 30 Club campsites having a surfing beach nearby. For the community of adventurous surfers, who love the open road and the freedom to explore, there is nothing better than a guaranteed location at the end of a long day's surfing with hot showers and drying areas for wetsuits!
When on the road chasing the next swell, it's also worth checking out the Club Certificated Locations; over 2,300, small, five pitch campsites cover all corners of the UK. There are some true hidden gems that offer some picturesque solitude and affordable prices making them a great option when you are a member of the Caravan and Motorhome Club.
"The partnership is imperative for the Caravan and Motorhome Club National Championships to run; we have more eyes on the sport than ever before after the debut in the Olympics and so many talented aspiring athletes. Surfers are intuitively explorers, and this partnership with the Club is the perfect accompaniment to any road trip on the search for the next swell!" says Hannah Brand, Operations Manager at Surfing England.
Brian Morgan, Head of Communications and Events at the Caravan and Motorhome Club said, "The Caravan and Motorhome Club's members are a community of intrepid adventurers who embrace the outdoor lifestyle and all the benefits it brings and we are proud to support Surfing England. We are the No.1 rated touring club in the UK and operate the largest number of top-quality campsites set in beautiful and scenic locations in the UK and work with over 340 campsites in Europe - many close by to some of the best surfing venues."
Ends
Notes to Editors
About the Caravan and Motorhome Club
Champions of the great outdoors – from glamping to touring – the Caravan and Motorhome Club represents the interests of around one million caravan, motorhome, campervan and trailer tent owners across the UK. Founded in 1907, the Caravan and Motorhome Club has a wealth of experience and prides itself on offering great value and high quality campsites for tourers and glampers.
Caravan and Motorhome Club membership is just £56 per year and provides members with access to 2,700 quality campsites in the UK and overseas. The Club offers over 340 campsites across 16 countries in Europe including France, Spain and Italy amongst other destinations. Stays at these sites can be packaged with great ferry offers to create holidays that are protected by ABTA. The Club also offers a range of escorted and independent tours in Europe, Australasia, North America and Southern Africa, all of which are protected by ABTA. All members can take advantage of expert advice, overseas travel services, cover and insurance and exclusive member offers and discounts.
For further information about becoming a member of the Caravan and Motorhome Club, please visit www.camc.com or call 01342 318 813.

About Experience Freedom
Experience Freedom from the Caravan and Motorhome Club provides glamping accommodation in some of the most beautiful locations in the UK. Experience Freedom offers a choice of glamping accommodation, motorhome hire and tent camping, all of which are available to non-members. Caravan and Motorhome Club members receive a 10% discount on glamping and up to 10% off motorhome hire plus a free Club bundle worth over £50.
Experience Freedom is operated by the Caravan and Motorhome Club, a membership organisation with a wealth of experience in operating high quality campsites. To find out more, visit www.experiencefreedom.co.uk