Christmas staycations on the rise for Caravan and Motorhome Club members
09/12/2020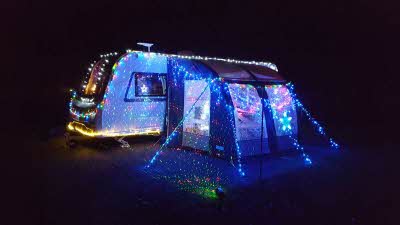 Photo by Club member Glynnis Frith at Ferry Meadows Club campsite
With over a quarter of members planning a staycation this Christmas, the Caravan and Motorhome Club is anticipating a busy festive season at many of its English campsites that have reopened for business (around 50)*.
New members in particular seem keen to try Christmas away this year; some 35% of motorhomers who have recently joined the Caravan and Motorhome Club have said they want to spend Christmas in their motorhome in 2020. And it's no wonder as the Club's Book with Confidence promise means they can rely on trusted expert advice and COVID-secure campsites, and they don't have to pay a deposit on their bookings.
Over previous years, the Club has witnessed a steady rise in members holidaying throughout the year, particularly over the Christmas period. The appeal of the great outdoors is a great incentive to get away in all seasons, but over the winter, the promise of spending time in a warm caravan, motorhome or campervan and relaxing inside, (in between braving the elements of course) is a compelling one. In terms of value for money, there has never been a better time to travel due to the reduction in VAT to 5% on all bookings in response to government guidance.
Most leisure vehicles are incredibly well equipped and have state of the art heating systems and amenities to provide all the creature comforts. You won't need to compromise on Christmas lunch either as most leisure vehicles have good-sized ovens and large enough hobs to conjure up a festive feast. If the thought of cooking is too much though, there are many campsites in close proximity to a fantastic array of country pubs for that pre-booked seasonal celebration. Visit www.camc.com for a range of campsite suggestions.
Harvey Alexander, director of marketing and membership services at the Caravan and Motorhome said: "As we all know only too well, this year has been one like no other, so it is hardly surprising that our members want to get away this Christmas, experience the great outdoors and then relax in a warm and cosy caravan, motorhome or campervan. We have many members who spend every year away on one of our campsites. They will decorate their vans and cook a fantastic Christmas lunch after an invigorating walk in the morning. What could be more appealing?"
All campsites have extensive facilities which will be open to guests, such as heated toilet/shower blocks, laundry rooms, mains/electric hook-ups and often hardstanding pitches. Plus, all campsites have comprehensive safety measures complying with government guidelines.
* Campsites are also open in Wales and Scotland subject to area restrictions. For a full list of operating campsites please visit /www.caravanclub.co.uk/uk-holidays/reopening-our-campcampsites/

For more information on the Caravan and Motorhome Club, please visit www.camc.com
- Ends -


Notes to editors
About the Caravan and Motorhome Club
Champions of the great outdoors – from glamping to touring – the Caravan and Motorhome Club represents the interests of around one million caravan, motorhome, campervan and trailer tent owners across the UK. Founded in 1907, the Caravan and Motorhome Club has a wealth of experience and prides itself on offering great value and high quality campsites for tourers and glampers.
Caravan and Motorhome Club membership is just £54 per year and provides members with access to 2700 quality campsites in the UK and overseas. The Club offers over 340 campsites across 16 countries in Europe including France, Spain and Italy amongst other destinations. Stays at these campsites can be packaged with great ferry offers to create holidays that are protected by ABTA. The Club also offers a range of escorted and independent tours in Europe, Australasia, North America and Southern Africa, all of which are protected by ABTA. All members can take advantage of expert advice, overseas travel services, cover and insurance and exclusive member offers and discounts.
The Club offers a choice of glamping accommodation, motorhome hire and tent camping through its Experience Freedom operation, all of which are available to non-members. Caravan and Motorhome Club members receive a 10% discount on glamping and 15% discount on motorhome hire. To find out more about Experience Freedom, visit www.experiencefreedom.co.uk
Covid-19

The health and safety of members, guests and local communities, is of paramount importance to the Club. As more and more members are able to get out and enjoy the great outdoors through the Club's network of campsites, the Club is asking everyone on site to play their part and participate in a voluntary COVID self-health check before arriving on campsites. They must ensure that they are not experiencing any symptoms that are COVID-19 related, including a high temperature, a new continuous cough, or a loss or change to sense of smell or taste. They must also not visit any campsites if they have been in contact with someone with confirmed or suspected COVID-19 symptoms who has not completed 14 days isolation or if they are under any self-isolation orders.
For further information about becoming a member of the Caravan and Motorhome Club, please visit www.camc.com or call 01342 318 813.