Save more with the Caravan and Motorhome Club across more campsites in France this summer
31/05/2023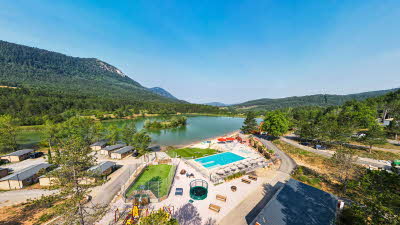 With more campsites in every corner of France than any other UK touring club, the Caravan and Motorhome Club has plenty of choice this summer. For those looking to explore France by road, the Club is helping tourers get more, more, more from the great outdoors with prices from as little as £18 per night*.
Offering the widest choice of crossings, The Club has negotiated deals with ferry companies and Eurotunnel to help tourers save money when making their crossing to France with their 'lowest price guarantee'. New joiners to the Club this summer will also be able to save 10 per cent on ferry and Eurotunnel crossings, making sure tourers save even more on their trips.
Whether looking for an action-packed French adventure along the west coast for the whole family or a romantic cultural break in Brittany, there is a campsite to suit all holiday types, all while taking in the great outdoors for less. Here is a selection of some of the top French campsites available through the Club:
De La Piscine campsite, Brittany
Tourers can experience the best of Brittany's natural beauty and cultural treasurers at De La Piscine campsite. This beautifully maintained former apple orchard offers a peaceful retreat for families and couples seeking relaxation, with a pool complex that includes a waterfall and new waterslides, as well as spa facilities including a jacuzzi, sauna and massage services. With easy access to stunning sandy beaches like Sables Blancs and Kernous, as well as the fishing town of Concarneau, De La Piscine campsite provides an unforgettable blend of tranquility and exploration. Prices start from £18.02 per night.*
Le Châteaux de Lez-Eaux, Normandy
Discover Le Chateau de Lez-Eaux campsite this summer, a family-friendly haven near the captivating Normandy coastline and ports of Caen and St-Malo. Enjoy the fantastic facilities on offer like a games room, tennis courts, fishing lake and an indoor tropical water park with new slides and a kids' splash area. Tourers can explore nearby Normandy attractions including the renowned Mont Saint-Michel and Granville, the birthplace of Christian Dior. Prices start from £26.21 per night.*
Camping InNature Arques, Occitanie
With a backdrop of the Corbières Mountains and located right by Lake Arques, tourers are set to take in the breath-taking forest and mountain scenery at InNature Arques.
The campsite offers a number of activities for families including paddle boarding, canoeing, fishing, horse riding or enjoying the aqua park on site. For those who like hiking there are also several walking trails in the area including taking in the ancient Châteaux Cathares. Prices start from £21.55 per night.*
Le Château des Tilleuls, Hauts-de-France
With a variety of onsite entertainment and children facilities, this charming campsite is perfect for families in high season – where kids can splash around in the pool, play in the children's area or practice tennis. The campsite is close to the Baie de Somme which has a cycling route popular for both cyclists and joggers that reaches the Somme Bay known for its seal colony or nearby Abbeville. Prices start from £19.74 per night.*
La Garangeoire, Pays de la Loire
This five star campsite, La Garangeoire is nestled in the heart of a 200 acre, tree-filled park and only a 15-minute drive from sandy Vendéen beaches. Surrounded by a number of tourist attractions such as the Puy Du Fou theme park, the towns of Bretignolles sur Mer and Les Sables D'Olonne, it serves as a perfect culture and adventure-filled base, offering plenty of on-site activities on the west coast. Prices start from £22.41 per night.*
Members of the Caravan and Motorhome Club can also benefit from the Red Pennant emergency assistance to keep them protected when travelling across Europe. This travel insurance has been specifically designed for touring holidays and includes options of motoring or personal insurance for single-trip or annual multi-trip cover. Cover options include European breakdown roadside assistance, vehicle and passenger repatriation, continuation of holiday travel, medical emergency and ski cover. When travelling with one of the Caravan and Motorhome Clubs' European tours, members can feel at ease with Red Pennant insurance – which even has access to a 24-hour, multi-lingual assistance line for members.**
For further information about becoming a member of the Caravan and Motorhome Club or to book, please visit www.camc.com or call 01342 318 813.
Notes to Editors
T&Cs:
*All prices are per night based on two adults on pitch. Prices are subject to availability and correct as at 22 May 2023.
**Red Pennant is underwritten by Tedaisy Underwriting Limited as Underwriting Agents for Astrenska Insurance Limited. Tedaisy Underwriting Limited is authorised and regulated by the Financial Conduct Authority. Caravan and Motorhome Club is a trading name of The Caravan Club Limited which is authorised and regulated by the Financial Conduct Authority for general insurance and credit activities.
About Caravan and Motorhome Club
Championing and helping its members get more from the great outdoors, whether glamping or touring, the Caravan and Motorhome Club represents the interests of over 1.1 million caravan, motorhome, campervan and trailer tent owners across the UK. With over 115 years of knowledge and expertise, the Club has a wealth of experience and prides itself on offering great value and high quality campsites for tourers and glampers.
Caravan and Motorhome Club membership is just £59 per year and provides members with access to over 2,700 quality campsites across the UK and Europe. As the UK's No. 1 rated touring club* it makes sure members get the most from their membership, saving them money with great value offers whether touring or at home.
The Club also offers a range of escorted European tours which are protected by ABTA. Plus escorted and independent tours in Australasia, North America and Southern Africa which are also fully protected, either by ABTA or ATOL when a flight is included. All members can take advantage of expert advice, overseas travel services, cover and insurance and exclusive member offers and discounts.
For further information about becoming a member of the Caravan and Motorhome Club, please visit www.camc.com or call 01342 318 813.
*As rated on Trustpilot
About Experience Freedom
Experience Freedom from the Caravan and Motorhome Club provides glamping accommodation in some of the most beautiful locations in the UK. Helping members get more from the great outdoors, Experience Freedom offers a choice of glamping accommodation, motorhome hire and tent camping, all of which are available to non-members. Motorhome hire, including some discounted hire schemes can be found here https://www.experiencefreedom.co.uk/motorhome-hire/
Experience Freedom is operated by the Caravan and Motorhome Club, a membership organisation with a wealth of experience in operating high quality campsites.
Caravan and Motorhome Club members can save up to 10% on glamping accommodation for their friends and family staying at the campsite at the same time, it is automatically applied to the booking when the membership number is used. To book friends and family, simply call on 01342 777533 to make a booking with your Club membership card.
To find out more, visit www.experiencefreedom.co.uk
Media Contacts:
For more press information, please email Nikki Nichol at the Caravan and Motorhome Club on nikki.nichol@camc.com or by calling 07771 834443.
Or contact the Four Communications press team, by emailing Victoria Eltis and Fleur van Heusde at camc@four.agency or call 07891 423322.