Start your touring adventures with the Caravan and Motorhome Club
04/08/2020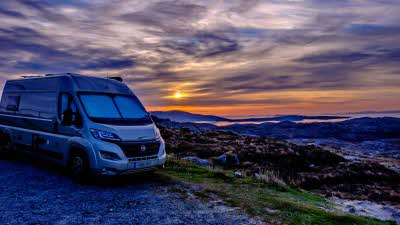 There's never been a better time to get into campervanning, caravanning or motorhoming. Whether exploring the great outdoors in the UK or Europe, having or hiring your own leisure vehicle means you can have an adventure on your own terms in your own private space, whenever you choose.
The Caravan and Motorhome Club can help you to make the most of your holidays; whether you want a city break, walking in the wilds, surfing in the sea, or using your leisure vehicle as accommodation to enable hobbies like rambling, attending motorsport races, cycling or painting.
For those who have never toured before, it can be hard to know where to start as there are so many options. Founded in 1907, the Caravan and Motorhome Club has a wealth of touring knowledge and experience that first-timers and old hands alike can access for free. From its online beginner's guides to its technical advice service that you can call from 9-5.30 Monday to Friday or access via email, it couldn't be easier to get started. The Club will be with you, every mile of the way, helping and inspiring you to start your adventure.
Harvey Alexander, Director of Marketing at the Caravan and Motorhome Club, says: "So many people love the idea of having the flexibility of their own leisure vehicle but they can sometimes feel overwhelmed choosing one. Some people think they'll find it hard to drive a leisure vehicle, but there really isn't anything to worry about. It's no harder to drive a motorhome or campervan than it is a car, and towing a caravan just takes a little practice. As for finding the right vehicle, our technical experts can answer any questions and guide you through the process step-by-step and there's a wealth of information on our website.
"The fact that you can purchase a second-hand leisure vehicle for the same price as a package holiday for a family of four demonstrates that touring can offer real value for money too, not to mention a different adventure every weekend. Touring really does blow away the cobwebs and is great for your wellbeing."
Membership of the Caravan and Motorhome Club is just £54 per year. All members can take advantage of access to more than 2700 sites in the UK and Europe, plus expert advice, overseas travel services, cover and insurance and exclusive member offers and discounts. You can find a whole host of hints and tips on the Club's YouTube channel which will help advise and inspire youhttps://www.youtube.com/c/CaravanandMotorhomeClub. And on the Club website, the 'Club Together' online forum brings together thousands of like-minded tourers who share experience, offer advice and handy hints and tips.
For those who want to get a taste of 'van life' before purchasing their own vehicle, the Club offers motorhome hire from £300 for three nights*.
If you feel a little daunted at the prospect of towing a caravan or driving a motorhome for the first time the Club also offers its popular caravan and motorhome manoeuvring courses at locations around the UK, which are perfect for beginners and those wanting to brush-up their manoeuvring skills.
Alexander continues, "For your first trip it's probably best not to go too far, just in case you forget something vital, or there are any issues that need fixing. You might want to do a little practice with low-speed manoeuvring and perhaps have a trial run at putting up an awning (if you have one) before you go. Also, you'll almost certainly take several things you don't need, and forget something you do need. It's best to pack 'essentials' (corkscrew, bottle opener, sunhat, umbrella etc.) and make a checklist."
To find out more about Club membership and its campsites, and to view all its advice for first-timers, visit https://www.caravanclub.co.uk/uk-holidays/start-a-new-adventure and www.camc.com