Success for SEAT
24/09/2021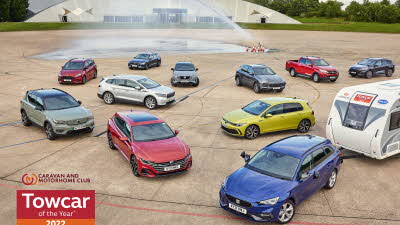 The SEAT Leon Estate FR 1.5TSI 150PS has won this year's overall trophy and also triumphed in the Caravan Weight 1100 – 1200kg category in the 39th Caravan and Motorhome Club Towcar of the Year Competition.
The industry's longest standing towcar testing awards saw the Seat Leon impress the judges around UTAC's Millbrook Proving Ground's demanding and unique track.
Thirty two entrants were put into caravan weight categories – rather than being listed by price – to make it easier for buyers to know which cars could tow their caravans. Cars were entered into classes using their 85% kerbweight figure or by their towing limit, whichever was the lower. The competition had seven weight classes, two Family Towcar categories as well as Pick-Up, Electric and Plug in Hybrid categories.
The complete winners' line-up is as follows:
Caravan Weight Under 1100kg & Electric Vehicles:

ŠKODA Enyaq iV 80 Lounge 82 kWh 204 PS DSG

Caravan Weight 1100 – 1200kg & Overall Winner:

SEAT Leon Estate FR 1.5TSI 150PS

Caravan Weight 1200 – 1300kg:

Volkswagen Golf R-Line 2.0 TDI 150PS DSG

Caravan Weight 1300–1400kg:

Nissan Qashqai Tekna+ (Xtronic)

Caravan Weight 1400–1500kg:

Volkswagen Arteon Shooting Brake R-Line 2.0 TDI 200PS DSG

Caravan Weight 1500–1700kg:

Volvo XC40 Recharge pure electric AWD

Caravan Weight Over 1700kg:

Porsche Cayenne E-Hybrid 8-Speed Tiptronic S

Plug-in Hybrid Vehicles:

Volvo V60 Recharge plug-in hybrid T6 AWD

Family Towcar:

Ford Kuga ST-Line X Diesel mhev

Large Family Towcar:

Ford S-Max FHEV ST-Line

Pick-up:

SsangYong P Musso Rhino Auto
Link to images: TCOY2022 winners
The Seat Leon is a great all-round family estate. The judges loved the spritely, 1.5-litre TSi petrol engine, which worked well with the 7-speed auto gearbox. On the faster sections of the route it remained calm and composed, while on hilly, twistier roads it felt agile, the engine coping really well with the inclines. There's plenty of room on offer and the cabin is comfortable. The decent-sized boot impressed the caravanability judges, accommodating all our touring equipment.
Nick Lomas, Director General of the Caravan and Motorhome Club said, "With the rise in popularity of the staycation, it's more important than ever that the Club continues to provide qualified and unbiased information for it's one million members to help them to find the right towcar for their needs.
We've also been receiving an increasing number of enquiries about the technicalities and practicalities of towing with hybrid and electric vehicles so it's fantastic news we are seeing a boom in competition entrants and winners in these categories."
Each car was put through its paces at the UTAC Millbrook Proving Ground near Bedford, which provides a variety of testing driving environments. Manufacturers were invited to submit for testing any vehicle that was capable of towing a trailer over 750kg and on sale on 1 October 2021.
The Club's Scrutiny team thoroughly checked each vehicle before handing it over to the 'caravanability' and driving judges.
Caravanability judges tested whether a car's boot could swallow the bulky accessories normally needed on a caravan trip. They also measured the towball height, both solo and hitched up, and checked the towing information provided in the manufacturer's handbook.
The cars were then hitched up to caravans ballasted to 85% of their kerbweight, or towing limit if lower. Using specialised apparatus the technical judges then measured the cars' acceleration and braking capabilities. The car/caravan combinations were then passed over to the driving judges who set off around the UTAC Millbrook circuit to put the vehicles through their paces.
The cars were tested at speeds of up to 55mph on the 'Alpine route', which featured various gradients culminating in a 17% hill start and a 26% downhill brake test. The ability to join fast traffic from a standstill was also assessed.
Judges then took the vehicles to the high-speed bowl to further assess their capabilities at speeds in excess of UK legal limits. In the safety of a controlled environment, the judges could induce some instability at 60mph to see how the cars reacted. The vehicles were also put through reversing examinations. All-important issues of driver and passenger comfort and visibility were also assessed.
The results of the competition were announced at the Caravan and Motorhome Club Towcar of the Year Awards ceremony, held at the Royal Automobile Club in London on 17 September. The awards were presented by television presenter and Club member, Matt Allwright, who also spent time at Millbrook Proving Ground to see how the judging process was carried out.
Grenville Chamberlain OBE, Caravan and Motorhome Club Chairman, said: "Our sincere congratulations go to all the worthy winners in the Caravan and Motorhome Club Towcar of the Year 2022. The Club is delighted to be able to share the wealth of data and information about towing vehicles to help both our members and all those who tow."
Members who own any of the Caravan and Motorhome Club category winners since 2015 are eligible for a 10% discount on the Club's Car Insurance. Visit Car Insurance for more details.
For more information about the Caravan and Motorhome Club's Towcar of the Year competition please visit https://www.camc.com/towcar/
For further information and details about the Caravan and Motorhome Club visit www.camc.com