Super Saturday July 4 - Campers can return to the great outdoors
23/06/2020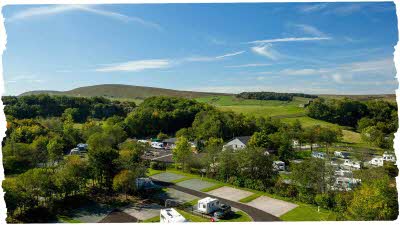 (23rd June, 2020) Following the latest Government announcement today (23/6/20) saying campsites in England can soon reopen, the Caravan and Motorhome Club is absolutely delighted to be able to welcome back members and guests to 114 campsites in England on 4th July and 16 in Scotland on 15th July. This was hugely welcome news from the Government as 96 percent of Club members are planning a leisure vehicle holiday this year according to a recent member survey* carried out by the Club.
On 4th July the Club is looking forward to filling Club Sites with eager members wanting to get back to doing what they love the most - exploring the great outdoors.
Nick Lomas, director general of the Caravan and Motorhome Club said, "We know our members have been missing coming to our campsites, and we've missed seeing them. We are introducing our own COVID Secure Commitment, in line with Government guidelines, to help members, guests and staff keep safe and well on site. Club campsites offer plenty of space, they are the ideal places for people to relax, take life at a slower pace, with lots of open space, and stay safe while on holiday."
Lomas continues, "Our lifestyle lends itself well to social distancing, being outside with well-spaced pitches and enhanced cleaning protocols and procedures mean that we will ensure visitors to our sites have a safe and enjoyable time. Members can follow their leisure activity in a self-contained manner, with all of their own supplies and amenities within their outfit, thereby having a low impact on the area they visit."
For more information on the Caravan and Motorhome Club and a full list of open sites, please visit www.camc.com/reopening
Ends
*The Caravan and Motorhome Club surveyed over 20,000 members in May 2020 and results are based on 3652 completed responses.
About the Caravan and Motorhome Club
Champions of the great outdoors – from glamping to touring – the Caravan and Motorhome Club represents the interests of around one million caravan, motorhome, campervan and trailer tent owners across the UK. Founded in 1907, the Caravan and Motorhome Club has a wealth of experience and prides itself on offering great value and high quality campsites for tourers and glampers.
Caravan and Motorhome Club membership is just £54 per year and provides members with access to 2700 quality campsites in the UK and overseas.
The Club offers a choice of glamping accommodation, motorhome hire and tent camping through its Experience Freedom operation, all of which are available to non-members. Caravan and Motorhome Club members receive a 10% discount on glamping and 15% discount on motorhome hire. To find out more about Experience Freedom, visitwww.experiencefreedom.co.uk
For further information about becoming a member of the Caravan and Motorhome Club, please visit www.camc.com or call 01342 318 813.
Media Contacts:
For press information and imagery, please contact Helen Coop at Four Travel: camc@fourcommunications.com / +44(0) 203 697 4200
Nikki Nichol, external communications and sponsorship manager at the Caravan and Motorhome Club is available on 01342 336 797 / 07771 834 443 or via email: nikki.nichol@camc.com