The Big Little National Festival from the Caravan and Motorhome Club
21/05/2020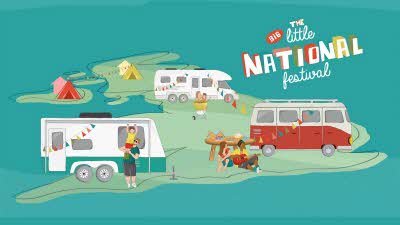 We might not be able to visit festivals at the moment, but that doesn't mean you have to miss out. On 25 May join-in with the Big Little National Festival, from your home, and enjoy a day of festival fun and activities via social media.
Connect with family and friends through video calls and enjoy a festival in your garden or living room at home. The fun starts on Monday 25 May, string up some fairy lights, hang out the bunting, light the BBQ and join-in with the fun. Check out the Club's Facebook page for more details.
Festival itinerary:
11:00 Opening ceremony by Club Chairman, Grenville Chamberlain OBE on Facebook (Caravan and Motorhome Club)
14.00 Lighting of the BBQs and food demo by campervan chef Martin Dorey
14.30 Laithwaite Winetasting
17.00 Club quiz, sponsored by SsangYong
17.45 Sunset event - a must-see performance from the Club band who have been finding innovative ways to continue making music during these times
18.00 Carry on enjoying your festivals at home
And throughout the day highlights will be posted on Facebook of activities that festival-goers have been taking part in; from virtual dog shows, baking challenges, the final Big Little TeaTime Festival to seeing what everyone is cooking on their BBQs.
The winners of the Club's 'Get Away Your Way' Perfect Day Challenge will also be announced, and the Club will provide a playlist of people's favourite camping tunes to keep you dancing during your festival.
Brian Morgan, Caravan and Motorhome Club Head of Events and Communications, said "We know people will be missing going to festivals so we wanted to provide an event to keep people in the festival mood and enjoy a day of virtual festival-fun from the comfort of their own homes and gardens. We will be providing virtual entertainment and activities throughout the day. Treat yourselves to a change of pace, and while social distancing means that friends and family (apart from those living in the house with you) won't physically be with you, modern technology means everyone can still be together. So fire up the BBQ, play some of your favourite festival music and enjoy the Big Little National Festival."
Follow and like CandMClub on Facebook, Twitter and Instagram to keep up-to-date with the Big Little National activities.
For more information on the Caravan and Motorhome Club, please visitwww.camc.com/bltf
The Club wishes everyone happy touring in the future, until then, please stay alert, control the virus, save lives.
#WeAreAllInThisTogether
Ends
About the Caravan and Motorhome Club
Champions of the great outdoors – from glamping to touring – the Caravan and Motorhome Club represents the interests of around one million caravan, motorhome, campervan and trailer tent owners across the UK. Founded in 1907, the Caravan and Motorhome Club has a wealth of experience and prides itself on offering great value and high-quality campsites for tourers and glampers.
For further information about becoming a member of the Caravan and Motorhome Club, please visitwww.camc.com or call 01342 318 813.
Media Contacts:
For press information, interview requests and imagery, please contact Nikki Nichol, external communications and sponsorship manager at the Caravan and Motorhome Club on 01342 336 797 / 07771 834 443 or via email: nikki.nichol@camc.com
For press information, please email Zoe Poulton and Helen Coop at camc@fourcommunications.com or call Zoe on 07891 423 440.