The Caravan Club launches new 'Overseas Touring Guides'
15/01/2015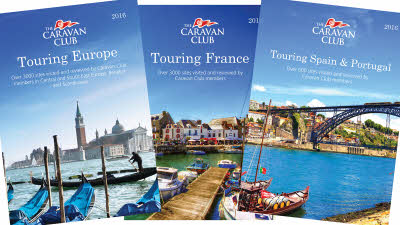 The three guides ('Touring France', 'Touring Spain & Portugal' and 'Touring Europe – Central, Southeast Europe, Benelux and Scandinavia'), previously known as the 'Caravan Europe' series, have been edited and enhanced to make them even easier to use and more succinct for quick reference.

These guides are great for anyone wishing to take an outdoors holiday in Europe and are designed for caravanners, motorhomers, trailer-tenters and tent campers. They feature over 7,000 campsites, which have all been recommended and reviewed by other tourers and campers, and all meet the high standards required by The Club to be included.

The new guides have been re-worked to improve upon the, already popular series, responding to feedback from users. While they continue to include a huge number of sites, they now offer further enhanced and newly relevant advice for overseas tourers, plus they now also have a new look and feel which makes them really inspirational. They are an essential travel guide for anyone wishing to tour and stay on campsites in Europe.

Director General of The Caravan Club, Nick Lomas, says "The Club's Overseas Travel Service sends many of thousands of members on overseas touring holidays each year, providing access to its Continental site network and the best ferry prices.

These guides are perfect for the glovebox as they not only reference thousands of sites across Europe but are also a go-to bible for overseas touring advice, laws and tips."

The new guides are now available to buy from The Caravan Club (www.caravanclub.co.uk), Amazon and all major bookshops. There are also special prices for members and bundle offers available for all.
Contact information
Nikki Nichol
Head of Publicity
nikki.nichol@caravanclub.co.uk
07771 834443/ 01342 336 797

Maxine Soghmanian
PR Manager
maxine.soghmanian@caravanclub.co.uk
01342 336 768
Notes to editors
Champions of the great outdoors, The Caravan Club represents the interests of over one million caravanners, motorhomers and trailer tent owners across the UK.

The Caravan Club offers its members over 200 Club Sites and 2,500 privately owned places to stay, and provides all members with expert advice, overseas travel services, financial services and exclusive member offers and discounts.