Knaresborough is back with a bang!
31/07/2017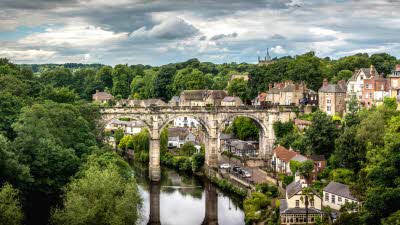 Exciting changes have been underway at Knaresborough this year, in preparation for its reopening at the end of August. Located in Nidderdale, an Area of Outstanding Natural Beauty, adjoining the Yorkshire Dales, you have even more time to explore this stunning region as the site is now open all year.
New restaurant, new entrance, new pitch types and more
We're thrilled to reveal the following upgrades:
A brand new, modern, on-site restaurant - 'The Wanderer Bar & Kitchen'

A stylish restaurant has been built and named after The Wanderer, the first horse-drawn caravan which lead to the birth of the Club in 1907.
Extra facilities

Additional brand new toilet and shower facilities have been built in 'The Wanderer' and will be available to members at all times.
A new entry and exit to reduce congestion

The site used to have a single two-way entrance/exit which sometimes caused visitors problems during busy times. Now there is a dedicated entrance and a dedicated exit (with barriers) to improve the flow between departures and arrivals.
More hardstanding and serviced pitches

We've converted 19 grass pitches into all-weather hardstanding's of which 12 are new serviced pitches, giving Knaresborough a total of 79 hardstanding pitches.
Service points and waste areas improved

All existing service points have been upgraded and a brand new open-grill style motorhome waste point has been installed.
A new fenced off dog exercise area

This means happy doggies!
Now open all year
Enjoy a break in the Yorkshire Dales any month of the year, as Knaresborough's doors open from 25 August and will remain open all year round.
The site is perfectly located for those who love walking and cycling across spectacular rolling fields, valleys and rugged trails. Whilst on route, look out for gardens, cafes and pubs tucked down country lanes and in local villages.
There's an abundance of things to do as a family too, including the Lightwater Valley Theme Park, 4D Golf, the DIG Archaeological museum, Diggerland and Paintballing, to name a few things. Take a look at our Great Savings Guide offers for more information.
So what are you waiting for?