BBQ this July for Cancer Research UK
13/05/2014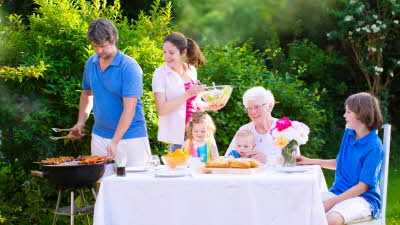 CANCER Research UK is asking men and women across the country to:
Gather your mates

Invite the neighbours

Call up your granny

Get your cousins and their kids round
Fire up the BBQ and be part of its brand new Big BBQ Weekend fundraising campaign.
Taking place on: 19-20 July 2014
By donating to attend, family and friends can help beat cancer sooner, while having a fantastic day of summer fun with family and friends come rain or shine. Event hosts can say 'burger off' to cancer by having a BBQ any time this July, or join others BBQ-ing across the UK on the Big BBQ Weekend (19-20 July).
BBQ heroes can set a fundraising target for their group and collect donations upfront or on the day. And with Brits grilling more than anywhere else in Europe -hosting a whopping 120 million BBQ occasions a year* - the stage is set for the biggest sizzling summer fundraising weekend the nation's ever seen.
Here are ten reasons to BBQ for Cancer Research UK this July:
Spend time with family and friends

Showcase your BBQ skills and prove your grilling credentials like a true foodie

You only need a small outdoor space to host a BBQ

Everything tastes better BBQ'd

Spend some time outdoors enjoying BBQ and nature

Less dishes to clean when you cook on a grill

It's a healthy way to cook

It's easy to keep it simple

Satisfy your competitive streak and ignite a battle of the BBQs and go head to head with your fellow grilling enthusiasts

Say 'burger off' to cancer and raise money for vital research to help beat cancer sooner
Cancer Research UK's big BBQ weekend takes place on 19 and 20 July 2014. Be part of it along with men, women and children from across the UK, and help beat cancer sooner. Sign up to be a BBQ hero and get your BBQ pack at www.cruk.org/BBQ. Come rain or shine, BBQ to beat cancer.
More information
Keep an eye on Cancer Research UK's Facebook and Twitter communities for more information, inspiration, top tips, and exclusive offers.
For further information about Cancer Research UK's work or to find out how to support the charity, please call 0300 123 1022 or visit www.cancerresearchuk.org.