Even more Touring Adventures on the small screen
23/05/2022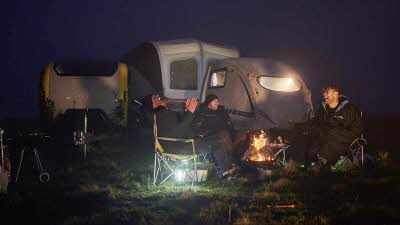 Touring on the open road and getting out into the great outdoors is more popular than ever with our TV channels packed full of programmes devoted to our favourite pastime.
This year has already seen Channel 4 airing the two part travelogue from comedian and presenter Sue Perkins as she campervanned her way across California and Colorado in Sue Perkins' Big American Road Trip.
Meanwhile Jimmy Doherty, best known for Jimmy's Farm, presents an eight part streaming series on Discovery+ titled Jimmy Doherty's Dream Builds on Wheels. The programme follows everyday people using their creativity and engineering skills to convert old vehicles, like double decker buses and ex-army fire engines into a dream camper. Ready for them to hit the road and explore the world in comfort.
Top Gear filmed at Berwick Seaview Club Campsite. Image courtesy of BBC.
In November last year, Paddy McGuinness, Freddie Flintoff and Chris Harris, presenters of BBC's Top Gear, set off on a peaceful getaway in the wilds of Northumberland with a state-of-the-art electric car whilst towing a 'micro-caravan'. The episode was also filmed at our beautiful Berwick Seaview Club Campsite.
As Top Gear reaches its 32nd series, the hit motoring entertainment show will feature an episode of the team enjoying the sweeping open road in Florida in the Top Gear's RV – a 35 foot long Holiday Rambler Aluma Lite, complete with 7.4-litre Chevrolet V8 engine. Feel inspired by their American trip, by checking out our Worldwide American tours.
Series 32 of Top Gear in Florida. Image courtesy of BBC.
With 'staycations' on the increase for another year, it's no surprise that the televisual world has joined in with our love of touring and exploring the beautiful world we live in.
Last year saw the "Have I got News for you" pundit, Paul Merton and his wife, Suki Webster embrace the motorhoming life in Channel 5's Motorhoming with Merton & Webster. Whilst over on Channel 4, actors Miriam Margolyes and Alan Cumming reconnected with their Celtic roots by travelling around Scotland in a campervan in Miriam and Alan: Lost in Scotland.
Motorhoming with Merton and Webster. Image courtesy of Channel 5.
Meanwhile we caught glimpses of some of the UK's stunning scenery in Channel 5's Celebrity Five Go Motorhoming as five famous faces journeyed across Wales and Scotland in two motorhomes, where they visited some of the most natural beauty sites like Snowdonia and the Pembrokeshire coast.
With many of our Club campsites having featured in popular programmes last year, including ITV's This Morning, Channel 5's Million Pound Motorhome and Susan Calman's Grand Days Out, you can not only get inspiration for your next tour but also for your next campsite choice.
Discover somewhere new to see on your next adventure.