Join us on the Little Green Tour
11/08/2021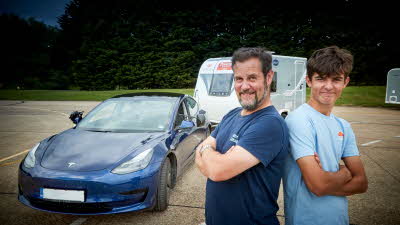 Image: Mark and Freddie Sutcliffe in front of their Tesla
On Monday 16 August, a road trip across the Pennines will start from the Club's Burrs Country Park Club campsite in Bury, Lancs. to establish the towing credentials of pure electric and plug-in hybrid vehicles in actual 'real-world' driving conditions.
The 'Little Green Tour' will cover some 135 miles across three days, stopping off at Beechwood Grange Club campsite in York before heading out to the coast and the brand new Club resort at Cayton Village Club campsite near Scarborough.
The challenge will see two experienced caravanners towing their caravans by selected electric vehicles, whilst gathering data and measuring the impact on the Electric Vehicle (EVs) range, calculating the logistics of recharging on the open road and on campsites, as well as evaluating the practicalities of towing with EVs.
The drivers are regular Caravan and Motorhome Club Towcar of the Year judges Mark Sutcliffe and Andrew Ditton, who will be driving a Tesla Model 3 and Volvo XC40 Recharge plug-in hybrid T5 FWD respectively. Mark will tow a lightweight Bailey Discovery D4-2 behind his Tesla, while Andrew will tow a Bailey Phoenix 440+ behind the Volvo.
Our Club Site Pitches are supplied with a 13-amp power supply, making it feasible to top up electric vehicle batteries while the caravans are pitched up on site. The new site at Cayton Village also features additional fast chargers allowing guests arriving in EVs to recharge their vehicles more quickly.
The test run will evaluate rates of energy consumption with and without a caravan hitched up and calculate real world electric ranges under towing conditions. It will also gather data on recharge speeds using site electricity supplies and assess the practicalities of recharging en route at motorway service area fast chargers.
Follow their journey at camc.events from 16th August, where you can see a map of the route and track the progress of our vehicles as they travel from Lancashire to Yorkshire.
#LittleGreenTour