New pop-up campsite at Retrofestival
10/06/2021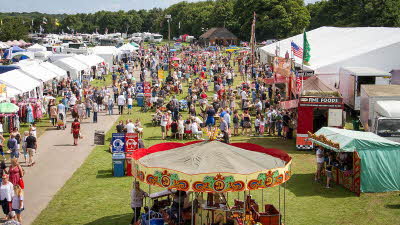 We have added a new pop-up campsite to our growing number of places to stay this summer. In addition to the pop-up sites at Beale Wildlife Park and the Beaulieu Estate, we can now offer pitches exclusively for members close to the fantastic Retrofestival (which runs from 13-15 August 2021) in Newbury, Berkshire.
Attracting more than 30,000 people, this family-friendly festival appeals to a wide range of audiences, taking you back to the glamorous 1930s and through to the rock n' roll 50s! There will be live music and entertainment across three stages, vintage fairs showcasing classic cars, vintage clothing and retro treasures for sale, fairgrounds, fabulous food and bars and an action-packed showground and arena.
Our pop-up campsite (open from 12-15 August) is just a short walk from the festival grounds and managed wholly by the Club. You'll find all the usual campsite facilities and the pitch includes electric hook-up. That's not all – members receive discounted entry to the show as part of their pitch price. See camc.com/popups for details.
Also on sale...
Beaulieu Estate pop-up site (2 Jul-31 Aug 2021)
We're delighted to announce that we've extended the dates for the pop-up campsite at the stunning Beaulieu Estate. It will run from 2 July to 31 August, so that Club members can really take advantage of discounted entry to the venue's many attractions.
Beale Wildlife Park pop-up site (26 Jul-22 Aug 2021)
This campsite is situated within the grounds of the Beale Estate, in a secluded field right next to the River Thames. As well as discounted entry to the wildlife park, you can also enjoy access to a water sports lake right next to the campsite.