Support your favourite CL
28/02/2022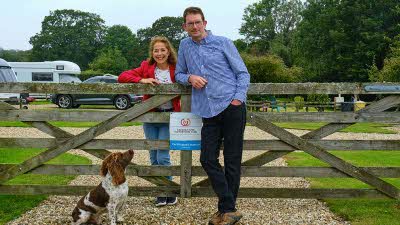 Louise and Greg Holmes, owners of last year's CL of the Year winner, Poole Farm
Nominate your favourite Certificated Location in our annual CL of the Year awards and you could win a five-night break in our prize draw!
As many members know, CLs are small, five-pitch sites in diverse locations – some offering access to city centres and others tucked away in pretty corners of the countryside. Many members use them as bases to indulge their passions – whether you're into golf, fishing, country houses, birdwatching, fell walking (or simply unwinding) there is a site for you on our network.
Our awards are designed to recognise the very best sites and the hard-working owners who go to great lengths to ensure that you have a great stay. Whether it's a site you have recently discovered or one you have returned to time and time again, we want to hear all about it. There are three national CL awards, as well as recognition for the Best Newcomer (any CL that has opened in the last two years is eligible).
To nominate your favourite CL, simply visit this page and submit your entry by 17 September 2022.
As a thank you for your nomination, we are giving you the opportunity to be entered into a prize draw for the chance to win a five-night stay at your favourite CL. For the prize draw, normal Club terms and conditions apply – see here for details.