Touring Adventures on the small screen
31/01/2022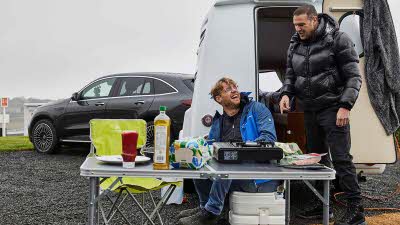 British TV programming has been awash recently with programmes that pay homage to our wonderful past time of touring and our love of the great outdoors.
In 2021, Channel 5's Motorhoming with Merton & Webster saw the "Have I got News for you" pundit, Paul Merton and his wife, Suki Webster embrace the motorhoming life whilst seeking out the UK's most famous sights and hidden gems.
Image: Motorhoming with Merton and Webster, courtesy of Channel 5.
Channel 4 let respected thespians Miriam Margolyes and Alan Cumming loose with a Campervan, as they spent three weeks travelling around Scotland visiting places of significance from their past as they reconnected with their Celtic roots, in the aptly titled: Miriam and Alan: Lost in Scotland.
Five famous faces from the world of entertainment embarked on a journey across Wales and Scotland in two motorhomes in Channel 5's Celebrity 5 Go Motorhoming, where they visited some of the UK's most natural beauty sites like Snowdonia and the Pembrokeshire coast.
Many of our Club campsites have featured in hugely popular programmes including ITV's This Morning, Channel 5's Million Pound Motorhome and Susan Calman's Grand Days Out. In November last year, BBC's Top Gear added to the enviable list and filmed at our beautiful Berwick Seaview Club campsite, whilst the show's presenters Paddy McGuiness, Freddie Flintoff and Chris Harris set off for a peaceful getaway in the wilds of Northumberland with a state-of-the-art electric car whilst towing a 'micro-caravan'.
Image: Top Gear, courtesy of the BBC
It's no surprise to us that the world of TV and celebrities have joined in with our love of the great outdoors and with 'staycations' on the ever increasing rise, touring in motorhomes and caravans is perfect for exploring when and where we want!
And the phenomenon isn't stopping there with even more TV programmes on the horizon this year.
The new Channel 4 show, Sue Perkins' Big American Road Trip, which started airing in January 2022, shows the comedian and presenter campervanning her way across California and Colorado in a two part travelogue.
Channel 5 will be airing Today at the Caravan Show, live from the NEC in February, whilst BBC Scotland have been showing Life on the Bay, a docu-series about a Scottish caravan park.
Perhaps you'll get some inspiration for your next tour from these TV programmes and discover somewhere new to go to for your next adventure.