Auto-Sleepers Broadway EB
Auto-Sleepers Broadway EB
Nick Harding reviews the two-berth Broadway EB from Auto-Sleepers which won its class in the Club's Motorhome Design Awards for two years running and is still proving popular despite being around since 2012.
Was it really 2012 that the Broadway EB made its debut and immediately scooped runner-up spot in the Non-fixed Bed Coachbuilt category at MMM's motorhome awards? There's plenty to suggest this vehicle has improved over the years as it went on to win its class in the Club's own Motorhome Design Awards in 2017 and repeated the feat in 2018.
There have been superficial changes – the usual graphics, upholstery and furniture finish enhancements – but the attraction of the Broadway remains the same. This is a straight two-berth of some luxury – for those who put daytime living space as a priority over a permanent bed. The Broadway EB has short settees, a more than generous galley and a surprisingly large washroom. Despite its spacious interior it measures a reasonable 6.3m in total so is easier to manage than many rivals.
On-the-road prices start at £62,700 (including the Premium Pack option that is, simply, essential). Be prepared for price hikes, however, as newer, cleaner engines are introduced through the coming season – so if you like what you see then you might want to act now.
Review taken from the November 2019 edition of the Club Magazine
Build quality – 80%
Auto-Sleepers' formula of GRP bodywork and aluminium lower skirting is as good as any when it comes to water-tightness, while Peugeot's latest three-year Motorhome Assistance package is backed up by a three-year conversion warranty.
The Broadway's dimensions mean proportions look right and there are nice features such as flush-fitting windows and awning, alloy wheels, habitation door with window, offside skirt locker, fixings for a bike rack on the rear panel and more.
There's a solid feel to everything, inside and out, that bodes well for long-term use. My only negative comment is that the habitation door doesn't open fully on its pneumatic strut, leaving it susceptible to any sudden gusts of wind.
Driving – 76%
Every time I wonder whether Peugeot's Boxer is a bit long in the tooth, it proves otherwise. I seem to have been driving these base vehicles in various guises for decades now, yet they keep going with detailed improvements.
The 160bhp engine is standard here but be aware that Euro 6.2 engines are on their way and, at the time of writing, motorhomers are being penalised for upgrading to these newer, cleaner motors in terms of Vehicle Excise Duty (you'll pay £2,135 for the latest versions compared to £265 for the example here).
It's a familiar enough cab with Auto-Sleepers specifying the kind of equipment levels you'd expect of a modern motorhome – air conditioning, cruise control, electric mirrors and windows, USB outlets etc. If you want automatic transmission, it means a switch to Fiat Ducato underpinnings.
Daytime – 79%
Once you're parked up on site it's simple enough to swivel the cab seats to join the inward-facing settees. Then, you can slot a pedestal leg table towards the front or use the free-standing table that stows in a dedicated locker with slide-out section. Lots of folk will appreciate the flat floor from cab through to the washroom at the rear, while the settees are nice and supportive (you might want to add a topper for bedtime if you prefer things softer).
There are slot-in armrests, bolsters and scatter cushions for you to configure for optimum seating comfort, while Auto-Sleepers offers a multitude of soft furnishing options.
With a wind-up Remis sunroof over the lounge and generous side windows, you almost don't mind the lack of a sunroof over the cab where, instead, you get lockers to the front and sides. There's plenty more overhead locker space, too, lining both sides but door access to the under-settee areas would have been a plus.
Night-time – 74%
The best sleeping option is undoubtedly a transverse double created by sliding the settee bases together and turning over the main cushions to create a flat surface. At 2.11m x 1.35m it's a more than adequate size. Alternatively, you can bring the swivelled cab seats into play and have two single beds. Either arrangement allows straightforward access to the kitchen and washroom.
Kitchen – 85%
There's no excuse for going out for your meals with the Broadway. The kitchen contains a full cooker (dual-fuel hob, separate oven and grill) with extractor fan, sink with add-on drainer on the nearside unit, fridge, microwave, generous worktop area plus slide-out section on the offside.
Storage is excellent with four overhead lockers, five drawers, two lower-level cupboards, floor lockers and more. Add in handy details such as the kitchen roll holder, four mains sockets and one USB point, cutlery racking and two bottle clips, and you're
set up very nicely.
Washroom – 86%
Despite the presence of a wardrobe set over three drawers, the washroom still feels pretty spacious. Other storage includes a double-doored locker under the basin and a locker with open shelf above the toilet.
Unusually, there's a bench toilet (which is easier to clean around than a typical swivel-bowl version) which is tucked away directly opposite the wardrobe on the offside. There's also an opaque window that helps with ventilation.
A white plastic counter-top basin, served by a swan-necked metal mixer tap, is located in the middle of the washroom and features a mirror above it with a blue strip light which is positively flash by Auto-Sleepers' normally conservative standards (although I'm not convinced of its practicality).
The nearside is occupied by a larger than average shower cubicle with small-tile effect wall linings, showerhead on a riser bar, handy racking for toiletries and its own extractor. A hanging rail for wet clothing or towels wouldn't have gone amiss but a big bonus is there's some space for getting dressed.
Details – 80%
As you'd expect from any Auto-Sleepers
 motorhome, it scores well in terms of specification, from the space and money-saving underfloor gas tank to the bespoke Locate management system for all the Broadway's main fittings (including Truma's iNet) to the 80W solar panel.
Then there's the small stuff such as paddle lights on rails, flush-fitting ceiling lights, two double coat hooks just inside the habitation door, removable floor carpet sections, cab blinds and additional speakers in the lounge.
The 2020 Broadways also feature a touchscreen stereo with DAB and sat-nav, leather-trimmed steering wheel, electronic stability programme (ie anti-skid) and traction control, plus a tyre pressure monitoring system.
Verdict – 80%
Competent. Consistent. Comfortable.
The Broadway is a proven performer with plenty of character.
More like this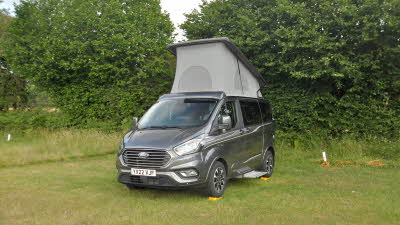 by Nick Harding
06/10/2023
Nick Harding takes a look at the award-winning, four-berth Monza